There are many different marketing agencies in the USA that help small to medium businesses build and grow their online presence and Hibu is one of them.
The Hibu website definitely makes a good first impression. The brand looks professional, the services are attractive, and the customer reviews that are displayed are all positive, so why does Hibu have such a bad reputation on Yelp?
Before we take a closer look at the possible reason why Hibu has so many one-star reviews on Yelp, here is a brief overview of what the brand offers.
What is Hibu?
Hibu's integrated marketing services are said to increase online visibility, boost website traffic, and improve lead generation. Some of the digital marketing services that are offered include SEO, display advertising, social media marketing, online reviews, and general reputation management.
Hibu also develops websites and currently has a very attractive offer in place. If you sign up for a Hibu Smart Site and digital advertising, they will build your site for just $99. Based on the price alone, it's not hard to see why so many businesses have signed up for their services.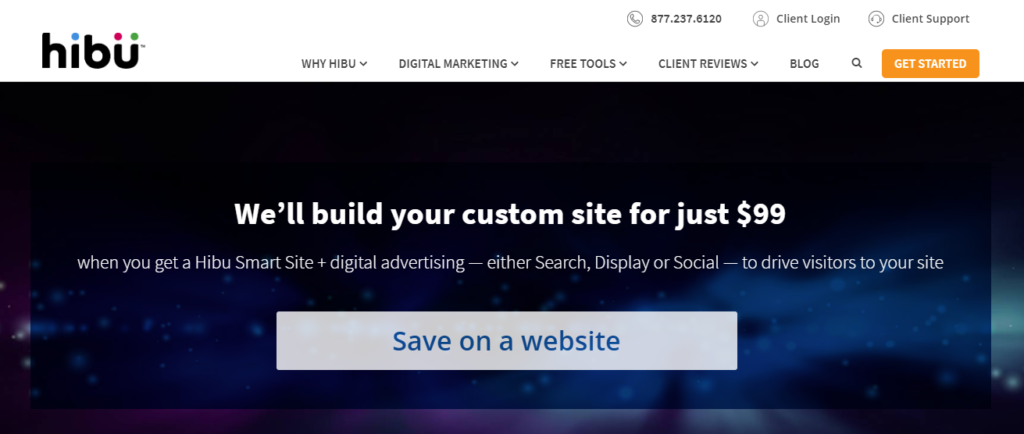 It seems that Hibu understands that developing your online reputation is about more than just having an attractive website. The digital marketing puzzle has many different pieces and they are focusing on the most important parts.
So, where are they going wrong?
Hibu Yelp Reviews – Where are They Going Wrong?
After receiving 108 reviews on Yelp, Hibu is not even managing to hit the 2-star mark.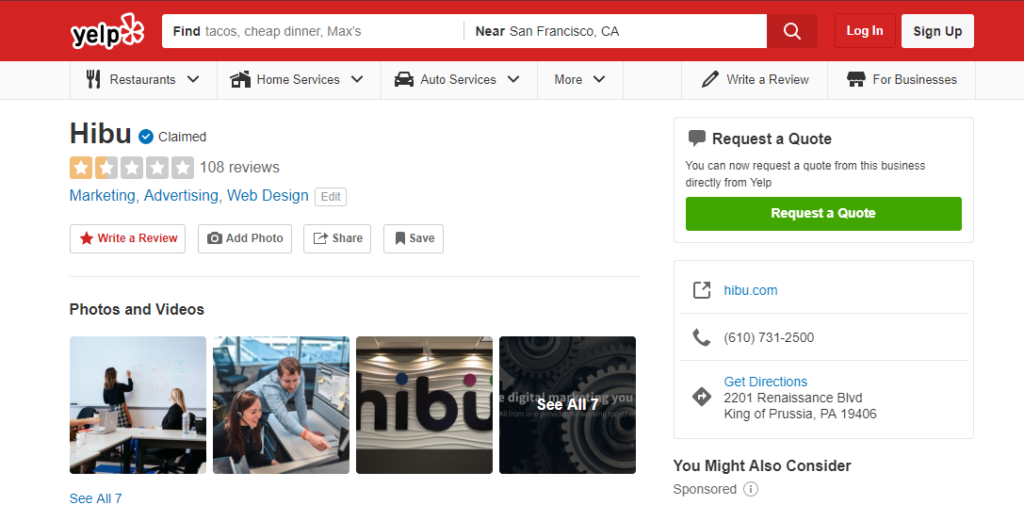 Reading through the reviews, you can quickly pick up on a few trends in terms of customer experiences with the brand. The majority of customers have reported experiencing one or more of the following issues with Hibu:
Empty promises from sales representatives about features and results
Poor customer service and communication, if any at all
Sub-par web design and error-riddled marketing copy
Failure to honor cancellation policies
High fees for little to no results
Overall, it doesn't seem like Hibu is delivering on any of the promises they're promoting on their site. On the plus side, they do seem to respond to almost every review on Yelp, both negative and positive, but since there is no further feedback from reviewers, it's hard to tell whether these problems were ever solved.
For a brand that has dedicated an entire page on their website to one-on-one service, it's concerning that their Yelp page is filled with bad reviews. What's more, if they were dealing with and learning from these customer complaints, surely there would be a few positive reviews in the mix too?
Hibu is also a brand that actually offers online review and reputation management services, so how good can they really be if their own reputation is not being looked after.
If you are currently shopping for integrated digital marketing services, you may want to read through a few Yelp reviews and do some further research before you consider Hibu, if at all.
---