Along with featured snippets, the Google Local 3-Pack is the most frequently displayed feature in local search results. Because users are met with these local suggestions right at the top of their search results, they tend to skip the organic results altogether, which speaks to the importance of knowing how to build a prominent presence in the Google Local 3-Pack.
Google Local 3-Pack Features
The Google Local 3-Pack refers to the map and list of three businesses that appear at the top of local search results under the paid ads. The NAP data is shown for each business that appears on this list.
At one point, this search feature didn't have a map at all, just seven businesses, but Google decided to reduce the number of businesses displayed so that a map could be added. One of the main reasons for adding a map was to ensure mobile users could estimate the proximity of local businesses on one screen.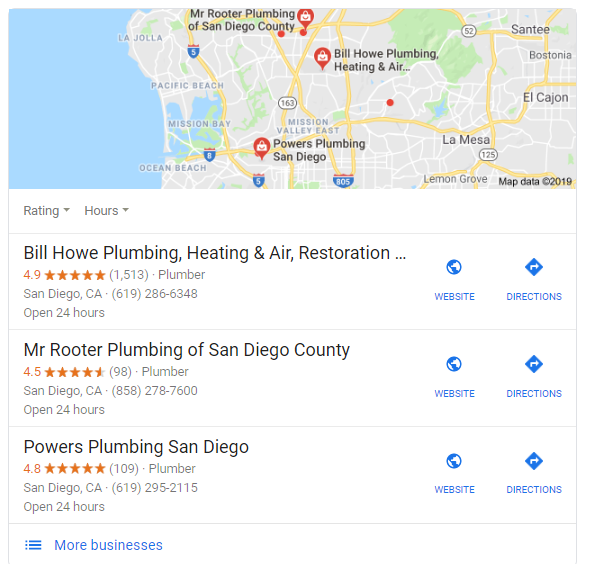 The next feature of the 3-Pack is the Local Teaser, which appears once you click on one of the three business listings. Depending on what the local business offers, the information in the teaser will differ. For example, a result for a local theater offers information on capacity and upcoming shows.
In order for a business to show up in the pack, there are a few boxes that need to be ticked – simply adding a local business to Google Maps is not enough.
How to Get Into the Google Local 3-Pack
The first stage of getting your local business to appear in Google's 3-pack is to create a detailed Google My Business page for your company.
Here are the steps to follow:
Check whether your business already has a GMB listing. You can do this by typing your business name into the search field. If a listing already exists, you can claim it. If there are no matches, you can sign up for a listing here.
Verify your physical address. The only way to increase your chances of appearing in Google's Local 3-Pack is to verify your company's address. You will be prompted to verify your address while creating your listing. Once you've provided your physical address, a verification code will be delivered in 3 to 5 days, which you will need to enter in the relevant field once you are logged in. The other option is to sign up using the Gmail account that you used to set up Google Analytics and Search Console, which will result in automatic verification.
Optimize your GMB listing. The more detailed your GMB listing is, the higher your chances of appearing in local search results. Your business name and NAP data should match what's on your website. Including images will also enhance your listing but keep an eye on them because online users can add pictures to your listing too.
Create and optimize business citations. Citations are any business listings that appear on sites such as Yelp or the Yellow Pages. Businesses citations can be optimized using the relevant keywords and can be used to build up reviews. Be wary about where you publish business citations – only quality directories should be used. Your information should also always be kept up to date and consistent.
Add content-related features. Businesses also have the option of adding posts as well as messaging and Q&A features to their accounts, which are powerful tools for further optimizing a GMB listing. This content is usually displayed in Google's Knowledge Graph.
Providing Searchers with Value
Having a detailed Google Business listing is only the first step to showing up in the Google Local 3-Pack, your website also needs to deliver on search intent. This is why it's important for your website to be optimized for local search too.
Google looks at three things when determining where to rank a local business: relevance, prominence & relevance. In a nutshell, this means a business website needs to be relevant, the business needs to be in close proximity to the searcher, and the business should have a good reputation both on and offline.
Here are a few of the ways that a site can be optimized for local search:
Optimize website content. Along with adding the necessary keywords to the website copy, it's important to add location modifiers and associate the site with specific locations.
Technical optimization. All technical problems need to be addressed when optimizing a site for local search. Focus on areas such as site speed, security, and mobile-readiness.
Adopt a backlink strategy. Building up quality inbound links is another way to increase authority and improve local rankings.
In order for a site to benefit local SEO efforts, it needs to be optimized on an ongoing basis. The same applies to Google My Business Listings.
Tracking Local Pack Results
It's important to remember that marketers and business owners are not the only people who can edit local listings. Searchers are also able to suggest listing edits, which could go live without a business owner being notified about it at all. This includes changes to photos, location, business name, and NAP data. Naturally, the wrong changes will negatively impact any local listing, which is why it's crucial to monitor local listings throughout the year.
If your local business is able to make it into the Local 3-Pack, keeping track of algorithm changes is not negotiable if you want to maintain your position. One way to do this is to view Local Pack search results for your primary keywords using a SERP feature tracking tool. This enables you to check SERP features and monitor your site's progress.
Fast Tracking Google Local 3-Pack Results
In 2016, Google started including ads in the Local Pack, which makes it possible for local businesses to rank when the local search competition is too high.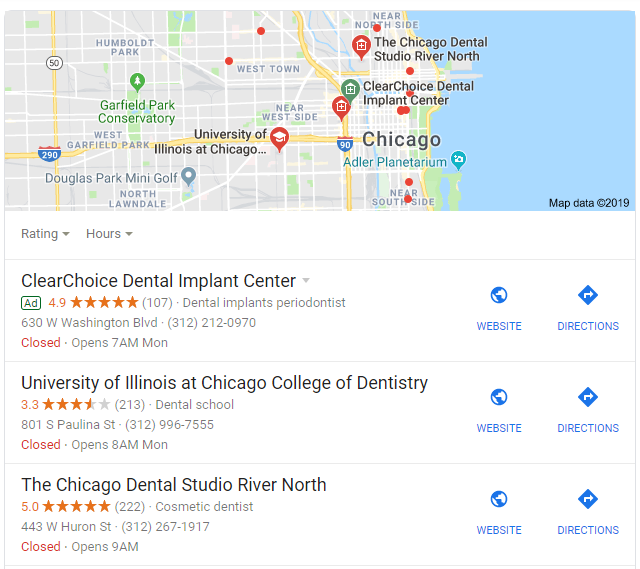 In order to run an ad campaign in Google Maps, a Google Ads and Google My Business account are required. A location extension will also need to be added to your Ads account. Businesses should make sure that their GMB listings are 100% accurate before running an ad campaign.
When creating the campaign, businesses will need to target and bid according to location and add location-related keywords to their copy and campaign.
Appearing in the Local Pack is first prize but businesses should still focus on ranking high in Google's local SERP too. If you choose to run an ad campaign, this doesn't mean that you can let your usual optimizing fall by the wayside – it's still vital for local businesses to cover all their SEO bases.
---