There are many SEO ranking factors out there, and they go beyond domain authority and optimized content. It's not always about you. Sometimes, it's also about how others talk about you. This is where citations come in – a ranking factor that is especially important at the local level.
Thankfully, there are a lot of companies that offer local citation services. Here's everything you need to know about them.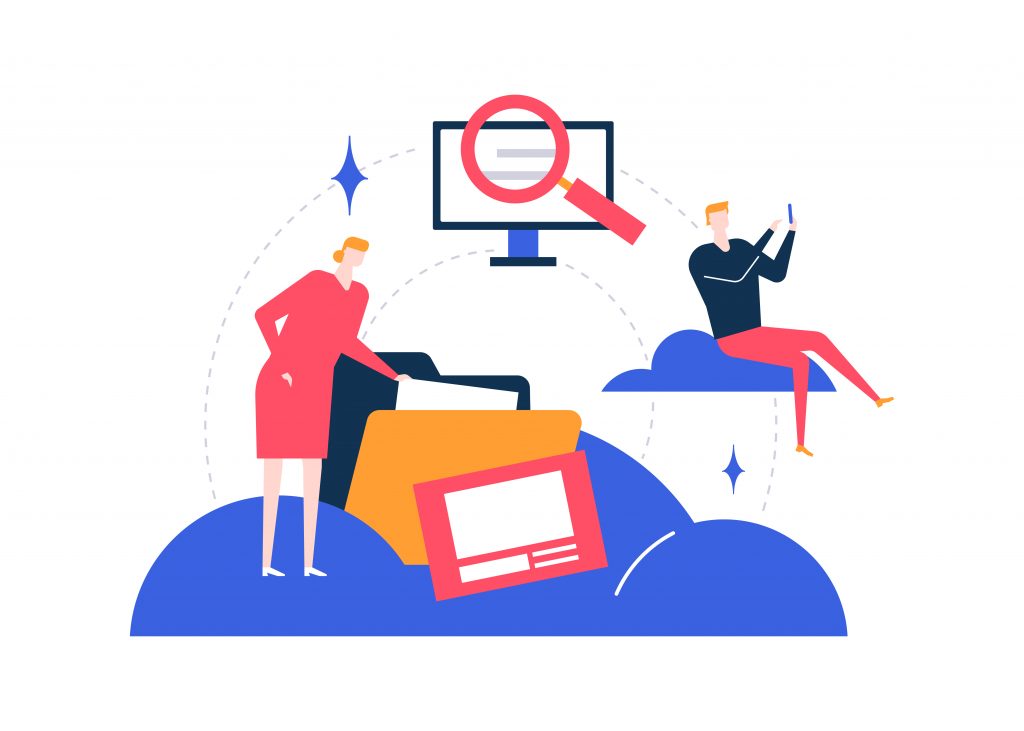 What is a local citation?
First things first – what exactly is a local citation?
A local citation is a listing or mention of your company's name, address, and phone number (NAP) anywhere online. You can get local citations in any digital space. You can get them from websites such as blogs and directories like Google My Business. And you can also get them from social media platforms like Facebook and Twitter.
There are two types of local citations, structured and unstructured:
Structured citations

– These are more formal citations that come in the form of listings in directories. The most popular directories include Foursquare, Superpages, Yellow Pages, and Yelp.

Unstructured citations

– These are more informal mentions of your business in any space online that is not a dedicated directory. Mentions in blogs, social media platforms, news sites, and websites are considered unstructured citations.
Local citations can go beyond NAP. They can also include directions to your office, images, links to your social media profiles, operating hours, and even reviews and testimonials.
Why are local citations important for local SEO?
Local citations have one ultimate goal – making sure that the online world, including potential customers and search engines, properly know your business. They should know your business name, where you operate, how to contact you – and everything else they need to know.
This is where local citation services come in. Digital marketing companies that offer local citation services can build structured and unstructured citations for you. They can also help clean up citation errors, such as duplicate listings and wrong information.
Here are the core reasons why building local citations are crucial:
Local citations tell search engines that you are relevant.

SEO, especially on the local level, is not just about optimizing your website and content. It's also about the online clout you are getting elsewhere. When Google crawls the web and finds you have a lot of listings in directories and mentions in websites and social media platforms, it will view your business in a good light. This can help with your rankings. But take note that local citations are not the magic bullets that will take you to the top of the SERP. They are just one of the many SEO ranking factors you should work on.

They create brand awareness and help build a customer base.

Many people use data aggregators and directories like Foursquare and Google Maps. In these spaces, they discover new businesses and find ones that interest them and seem competent. Many people also read blogs and social media posts for the same purpose. If you have structured and unstructured citations on digital spaces that matter, you are putting your business out there for real people to see, not just search engines.

They let you ride with the popularity of directories. Structured citations are particularly important because both people and search engines look at the most popular directories with high regard. Look at Google Maps, for instance. When people search for a particular business and you appear in the Google Maps Pack

, the people will automatically assume that you are the most competent and relevant to their search query, giving them a higher chance to turn into your paying customers. Take advantage of the authority directories bring by creating a business listing in them.
Who are the top local citation services companies?
Building and managing local citations can be a daunting task. You are not just writing listings in directories and mentions in blogs. You are also tracking all local citations and looking for errors. Thankfully, you don't have to do all these yourself. There are digital marketing companies out there that have local citation services. Here are the top ones you should consider.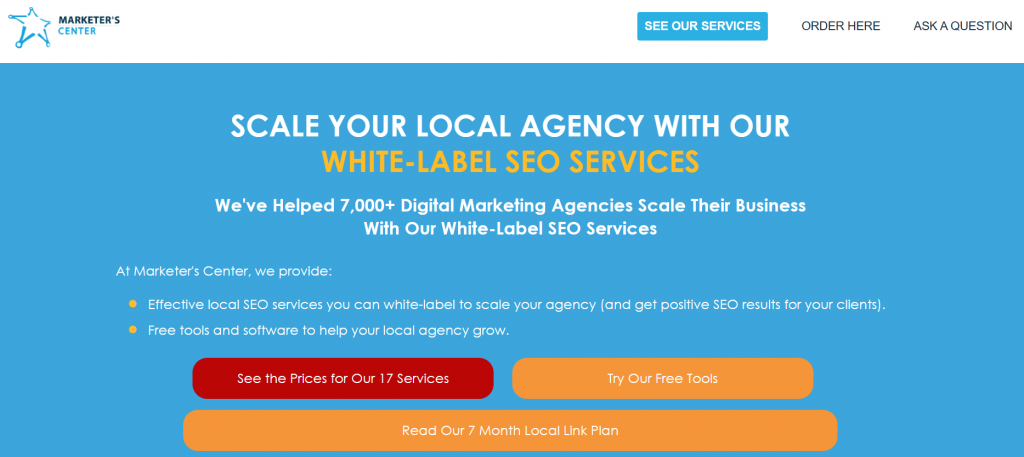 Marketer's Center is a white label digital marketing company. They have a lot of local SEO services, including white label GMB optimization, and of course, local citations. They practically have a complete local citation service – going from the most authoritative and general citations to the most location and niche-specific ones. Here are the specifics:
Marketer's Center can focus on authoritative citations to get you started. In their Big Citations service

, Marketer's Center focuses on the most important citations to jumpstart your citation building. They submit to big data aggregators like Acxiom and Infogroup and to the best business listing sites like Foursquare. If you don't have a lot of citations built up, this is the perfect service to try.

They can then niche down with industry and city-specific citations. You shouldn't settle for only the most authoritative citations. You should not overlook niche and location-specific listings and mentions. And this is where their Hyper-Local Citation service

comes into play.

They can remove duplicate and inconsistent citations. Citation building is all about consistency. After all, you want to share the same business information with everybody online. This is why it's very important to remove duplicate citations and citations with inconsistent or just flat-out wrong information about your business. Marketer's Center's Citation Clean Up service

is the perfect service to get these done.
Marketer's Center is located at 4010 Foothills Blvd #103 Roseville, CA with the phone number 310-627-2486.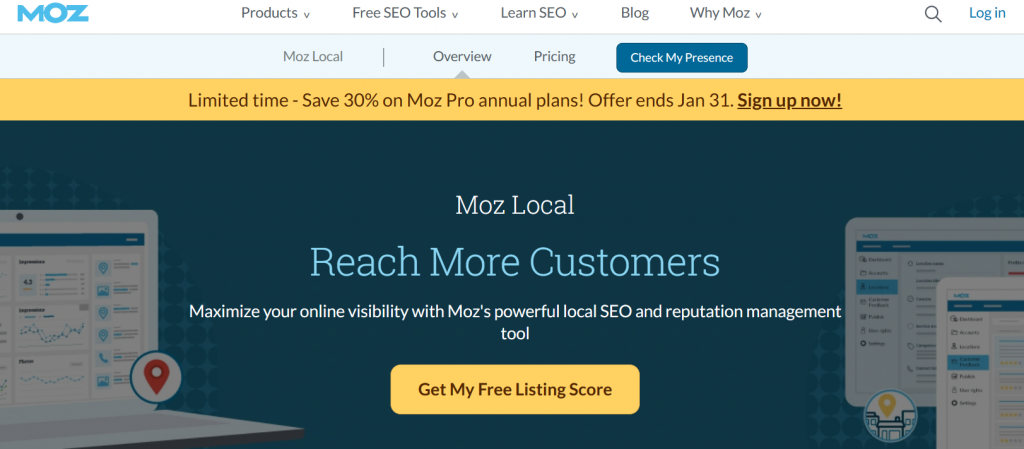 Moz is one of the most well-known SEO companies out there. The best thing about this company is that they have the infrastructure to make everything easier for their clients. With their tools, they can analyze domains, track rankings, and even run high-impact SEO campaigns. Of course, their local citation services are not left behind. Here are the details of their services:
Moz Local can keep your listings consistent throughout the web.

Moz Local's local SEO and reputation management tool can sync all your listings with ease, including those in data aggregators, online directories, and social media platforms. You can do all these in the comfort of their tool's dashboard.

They can optimize your profiles.

The listings for you are also top-tier. This is thanks to the fact that Moz just knows what makes listings effective. They include relevant business information and images to all your listings to make sure they are optimized. And they also have an automated process to remove duplicate listings that may confuse everyone online.

They have insights and reporting features.

The company also has reporting tools to give you insights on what you can improve on. They can understand the parts of your profiles and listings that need to be worked on for better optimization and effectiveness. This is very helpful because, in all digital marketing campaigns, adaptability is important. Change everything you need to change now with Moz Local's powerful tools.
Moz is located at 1752 NW Market Street #4073 Seattle, WA with the phone number 206-602-2005.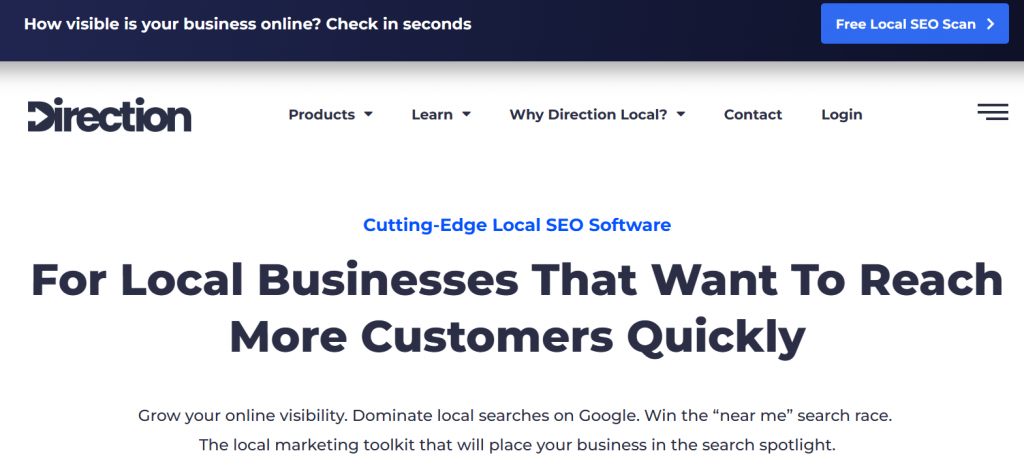 Direction is an award-winning SEO firm. And like Moz, they have their own infrastructure to help clients with their local SEO needs. They have one mission – to have millions of US businesses using their software. Here's everything you need to know about Direction Local and their cutting-edge local SEO software:
Direction Local can create business profiles with a few clicks.

Going around the web and manually creating listings can be a daunting task. But with Direct Local's tools, you can create business profiles on the biggest search networks that are being used by US customers, such as Bing, Google, and Yahoo!

They give you the capability to manage and optimize listings with ease.

They have incredible integration with Google Business Profile. This means you can optimize your listings for Google Maps, Local Search, and Voice Search. With their tools, you can also manage and push updates in your listings and even reply to customer feedback.

They have a publishing suite you can use. Being active in your business listings and

social media profiles is important. This shows that you care about your online presence and customers. Thankfully, Direction Local has the infrastructure to make it easy to share events, news, and special offers with your customers. Keep your customers engaged with Direction Local's publishing suite.
Direction is located at 4005 Guadalupe St Suite B Austin, TX with the phone number 866-519-3169.

BrightLocal is run by bright local SEO experts around the world. They have experts from the US, the UK, Ukraine, and the Philippines. They pride themselves on accomplishing 72,000 submissions and 2,000 campaigns for their customers every month. Here are details of their gargantuan endeavors:
BrightLocal has a one-stop shop to create and fix listings.

BrightLocal has a Citation Builder that automatically scans the web for existing citations and new opportunities. Simply select citations and new opportunities you want to work on. And then the Citation Builder will send these to the company's in-house local SEO experts to create and update them.

They combine data aggregator and manual submissions.

Data aggregators are great because they send your business information to hundreds of directories and mapping services. Manual submissions of listings are also great, especially if you have industry and location-specific needs. BrightLocal provides both. They can work on data aggregator submissions and manual submissions to broaden your local citation network.

They can scale their process. BrightLocal is no stranger to big enterprises. They can work with clients with multiple locations. For other local citation services companies, this can be overwhelming. But BrightLocal has the ability to scale. They will even give you a dedicated campaign manager to handle the intense workload. This is exactly what digital marketing companies need if they want to sell local SEO to clients

at scale – and BrightLocal knows it.
BrightLocal is located at 2nd Floor, Blenheim House 120 Church Street Brighton BN1 1UD, UK with the phone number +44 1273 605027.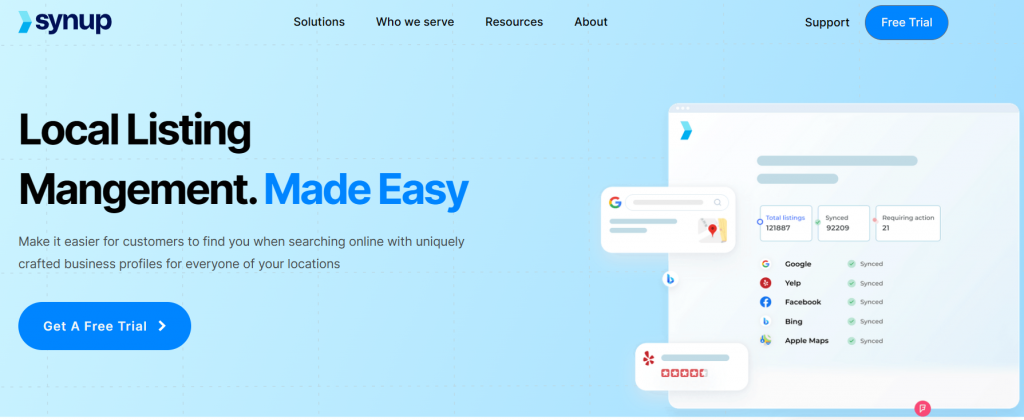 Synup is all about branding. And here's the thing about branding – it's not just about brand awareness. It's also about brand consistency. This is where local citations become important. Your brand information should be consistent throughout the web. And Synup has everything you need for this. Here are the details of their listing services:
Synup allows you to manage listings in one place for brand consistency.

Do you want to manage your listings on Bing, Facebook, Google My Business, Yelp, and other prominent online spaces? Synup is the answer. They have the platform to create and edit listings in one place. You can even optimize your listings for voice search.

They get your team involved.

With Synup, you can organize listings in folders and tags. This is especially helpful for enterprises with multiple locations. And you can also get your team involved by allowing and restricting access across locations for your employees. You can give broad access to brand executives and limited access to rank-and-files, for instance.

Their analytics comes with a revenue calculator.

Like other dashboards, Synup's come with insights and reporting systems. But what separates them from the others is their revenue calculator. With this feature, you can directly monitor the impact of your business profiles. And you will be able to do more data-driven decisions.
Synup is located at 101 AvenueofAmericas, Floors 8 and 9 New York, NY with the phone number 844-228-2852.

Whitespark is run by local SEO specialists and software builders. You may be thinking that they completely rely on automation and software for your local SEO needs. But this simply isn't the case. They have a manual approach for their citation building and cleanup.
Whitespark manually lists you on the most important sites. As software builders, Whitespark understands that automated systems are not perfect. They may miss duplicates, inconsistencies, and wrong information about your business across the web. This is why they create, optimize, and clean up your local citation portfolio manually with their in-house experts. They also white label their services. If you need to manage a local client base

and deliver good results at the same time, Whitespark will be the best option for you.

Their local citation services cost less compared to others.

Because other companies have their own platforms, they can cost more, primarily because of recurring fees. This is another advantage of Whitespark's manual approach. They believe you shouldn't be paying annually for listings that are just, you know, just there.

They let you actually own your listings.

Another problem with the platforms of others is that they basically own your listings. Your listings are essentially tied to these platforms, and this is part of the reason why they have recurring fees. With Whitespark, you can actually own your listings because they are not tied to a platform.
Whitespark is located at Edmonton, AB, Canada with the phone number 855-406-6050.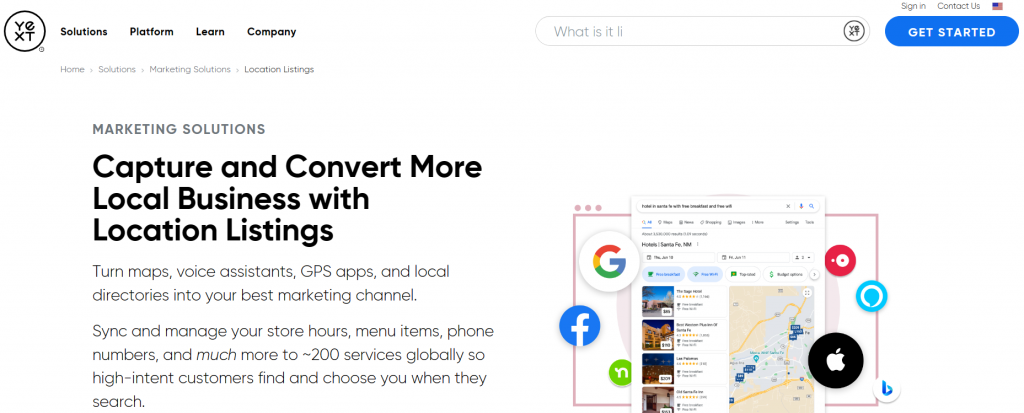 Yext has one of the most powerful tools for digital marketing solutions – the Answers Platform. Basically, Yext tries to answer all the questions everybody online has for your business. These questions, of course, include basic business information like NAP and multimedia like logos and photos. And this is where Yext's Location Listings services come in. Here are the details you need to know:
Yext has deep integrations with search platforms.

If Whitespark likes the manual approach, then Yext is the exact opposite. With Yext's infrastructure, you can create and update listings with a single login. You don't need to manually go to directories to manage your listings. Yext's platform is directly integrated with the most important search platforms across various industries, such as Amazon Alexa, Apple Maps, Google Maps, and even Waze.

They allow you to answer questions about your business with ease.

The company is really serious about the questions-answers thing associated with their Answers Platform. With their tools, you can easily manage the questions of your customers in all your profiles. You can even include pre-answered FAQs.

They are experts in particular industries.

If you are in the financial, food, and healthcare industries, you may want to find local citation services companies that specifically work in these areas. They have better know-how compared to others who have a more generalist approach. Thankfully, the team behind Yext are experts in these industries, among others like hospitality, retail, and even tech.
Yext is located at 61 Ninth Avenue New York, NY with the phone number 212-994-3900.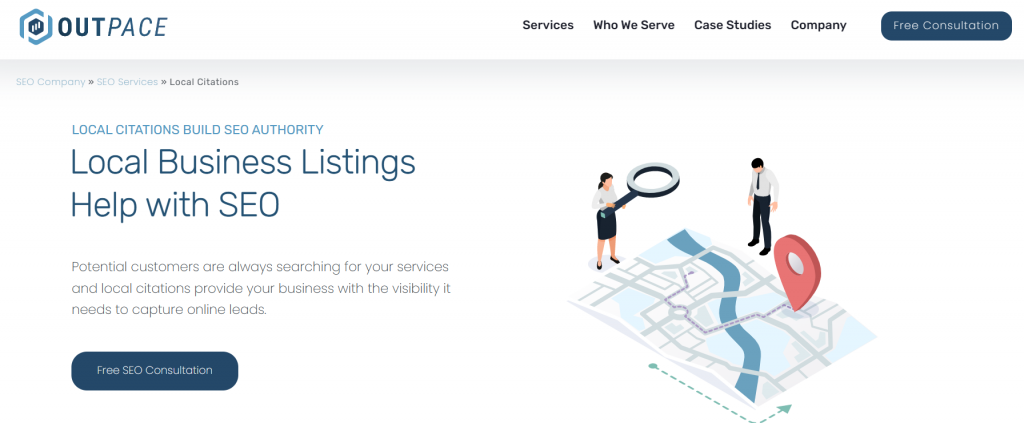 Outpace SEO is an SEO agency that offers both on-page and off-page solutions. One of their off-page solutions is, of course, local citations. As a company, Outpace SEO outpaces the competition because of the fact that it is composed of computer scientists, programmers, and SEO professionals. They have a data-driven approach in everything, including their local citation services. Here are the relevant details you should know:
Outpace SEO makes sure you have high-quality citations.

Like the other local citation services companies in this list, Outpace SEO creates business listings and corrects inconsistent citations. But they have an edge over the others – they make sure you get listed in industry-specific directories and websites. These are the kinds of quality citations you should be looking for, and Outpace SEO has them for you.

They have many SEO solutions you can try. The world of digital marketing and SEO is so much bigger than just local citations. The great thing about Outpace SEO is that they can be a one-stop shop for all your SEO needs. They have both on-page and off-page solutions, from content optimization and keyword research to link acquisition

and reputation SEO.

They serve a vast array of industries.

This company also has a lot of experience in various industries. Some of the industries they have extensive knowledge of are e-commerce, SaaS, and tech. If you are in these spaces, go with Outpace SEO. They will be able to give you industry-specific listings.
Outpace SEO is located at 3000 Sunset Ln, Oklahoma City, OK with the phone number 405-544-0208.
How do you choose local citation services companies?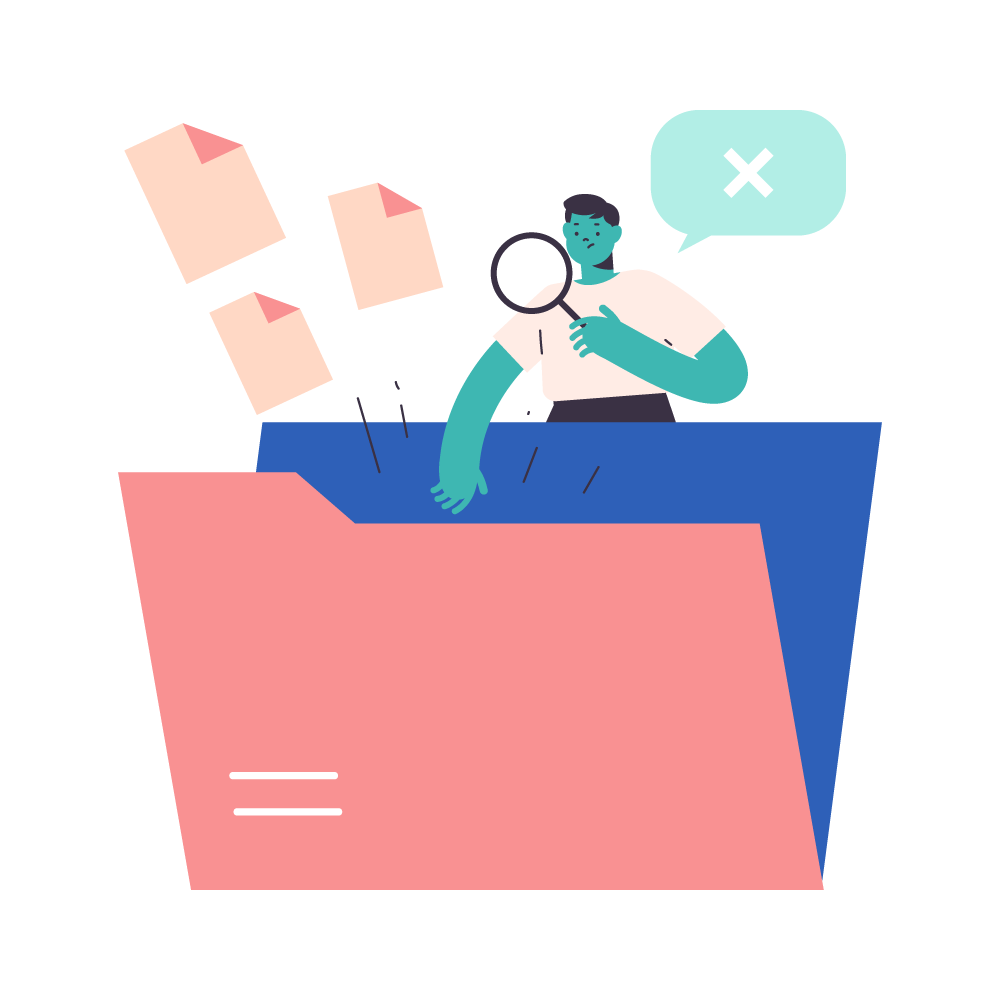 The local citation services companies above are all top-tier. And they are known even among their peers in the digital marketing world. However, you should not just randomly hire a local citation services company and call it a day. There are some things to consider to ensure that you are hiring the best ones that suit you. Here are the considerations:
Determine goals and budgets first. Your digital marketing and local SEO strategy may require different methods to rank, get eyeballs, and convert. After all, there are so many SEO factors you should work on. You should determine first how local citations will play a part in your strategy. And then allocate the necessary budget for local citation services. With that said, you shouldn't always go for the cheapest company out there. Sometimes, they are indirectly more expensive because of the damage they can do with their incompetence.
Consider your industry and location.

It's not always about Apple Maps, Better Business Bureau, Bing Places, Facebook, Foursquare, Google My Business, Instagram, Nextdoor, and Yelp. It's also about industry-specific and location-specific apps and directories. Some local citation services companies specialize in specific industries and locations. Consider those that fit yours perfectly.

Read what their clients say. Results don't always speak for themselves. Do your own research about the company you are eyeing. Take a look at their website. You may find case studies there. You may also find some featured reviews and testimonials there. And then take a look at their own listings, like their Google Business Profile. You will find some reviews there. You will also find how they write their own listings

, which is useful to know when you are shopping for local citations.
Can you do local citations yourself?
You can rely on local citation services companies like Marketer's Center for all your local citation needs. But you can also build local citations yourself if you want more control or if you don't have the budget for them. Here are some quick tips:
Set up the most impactful listings. Again, ride the popularity of directories. Make sure to claim your business and have a listing on the most popular directories out there, such as Foursquare, Google My Business, and Yelp. Do you know that ranking in Google Maps can actually help with organic rankings too? If you are trying to build local citations online by yourself, these popular platforms are the best places to start. They can jumpstart your campaign as they have the most clout around the web.
Build unstructured citations by being newsworthy or submitting to editorials. Do you want people to talk about your business? Well, your business should be worth talking about. They may even dedicate an entire article if it's that interesting. A recurring problem in digital marketing is that some people think they will automatically get online clout. But this is simply not the case. You have to work for it. Become newsworthy, and if possible, submit the news to editorials. They may feature your business if they find it interesting. This is basically how press release SEO works

. And it works with local citations too.

Do manual and automated citation management.

Once you go beyond the most popular directories, things can get more complicated. This is especially true when it comes to local citation management. Thankfully, there are tools you can use to manually check and manage citations. You can even literally use Microsoft Excel to create a database of local citations and manage them from there. However, you will have an easier time with local citation services companies. Some of them have special tools to help you automate and manage everything easier.
Local citations are important for local SEO
Local citations are formal listings of your business in directories and informal mentions on websites and social media platforms. They are important for local SEO because they tell customers and search engines everything they need to know about your business.
Thankfully, there are many local citation services companies out there. They can create and update business profiles, remove duplicate listings, and allow you to manage multiple profiles on their own platforms.
---