There are so many Google My Business services you can offer out there. You can help businesses create Google My Business profiles, make and optimize content, manage reviews, build links, and even analyze competitors.
But all these can be overwhelming, especially if you have a huge local client base that includes big corporations and mom-and-pop stores. You may not even have the time to learn the ins and outs of GMB services to give your clients satisfactory and timely results. One solution is getting help from white label GMB services companies.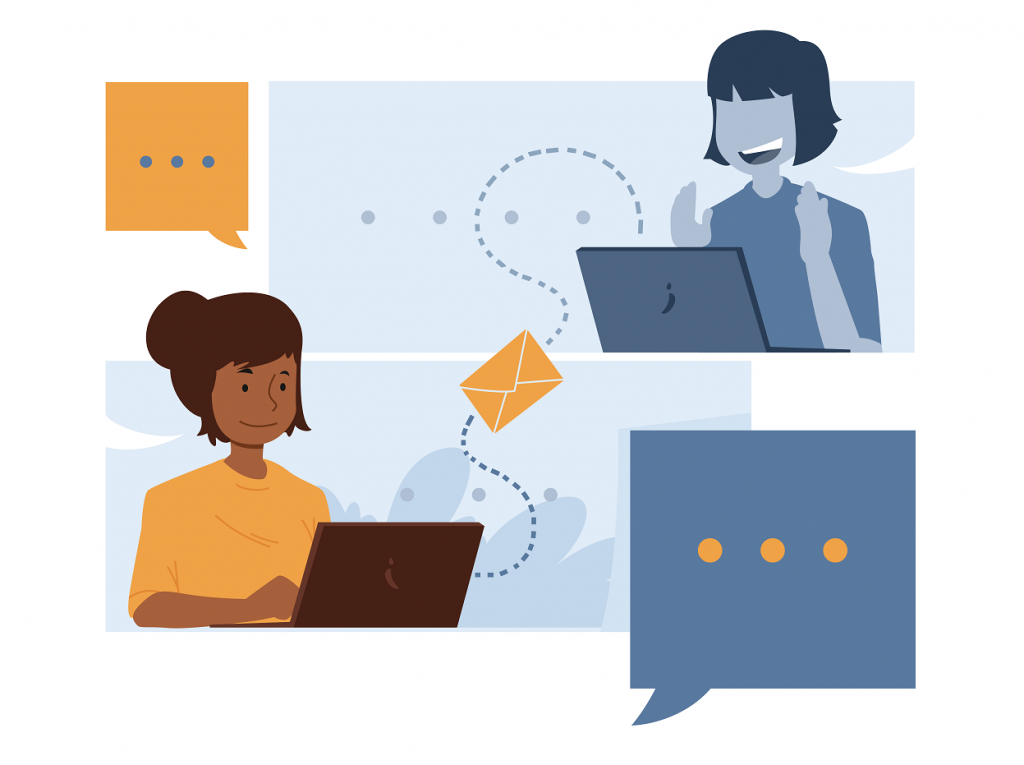 Table of contents
What are white label GMB services?
In the world of digital marketing, white labeling is the practice of presenting a product or service under your own company even though the product or service has been done by a different company – a white label company.
You can hire a white label GMB services company and then offer GMB services to your existing clients. It's like a form of outsourcing. You let the white label GMB services company do the heavy lifting and you get the client's payment and the glory of doing a good job.
There are many advantages to white labeling your GMB service offerings, such as:
It saves you time and money. Google My Business and Google Maps are very competitive spaces. Many agencies even specialize in them to get an edge. If you are just starting out, it may take a while to develop digital marketing solutions that will make you compete. Relying on white label companies will save you from burning significant time and money on knowledge and infrastructure.
It expands your product and service offerings.

Yes, some agencies do specialize, but that has its disadvantages too. Sometimes, it's better to become a one-stop shop for everything related to digital marketing. If that is your goal, you will need GMB services. Getting help from white label companies will immediately expand your product and service offerings since you are not going to start building knowledge and infrastructure from scratch.

It gives you a new revenue stream. If you have local SEO services, it's ideal to complement them with GMB services. Your clients will need Google My Business optimization and Google Maps to compete at the local level. After all, location and relevance are significant factors in ranking. Offer GMB services now. With the help of white labels, you are not just becoming more competitive with other local SEO agencies, but you are also opening a new revenue stream for your business.
White label GMB services companies you should try
White labeling is not the easy solution to all your digital marketing problems. You still have to exert effort, especially in choosing white label GMB services companies. Here are some great agencies that offer white-labeled GMB solutions.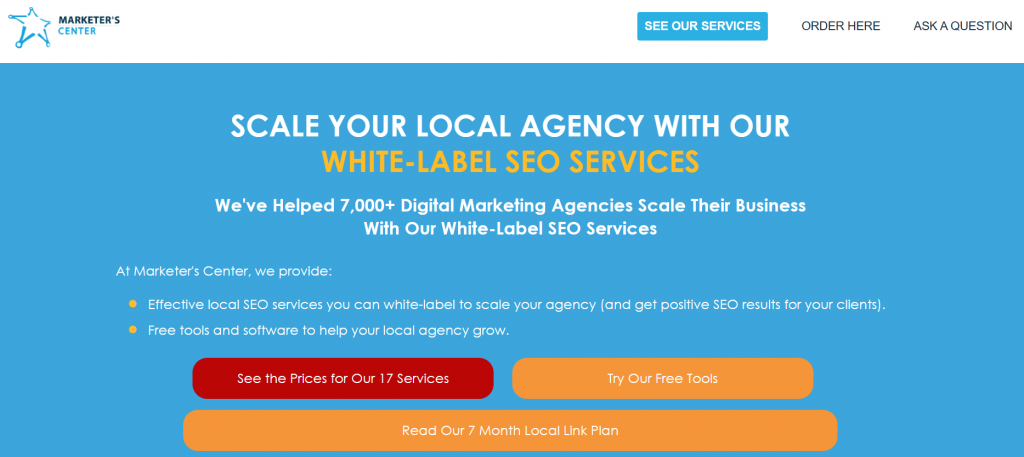 Marketer's Center is a white label SEO service provider. If you are tired of SEO resellers with overpriced solutions and lackluster results, it's the agency to try. And that's not just sales talk – Marketer's Center has served thousands of agencies, helping them scale their businesses with white label SEO services.
Some of the many offerings of the company are various white label GMB services. Here are the important aspects of their services you need to know:
Marketer's Center has a comprehensive GMB optimization service. There are many agencies out there that offer very specific GMB services, such as content creation and profile management. But Marketer's Center has better offerings – a one-stop solution to all your GMB needs. With their GMB Foundations service, you can enjoy a 28-day optimization process – from auditing your GMB situation and analyzing competitors to posting premium content.
Their premium posts can boost GMB profile activity.

GMB profile activity is one of the many factors that determine rankings. And is there a better way to showcase activity than posting content? Marketer's Center can write locally relevant content with matching keywords, highlight product and service reviews, and link back to a service page on your website. They can keep your local client's GMB profile active with about 16 posts a month.

They are a one-stop shop for your local SEO needs. GMB optimization is just a small part of Marketer's Center's offerings. If you need any local SEO help for your clients, Marketer's Center has dedicated solutions for you, including website and local citation audits and citation cleanup. They also have authority link building and organic SEO services.
While Marketer's Center has a wide range of services, GMB Gorilla is more specialized. As their name suggests, they focus more on Google My Business management.
Whether you are an agency, consultant, freelancer, or an industry-established company, you can't go wrong with GMB Gorilla for white label GMB services. This is because they have a dedicated white label program to make white labeling smoother compared to what other agencies offer. Here's everything you need to know:
GMB Gorilla can provide you with a branded portal. In white labeling, the ease of rebranding the white label company's product or service is important – and that's exactly what GMB Gorilla offers. For a small fee, you can even have your own dashboard and portal with your own branding. The company can also put your logo on reports with no problem at all.
They have flexible pricing.

GMB Gorilla is not just here to take your money. It's a two-way relationship. They offer generous discounts to their clients and help them become successful in their digital marketing journey, even helping them craft campaigns and close deals.

They give you access to resources to help you grow. The company really treats their clients as partners. As a white label client, you will gain access to an ever-growing repository of sales and marketing services. These resources can help you in your overall digital marketing journey, not just in white labeling GMB services. For instance, do you know that business profiles can help with local citations too? There's so much to learn in digital marketing.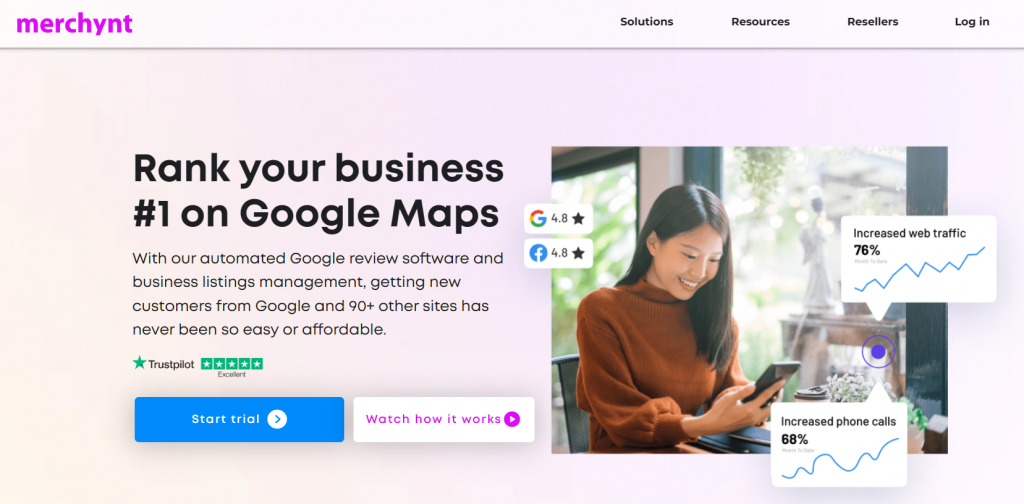 Merchynt has a different approach when it comes to white label GMB services. While others focus more on having dedicated SEO teams, Merchynt rely more on software. They believe that things should not be complicated. Many companies try to sound competent by making things complicated and redundant. But with Merchynt, the systems they have make GMB profile management simpler and easier to white label.
Here are the things you should know about this unique company's services:
Merchynt has a white label listings management software.

Do you have a huge client base and you need to do white label GMB services for them at once? Merchynt may be the ideal white label company for you because they have software where you can manage multiple profiles and update their information such as business hours and logos. You can also give logins to your clients, so they can update their business information on their own if they want. And here's the best part – the branding is still all yours.

They also have a review management software.

Manage reviews in one place with the help of Merchynt's software. You can see and respond to Google reviews in your dashboard. There are also automation features, such as automatic "thank yous" to positive reviews.

You will have an account manager. Software can become overwhelming for many people, but Merchynt won't just take your money and leave you behind with complicated tools. You will have a dedicated account manager who will ensure the success of your operations.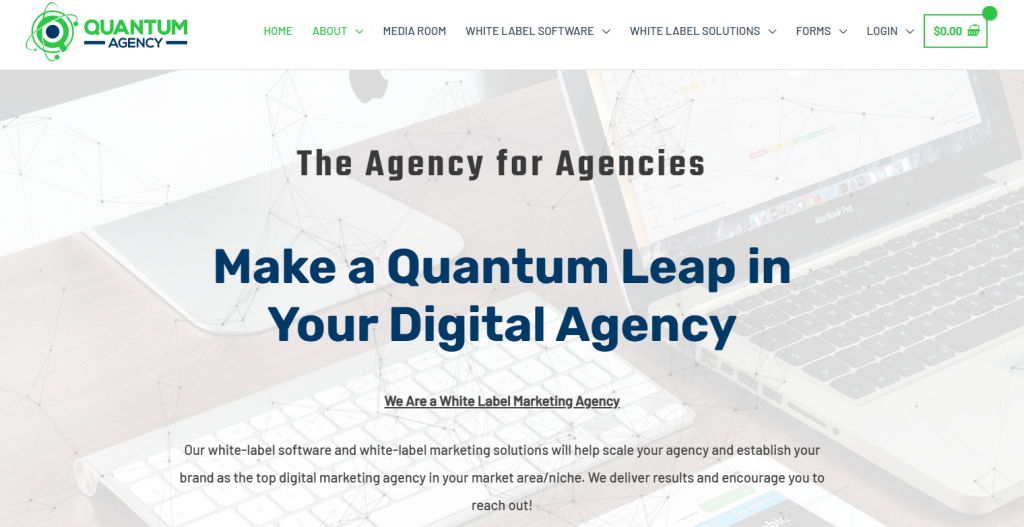 Quantum Agency is a dedicated white label digital marketing service provider. As they say, it's "The Agency for Agencies." This agency has both white label software and white label solutions, combining the edges of the other agencies.
Quantum Agency has a one-time optimization service that you can customize. It can be great for one-off clients. Here are details of this customizable service:
Quantum Agency can set up and optimize GMB profiles. Start from the very basics – the company will ensure that your client's business name, address, and phone number are accurate. They can write business descriptions, operating hours, service areas, and other relevant details. But they can also go beyond the basics. They can do local web presence audits and competitor analyses.
Make the one-time service better with add-ons.

Let the company write articles for you, complete with images and geo-tagging. They can also help build links to your client's listing and target website. The number of articles and links can vary depending on the pricing.

They have complete white label services.

If you need other white label solutions, Quantum Agency has them for you. They have packages for white label PPC, white label SEO, and other common digital marketing services that you can rebrand as your own.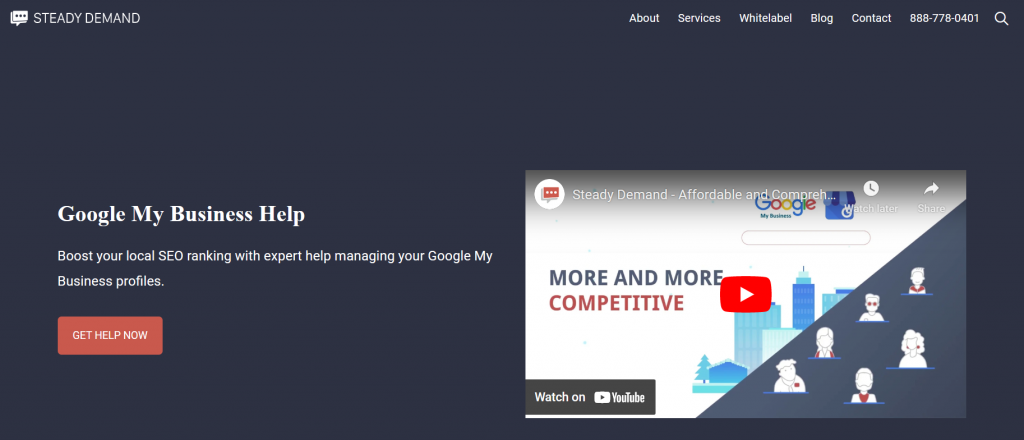 Steady Demand prides itself as a company full of GMB, SEO, and social media experts – basically the complete digital marketing package. They are not a fully white label digital marketing agency, but they can white label their services for you. And the great thing here is that they use their expertise in one department to enhance the other. They use their local SEO acumen to make their GMB optimization service better. This is great because, sometimes, even your Google My Business and Google Maps rankings can affect your organic rankings.
Here are the details of their white label services:
Steady Demand can work on your core GMB optimization needs.

Are your clients having trouble accessing their listings? Are they suffering from duplicates, especially those that are claimed by someone else? Or are they victims of fake negative reviews? Steady Demand can work on these optimizations. With their help, you are sure you are actually in control of your listings.

They can complement the optimizations with local SEO.

Steady Demand can conduct Google My Business page analyses, local SEO audits, and keyword and organic ranking reports. They can offer insights that can help not just your clients' GMB rankings, but also their entire local SEO situation.

They have fast turnaround times.

A problem that may occur with white labeling is that the white label company may not be able to keep up with the demands of your clients. But Steady Demand is different. Their team of GMB experts is proud of their fast turnaround times, clocking in at 72 hours. This, of course, results in more satisfied clients and customers.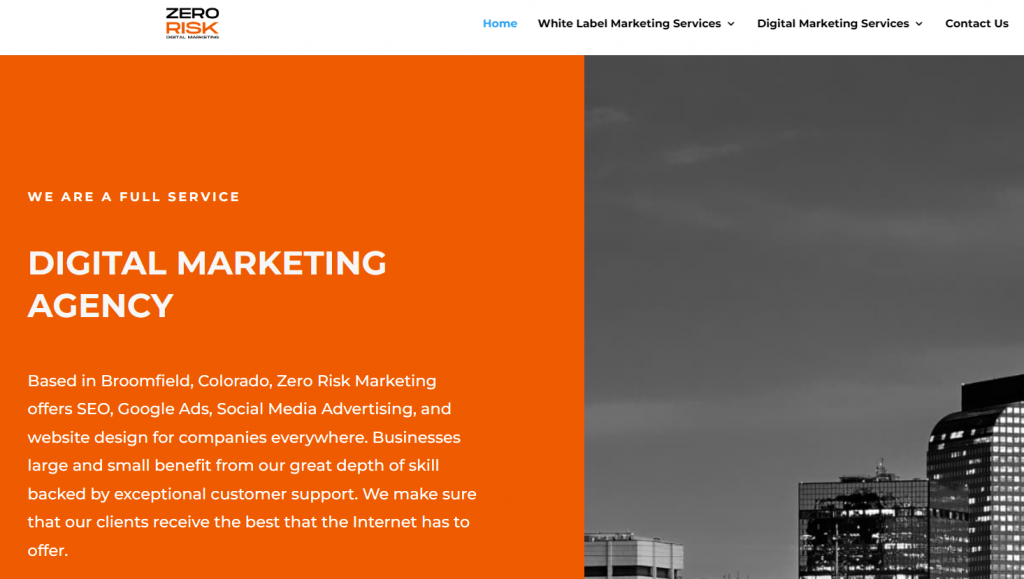 Zero Risk Marketing is like Steady Demand. They are not a fully white label digital marketing agency. They offer Google Ads, SEO, social media advertising, web design, and of course, GMB optimization. And you can white label them.
Here are the details of their white label GMB services:
Zero Risk Marketing focuses on ranking you in the Google Maps Pack. When you are searching for businesses in your local area, you will notice that the search results will have three businesses from Google Maps contained in a box. This is the Google Maps Pack. Ranking in the Google Maps Pack is super advantageous. And this is exactly what Zero Risk Marketing is trying to exploit.
They have comprehensive content and link plans.

Zero Risk Marketing does the basic GMB optimizations – writing accurate listings and making sure you can actually control the listings. What sets the company apart is their silo pages, where they can organize and link content, so Google will have an easier time crawling articles with keywords, websites, and GMB listings in a particular industry or geo-location.

They can also do on-page and technical SEO for your client's websites.

The company's offerings go beyond the space of Google My Business and Google Maps. They can also help with your client's websites. They can do on-page optimizations, including writing effective titles, meta tags, and subheadings. And they can do technical SEO, including auditing and fixing common SEO issues like mobile responsiveness, site speed, and SSL hosting.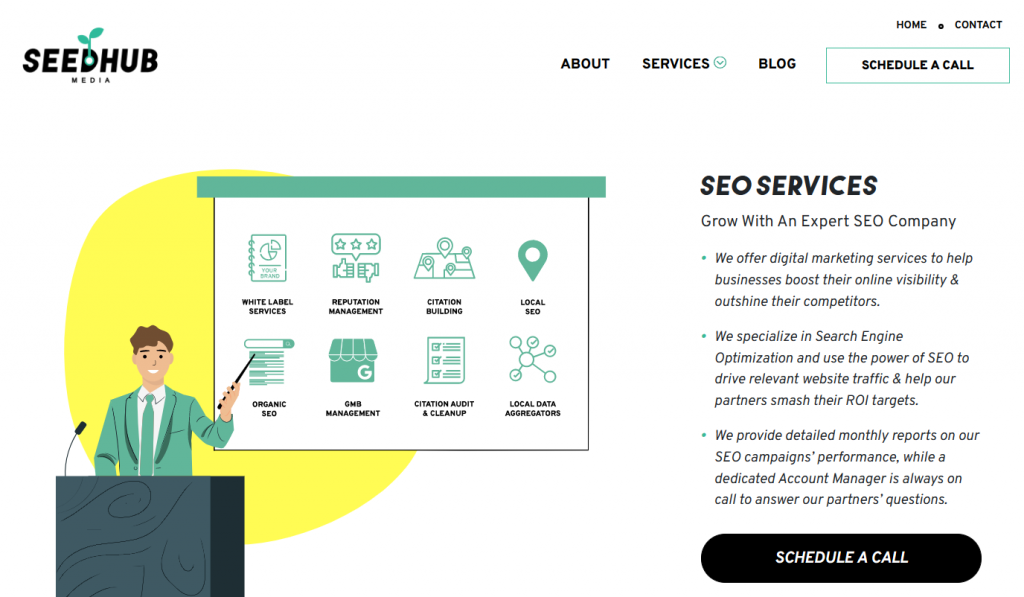 Seedhub Media is a digital marketing agency specializing in white label local and organic SEO services. They have multiple offices around the world, including in Cyprus, the UK, and the Philippines. You know an agency is competent when it's already going global.
They have comprehensive GMB management services. They can optimize profiles and posts, monitor and respond to reviews, and fight spam. Here are the particulars:
Seedhub Media can create monthly posts, photos, and videos for profiles. Seedhub Media doesn't just optimize GMB profiles. They optimize the posts too. They use a variety of GMB posts for their clients, such as company news and updates, events, special offers, and photos and videos of products and services. The best thing about these – they are all backed with pre-approved links and strong calls to action.
They monitor and actually respond to reviews.

Customers and searchers nowadays heavily scrutinize companies before they shell out money. Some of the things they look at are reviews in GMB profiles. Seedhub Media can manage the reviews in your clients' profiles. They can show good faith to your clients' customers by responding to all reviews, including negative ones.

They fight attacks and bad GMB practices.

Google My Business and Google Maps are very competitive spaces. Many businesses will try to bring you down, bombarding you with fake duplicate listings and negative reviews. Seedhub Media can help fight against these attacks and fix GMB bad practices such as keyword stuffing.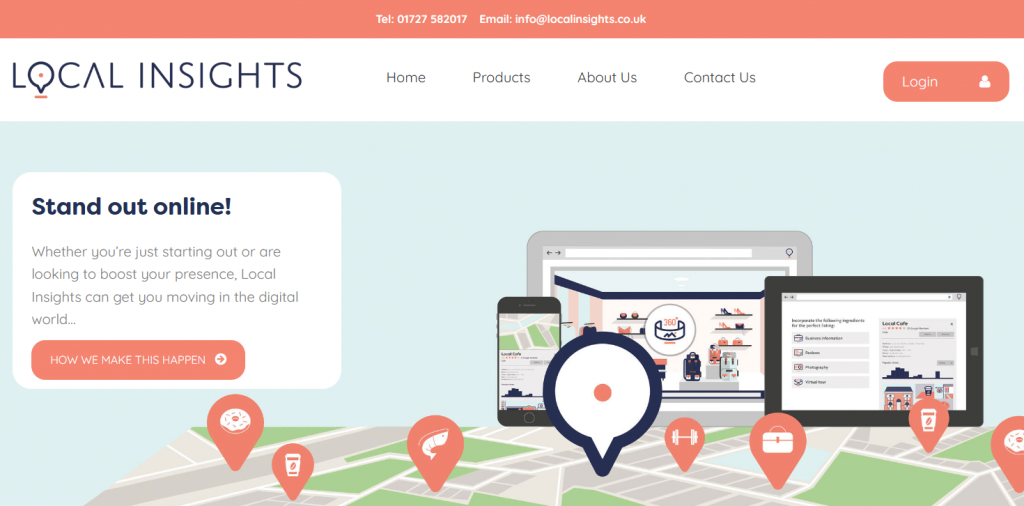 Local Insights is a UK-based digital marketing agency focusing on ads, SEO, social media, and GMB optimization. Their number one priority is to serve small businesses. Big-name companies almost always have the advantage online because of big budgets and more competent talents. But Local Insights is here to level the playing field.
Here are the details of their white label GMB optimization services:
Local Insights has a full Google listing management service.

Their GMB offerings encompass everything – GMB profile optimization, posts and updates, photo uploads, review management, and of course, white label reports. It's a complete package where you don't have to micromanage the details unlike in other agencies where you pick and choose specific optimizations. It's the perfect white label solution. Let Local Insights focus on your GMB service offerings. And you focus on growing your own business.

They have a world class dashboard. A dashboard is incredibly important in accessing and navigating through white label operations. It's a good thing that Local Insights has a top-tier dashboard that provides real-time data 24/7. This will keep you up-to-date with key performance indicators and the level of success of your clients' listings. The dashboard can also do white label reports, which GMB and SEO resellers will appreciate.
They manage thousands of listings in-house.

Agencies always say that they are competent digital marketers. But are they? Local Insights boasts about its strong client base with more than 1000 listings. They also manage everything in-house, from the profile optimization to the content creation.
How to choose a white label GMB services company
Digital marketing as a whole, not just white label GMB services, is a super competitive and saturated space. Many agencies are truly competent while some just pretend to be. The pretenders will just take your money and give you lackluster results.
So no, hiring a white label GMB services company will not automatically solve all your Google My Business and Google Maps problems. You have to filter out the bad companies and choose only among the truly competent ones. If you don't, you may even lose clients because the bad companies can't pull off GMB services. Here are some tips on how to choose white label GMB services companies:
Understand your goals and values first.

Yes, it's important to know the offerings of the different white label GMB services companies out there. But how do you even know which ones to hire? You have to define your company's goals first and set budgets. You have to have clear definitions first, so you can create a checklist that you can use as a guide when looking for a white label company.

Know the options.

Do you prefer a digital marketing agency that is dedicated to white label services? Or are you okay with one that isn't fully a white label company but offers white label services? The former probably has better infrastructure for white labeling. But this doesn't mean that it's automatically better. Again, it will depend on your goals, budgets, and values.

Look at previous results. You can't go wrong with social proof. A white label GMB services company that has a proven track record will always be a good choice. Do your own research about the company you are eyeing. Take a look at their case studies to gauge if they really know what they are doing. Sometimes, GMB optimization is not about the GMB profiles themselves. Websites can be heavily involved. For example, does the company even embed Google Maps on their websites? These simple practices can be an indication of a company's competence as a white label provider. Take a look at their customer reviews too to find out if their customers are satisfied with their performance.
GMB factors that white label GMB services companies work on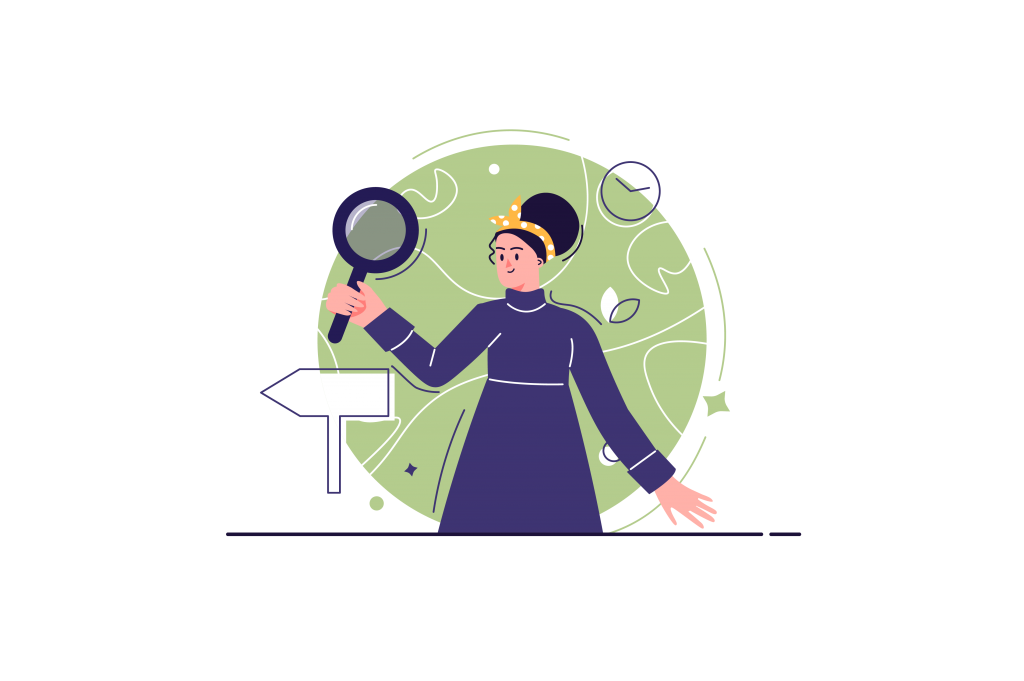 But how do these white label GMB services companies actually help in Google My Business, Google Maps, and local SEO? Well, they consider many factors. They optimize these factors to give you or your client the best chances of getting seen, ranking up, and improving business. Here are the factors they are looking into.
1. Business information
This GMB ranking factor is relatively straightforward. You just have to write accurate information in GMB profiles, such as the business name, address, phone number, website URL, operating hours, and business category. Even though it's very straightforward, it's still very crucial to get it right. You will be surprised how so many businesses have inaccurate or inconsistent business information on their online profiles, not just in GMB. White label GMB services companies will clean these up for you. Here are the reasons why it's crucial:
Accurate business information can enhance visibility and rankings. Search engines, especially Google, rely on online information to determine the legitimacy and relevance of your business to search queries. If you have the right business information in your GMB profile, you are increasing your chances of ranking in relevant search queries and improving your business visibility. This can be the game-changer if you are into local SEO.
It can improve credibility and trust.

When users look for businesses online, they expect to see the most important business information to help them decide if they are going to pull the trigger or not. If you have the right business information in your GMB profile, you can avoid confusion, frustration, and lack of trust among searchers.

It can improve user experience and increase conversions.

If users can immediately find accurate information about your business, there will be less friction in their customer journey and in your sales funnel. Accurate business information directly improves user experience by providing them with the right information they need to decide whether to buy or not. It also indirectly increases conversions by minimizing unnecessary challenges that may turn potential customers away.
2. GMB posts
GMB content creation is one of the most popular GMB services out there, white label or otherwise. This highlights the importance of being active in your GMB profile. Sure, this is a search engine thing. You need to be active to show Google that you care about Google My Business and Google Maps as properties. But it's more than that. GMB posting is also important in a business's branding and sales funnel. Here are some fast facts:
GMB posting can improve brand messaging and communication.

There are so many things you can do with GMB posts. You can spread your brand's message and mission, showcase your products and services, share special offers, and even highlight reviews. GMB posts are just a good communication tool to connect you and your audience.

Consistent posting can increase engagement and visibility.

When Google sees that a business is active in Google My Business, the search engine may improve their rankings, potentially increasing their visibility to potential customers. When searchers also see your GMB profile, they will be able to see your posts that show your products, services, offers, reviews, and many more. This can keep them engaged, which can be the very thing that makes them convert.

Proactive GMB posts can lead to conversions.

You can create GMB posts that may compel your audience to do specific actions, especially when you put a call-to-action in them. These posts can direct users to your or your client's website, social media profile, or specific landing page where they can be converted into real paying customers.
3. Ratings and reviews
Ratings and reviews are not just there for your customers to show their satisfaction or vent their frustration. They are also there to improve or ruin your reputation. And they are there to help Google understand your business further. In short, ratings and reviews play a crucial role in essentially everything – your company, your customers, and the search engines that lay between your company and your customers. Here are some key points:
Google includes ratings and reviews in determining rankings.

Google's search algorithm takes into consideration a GMB profile's ratings and reviews when determining rankings. A business with a substantial amount of high ratings and positive reviews is likely to rank higher than a business with low ratings and negative reviews. Ratings and reviews show authority and competency, and Google is taking notice.

They offer valuable insights to understand your customers. There are many ways to deeply understand customers and target audiences. You can do SEO audits, for instance. Another way is to analyze the feedback they leave on your GMB profile. Of course, some reviews may be too emotional and non-critical. Those offer little to no value. But there are hidden gems in the reviews that may be able to help improve your products, services, and business processes.
They help build trust and reputation.

When users look at GMB profiles, some of the first things they look at are ratings and reviews. They want to know how you operate, so they can make an informed decision whether you are worth the money or not. Having good ratings and reviews is a great way to build trust in the hearts of searchers and potential customers. It's also a great way to build your reputation as a business.
4. Relevance
Relevance can be tricky. It can be a factor in rankings. After all, you need to be relevant to the query to rank for specific keywords. But you can also say that it's not a factor. This is because you can't really rank for specific keywords you are not relevant to. If a user is looking for a pizza parlor and your or your client's business is a salon, you are never going to appear on pizza parlor search results. With that said, it's still important to optimize for relevance, so you can actually rank on relevant keywords. Here are more thoughts on the matter:
Relevance takes business information consistency into the equation.

When white label GMB services work on relevance, they mostly work on business information – or more specifically, its consistency. Business information should be consistent throughout the online world, not just in Google My Business and Google Maps. Business names, addresses, phone numbers, and other important details should be the same across all properties, including on websites, social media profiles, directory profiles, and everywhere else.

It can help you reach the right audience. GMB profile relevance ensures that you are reaching your target audience. With the consistency of your business information, you are sure that Google is knowing your business better and showing you up in searches that are relevant to your business. This way, you will get the right leads, and potentially, you will get more conversions.
It aligns your GMB profile with user intent.

Google has one ultimate aim – to give their users the most relevant results. If you understand the intent of your potential customers, you can optimize your GMB profile to reach them efficiently with the help of Google. Again, this highlights the optimization and consistency of your business information.
5. Distance
Distance is another factor Google considers when showing search engine results pages. If a user is looking for coffee shops, Google by default will show coffee shops in the user's vicinity. This is unless the user specifies that they are looking for coffee shops in a specific location. You can say that you can't truly optimize for distance because there is no way you can rank for all locations. But you can rank locally, taking advantage of potential customers near your business location. And that can be enough to increase competitiveness. Here are some insights:
Google considers user proximity.

When a user uses Google, the search engine considers their location and the businesses around them to determine search results. GMB profiles that say they are in the user's location will have a higher chance of ranking than those that say they are from far away. This is crucial for users who type "restaurants near me" and the like.

Distance optimization is particularly important to service-based businesses. Do your clients work in a service-based industry, like home cleaning and HVAC? Chances are, they are operating in a specific service area, not necessarily in a storefront. By optimizing GMB profiles with distance and specifying service areas, these clients will have a higher chance of showing up in relevant search results.
Citations help Google determine relevance and distance.

Citations are formal mentions of a business in directories and informal mentions in other online spaces like blog posts and social media posts. GMB profiles are basically citations. And they help Google determine if a business is relevant and near a user making a search.
6. Website signals
GMB optimization is not just about optimizing GMB profiles themselves. It's also about optimizing other properties, particularly websites, to indirectly benefit GMB profiles. By optimizing your other online properties, you can create a cohesive online presence that can attract potential customers. Here are more insights:
GMB profiles can contain links back to business websites.

One of the many business information you can share in GMB profiles is the link to your website. You can take advantage of this. After all, GMB profiles have limited space. And you can only do so much. But if you optimize your websites, especially your landing pages, you can provide more business information, showcase your products and services, and more to these new leads that come from the GMB space.

Conversion-focused features can increase sales.

White label GMB services companies can use call-to-action elements and other conversion-focused features to have a higher chance of achieving your business goals. It's not just about sales. It's also about getting more online bookings, more newsletter sign-ups, and others. By redirecting GMB profile lurkers to your website, the white label companies can do so much as they will not be limited by the Google My Business infrastructure.

Content and SEO opportunities can bolster online presence.

There is no ultimate digital marketing strategy. There is a big need to combine different strategies to bolster your online presence. GMB optimization is just one. Some others are content expansion and SEO on your website. Content and SEO won't just improve your visibility when you combine them with GMB optimization. They can also build authority and trust.
Types of white label GMB services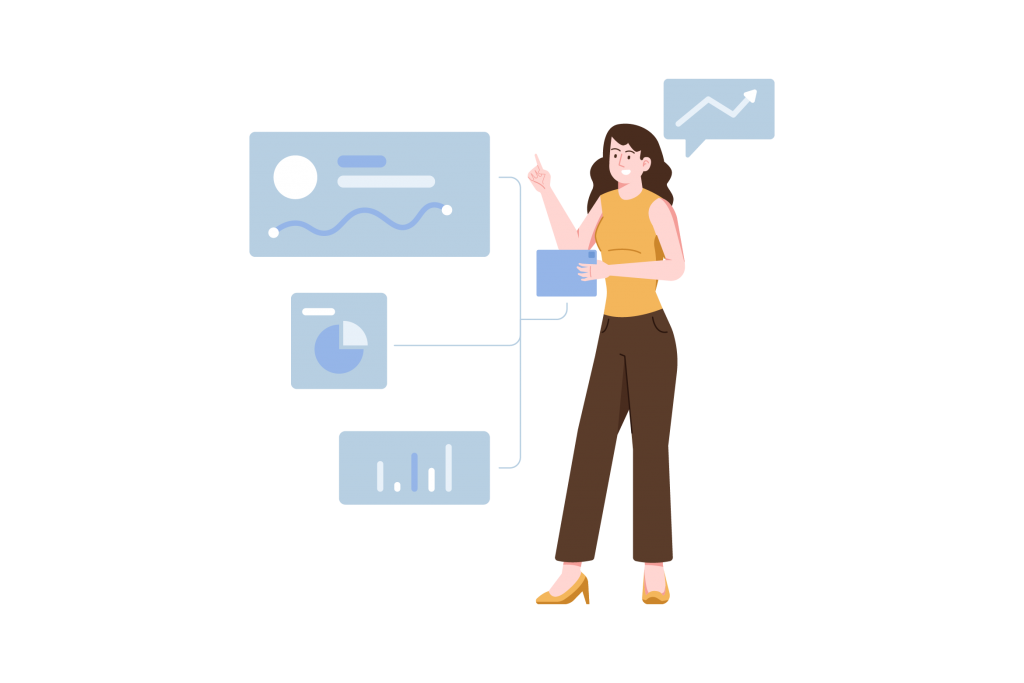 Now that you know the factors that white label GMB services companies work on, a follow-up question comes up. How do these companies work on these factors? In other words, what are the different types of white label GMB services out there? Here are the most common ones.
1. GMB optimization
GMB optimization is about optimizing the GMB profile itself. It mainly involves writing accurate business information, sprinkling some keywords here and there, and adding visual content like pictures of your storefront. It's the most fundamental aspect of GMB services. Without a properly optimized GMB profile, all other GMB executions are futile. Here are some ways white label GMB services companies optimize the GMB profiles of your clients:
White label GMB services companies write accurate and complete business information.

They will write your business name, address, and phone number in the profile to tell Google, Google My Business, Google Maps, and other Google properties information about the business. They can also include website URLs, hours of operations, and business categories for further optimization.

They write engaging business descriptions.

A GMB profile's business description is not just about including relevant keywords. It's also about actually highlighting a business's key offerings and selling points, unique features, and specialties. It can also include the business's history, mission, and vision to humanize the brand. It takes skill to write business descriptions that are both informative and engaging.

They include images to increase the profile's visual appeal.

Visual appeal plays a critical role in a user's decision-making. A stunning and high-quality photo of your storefront or product may be the key to converting a random user who has stumbled upon your GMB profile into a paying customer. Visual appeal also includes logos, infographics, and other digital images like restaurant menus.
2. GMB posting
GMB posts play an important role in enhancing engagement in GMB profiles and increasing their visibility. They enhance engagement because they attract attention, encourage clicks, and make users explore GMB profiles. You may even lead them back to your website to complete the customer journey. They increase visibility because they can contain relevant information such as keywords that can help the profiles rank. Here are some ways white label GMB services companies use GMB posts:
White label GMB services companies write engaging and relevant content. There are many GMB post types. You can share company updates, like new operating hours and new addresses. You can highlight products, services, offers, and even events. And you can share industry and niche insights to boost authority. Different post types accomplish different things, and white label GMB services companies take advantage of each type.
They are consistent in posting.

For a retainer fee, the white label companies can make consistent posts for your GMB profiles. However, consistency is relative. Consistency can be posting weekly, once every two weeks, or even once a month. It will depend on your content plan, and your white label company of choice can help you with that too.

They improve the visual appeal of posts.

SEO professionals use many techniques to optimize GMB posts. Optimization is not just about using relevant keywords and including calls-to-action. It's also about using images to make the posts stand out and more appealing. You should not underestimate visual appeal in conveying messages and retaining attention.
3. GMB review management
Review management is an important part of GMB profile management. Reviews are your gateway to customer feedback and insights, which can help your business in the long run. They impact your credibility and reputation. And they also affect local rankings because, of course, GMB profiles with stellar reviews will be considered better than those with bad reviews. Thankfully, the professionals from white label GMB services companies know how to navigate through reviews. Here are some of the things they do:
White label GMB services companies monitor and reply to reviews.

As mentioned many times earlier, most of these white label companies have dashboards where they can manage campaigns. Some dashboards are so powerful that they can actually monitor and reply to GMB reviews in multiple GMB profiles. With the help of powerful tools, reviews are easier to manage. But managing can also be done manually.

They maintain a level of professionalism when responding to criticism.

These professionals know how to handle bad reviews. Sometimes, the bad reviews are warranted, especially if the business really has a questionable product or service. And sometimes, the bad reviews are not warranted and are coming from a place of emotion and revenge. Whatever the case may be, SEO professionals will be able to respond to them with courtesy and professionalism.

They gather insights and help improve products and services.

Sometimes, the feedback from customers does make sense. The professionals can compile these and report them to you or your client. These may provide insights that can help improve products and services.
4. GMB analytics and reporting
What is a digital marketing campaign without analytics? Without numbers, it's very difficult to measure key metrics, look at campaign performance, and come up with insights. GMB services are no exception. And of course, you also have to have tools to be able to share important data to your own company and your clients for proper reporting. Here are some of the techniques white label GMB services companies use for analytics and reporting:
White label GMB services companies monitor key metrics.

There are many key metrics you can track in GMB analytics. Here are some of them: clicks, impressions, website visits, post views, photo views, ratings and reviews, and search queries. There are many others, and what you will track depends on certain factors, such as the nature of your business and your objectives.

They use data in their decision-making.

Thankfully, the dashboards of many white label GMB services companies also come with reporting tools. These tools make it easy to compile data and form insights, and you can use these tools to easily convey the information to your clients. You can also use data in making crucial business decisions. For instance, if you notice a particular GMB post type is getting more engagement, you can create more posts of that type. Without analytics and reporting tools, finding these little gems that can affect business can be difficult.

They combine GMB data with other data sources.

There are many kinds of data across different online spaces. For instance, you have website analytics and social media analytics. Combining GMB data with website and social media data can give you a more comprehensive view of your online standing, your customers' behaviors, and your competitors' conditions.
5. Integration with other digital marketing techniques
Google My Business is just one of the many properties you should play with if you want to be competitive online. In other words, GMB services are not enough. You have to have other digital marketing techniques in your arsenal. Thankfully, you can integrate GMB into other common digital marketing techniques, like citation building, content marketing, and link building. Approach your white label GMB services company. Chances are, they already have these digital marketing services to integrate with GMB. Here are just some sample services:
Digital marketing companies can build citations for you.

Many times, white label GMB services companies are actually white label digital marketing companies. They offer different kinds of services, including citation building. GMB profiles are basically citations already. There are other citations out there, such as structured citations from online directories like Yellowpages and Yelp, and unstructured citations like informal mentions of your business in blog posts and social media posts.

They can help with content marketing. Content marketing is about creating and distributing content to attract audiences and potential customers. You can say that GMB posts are already part of content marketing. But you can expand your content marketing beyond GMB. You can create a blog on your website, build a social media following, or write guest posts for relevant authoritative businesses.
They can build authoritative links. Your link profile plays a crucial role in your competitiveness in the online world. Yes, Google My Business, Google Maps, and other links from Google properties are great links to have. But there are more links out there to acquire. You can get links from other authoritative sources, such as the biggest websites in your industry and niche.
GMB optimization is an integral part of digital marketing
If you are already offering local SEO to your clients, consider adding GMB optimization to your services to give you an extra revenue stream. Thankfully, you don't have to start Google My Business and Google Maps from scratch. You can hire white label GMB services companies to save you time and money. They already have the knowledge and infrastructure, so you can immediately offer GMB services to your clients.
There are so many companies to choose from. There are those who can be one-stop shops for all your digital marketing needs, such as Marketer's Center. And there are those who are more specialized. They all have pros and cons.
At the end of the day, the right white label GMB services company for you will depend on your goals, budgets, and values.
---