There are so many Google My Business services you can offer out there. You can help businesses create Google My Business profiles, make and optimize content, manage reviews, build links, and even analyze competitors.
But all these can be overwhelming, especially if you have a huge local client base that includes big corporations and mom-and-pop stores. You may not even have the time to learn the ins and outs of GMB services to give your clients satisfactory and timely results. One solution is getting help from white label GMB services companies.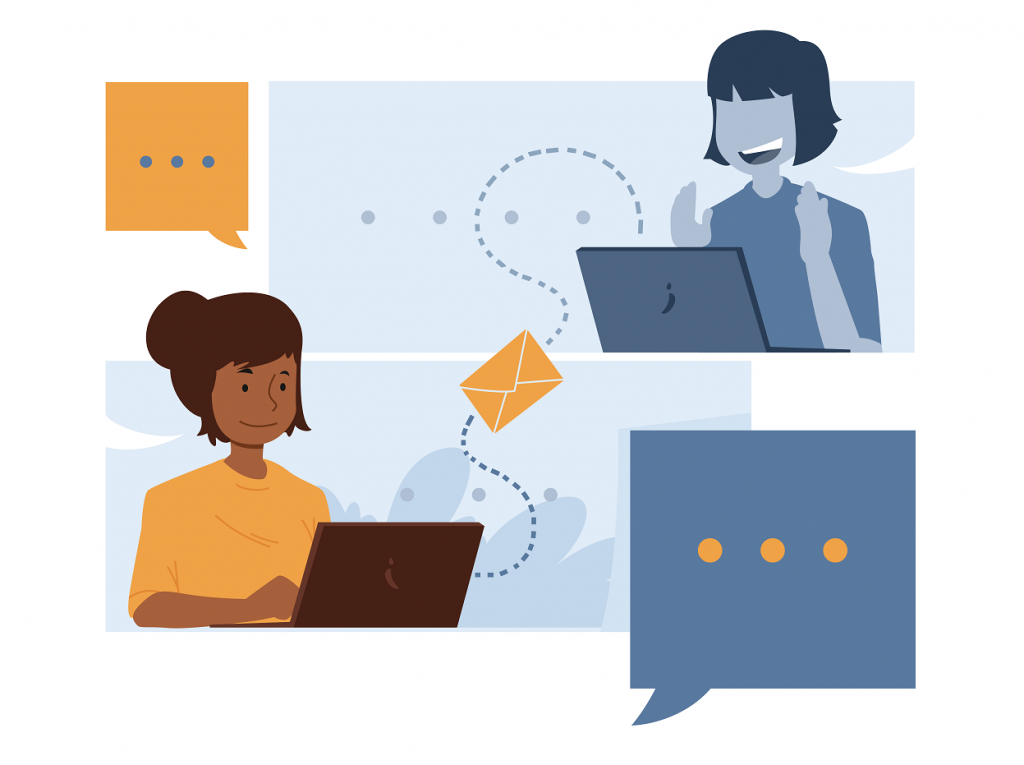 Table of contents
What are white label GMB services?
In the world of digital marketing, white labeling is the practice of presenting a product or service under your own company even though the product or service has been done by a different company – a white label company.
You can hire a white label GMB services company and then offer GMB services to your existing clients. It's like a form of outsourcing. You let the white label GMB services company do the heavy lifting and you get the client's payment and the glory of doing a good job.
There are many advantages to white labeling your GMB service offerings, such as:
It saves you time and money.

Google My Business and Google Maps are very competitive spaces. Many agencies even specialize in them to get an edge. If you are just starting out, it may take a while to develop digital marketing solutions that will make you compete. Relying on white label companies will save you from burning significant time and money on knowledge and infrastructure.

It expands your product and service offerings.

Yes, some agencies do specialize, but that has its disadvantages too. Sometimes, it's better to become a one-stop shop for everything related to digital marketing. If that is your goal, you will need GMB services. Getting help from white label companies will immediately expand your product and service offerings since you are not going to start building knowledge and infrastructure from scratch.

It gives you a new revenue stream. If you have local SEO services, it's ideal to complement them with GMB services. Your clients will need Google My Business optimization and Google Maps to compete at the local level. After all, location and relevance are significant factors in ranking. Offer GMB services now. With the help of white labels, you are not just becoming more competitive with other local SEO agencies, but you are also opening a new revenue stream for your business.
White label GMB services companies you should try
White labeling is not the easy solution to all your digital marketing problems. You still have to exert effort, especially in choosing white label GMB services companies. Here are some great agencies that offer white-labeled GMB solutions.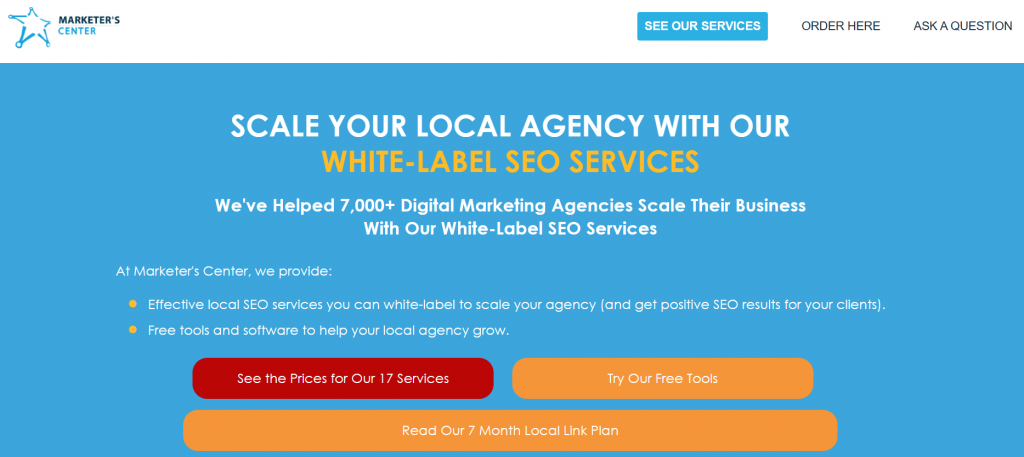 Marketer's Center is a white label SEO service provider. If you are tired of SEO resellers with overpriced solutions and lackluster results, it's the agency to try. And that's not just sales talk – Marketer's Center has served thousands of agencies, helping them scale their businesses with white label SEO services.
Some of the many offerings of the company are various white label GMB services. Here are the important aspects of their services you need to know:
Marketer's Center has a comprehensive GMB optimization service. There are many agencies out there that offer very specific GMB services, such as content creation and profile management. But Marketer's Center has better offerings – a one-stop solution to all your GMB needs. With their GMB Foundations service, you can enjoy a 28-day optimization process – from auditing your GMB situation and analyzing competitors to posting premium content.
Their premium posts can boost GMB profile activity.

GMB profile activity is one of the many factors that determine rankings. And is there a better way to showcase activity than posting content? Marketer's Center can write locally relevant content with matching keywords, highlight product and service reviews, and link back to a service page on your website. They can keep your local client's GMB profile active with about 16 posts a month.

They are a one-stop shop for your local SEO needs. GMB optimization is just a small part of Marketer's Center's offerings. If you need any local SEO help for your clients, Marketer's Center has dedicated solutions for you, including website and local citation audits and citation cleanup. They also have authority link building and organic SEO services.
While Marketer's Center has a wide range of services, GMB Gorilla is more specialized. As their name suggests, they focus more on Google My Business management.
Whether you are an agency, consultant, freelancer, or an industry-established company, you can't go wrong with GMB Gorilla for white label GMB services. This is because they have a dedicated white label program to make white labeling smoother compared to what other agencies offer. Here's everything you need to know:
GMB Gorilla can provide you with a branded portal.

In white labeling, the ease of rebranding the white label company's product or service is important – and that's exactly what GMB Gorilla offers. For a small fee, you can even have your own dashboard and portal with your own branding. The company can also put your logo on reports with no problem at all.

They have flexible pricing.

GMB Gorilla is not just here to take your money. It's a two-way relationship. They offer generous discounts to their clients and help them become successful in their digital marketing journey, even helping them craft campaigns and close deals.

They give you access to resources to help you grow. The company really treats their clients as partners. As a white label client, you will gain access to an ever-growing repository of sales and marketing services. These resources can help you in your overall digital marketing journey, not just in white labeling GMB services. For instance, do you know that business profiles can help with local citations too? There's so much to learn in digital marketing.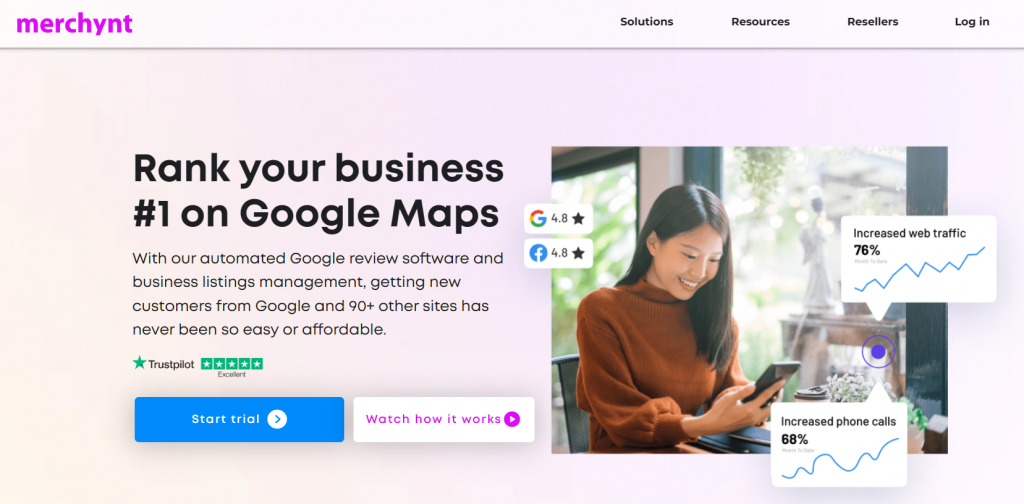 Merchynt has a different approach when it comes to white label GMB services. While others focus more on having dedicated SEO teams, Merchynt rely more on software. They believe that things should not be complicated. Many companies try to sound competent by making things complicated and redundant. But with Merchynt, the systems they have make GMB profile management simpler and easier to white label.
Here are the things you should know about this unique company's services:
Merchynt has a white label listings management software.

Do you have a huge client base and you need to do white label GMB services for them at once? Merchynt may be the ideal white label company for you because they have software where you can manage multiple profiles and update their information such as business hours and logos. You can also give logins to your clients, so they can update their business information on their own if they want. And here's the best part – the branding is still all yours.

They also have a review management software.

Manage reviews in one place with the help of Merchynt's software. You can see and respond to Google reviews in your dashboard. There are also automation features, such as automatic "thank yous" to positive reviews.

You will have an account manager.

Software can become overwhelming for many people, but Merchynt won't just take your money and leave you behind with complicated tools. You will have a dedicated account manager who will ensure the success of your operations.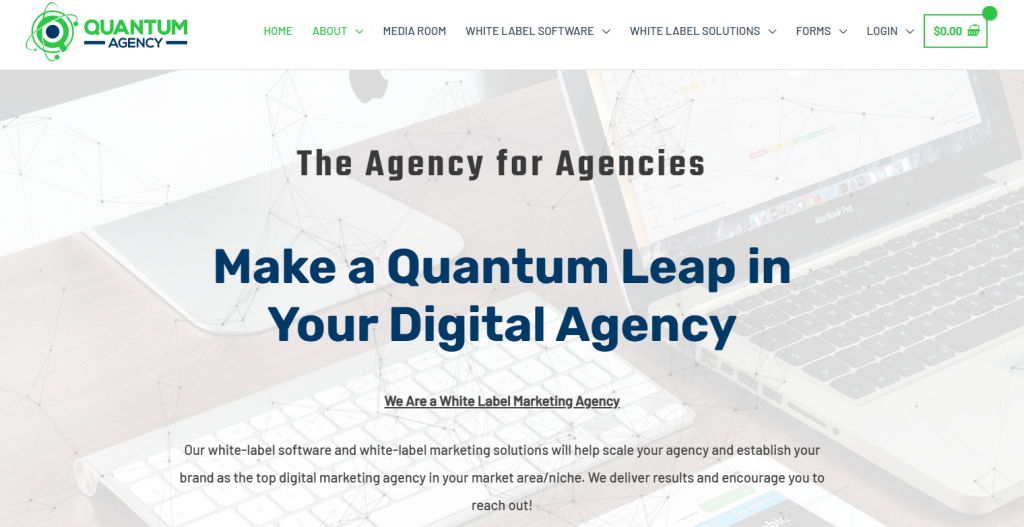 Quantum Agency is a dedicated white label digital marketing service provider. As they say, it's "The Agency for Agencies." This agency has both white label software and white label solutions, combining the edges of the other agencies.
Quantum Agency has a one-time optimization service that you can customize. It can be great for one-off clients. Here are details of this customizable service:
Quantum Agency can set up and optimize GMB profiles.

Start from the very basics – the company will ensure that your client's business name, address, and phone number are accurate. They can write business descriptions, operating hours, service areas, and other relevant details. But they can also go beyond the basics. They can do local web presence audits and competitor analyses.

Make the one-time service better with add-ons.

Let the company write articles for you, complete with images and geo-tagging. They can also help build links to your client's listing and target website. The number of articles and links can vary depending on the pricing.

They have complete white label services.

If you need other white label solutions, Quantum Agency has them for you. They have packages for white label PPC, white label SEO, and other common digital marketing services that you can rebrand as your own.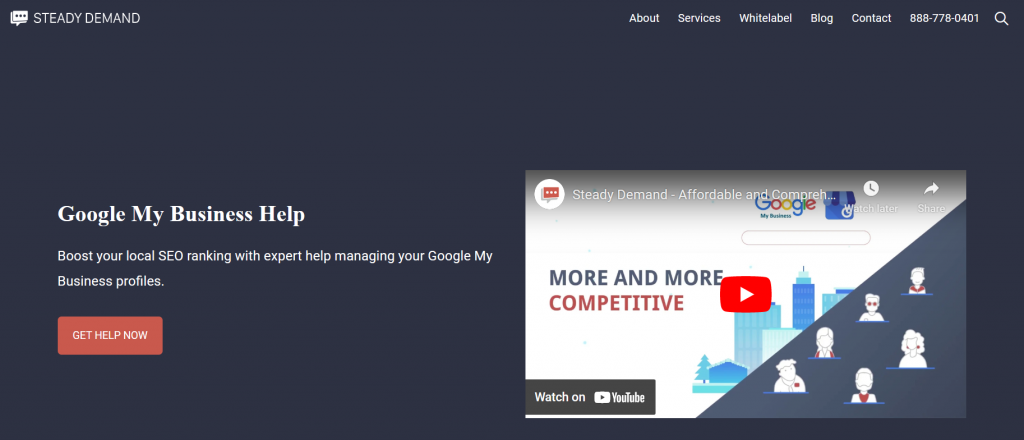 Steady Demand prides itself as a company full of GMB, SEO, and social media experts – basically the complete digital marketing package. They are not a fully white label digital marketing agency, but they can white label their services for you. And the great thing here is that they use their expertise in one department to enhance the other. They use their local SEO acumen to make their GMB optimization service better. This is great because, sometimes, even your Google My Business and Google Maps rankings can affect your organic rankings.
Here are the details of their white label services:
Steady Demand can work on your core GMB optimization needs.

Are your clients having trouble accessing their listings? Are they suffering from duplicates, especially those that are claimed by someone else? Or are they victims of fake negative reviews? Steady Demand can work on these optimizations. With their help, you are sure you are actually in control of your listings.

They can complement the optimizations with local SEO.

Steady Demand can conduct Google My Business page analyses, local SEO audits, and keyword and organic ranking reports. They can offer insights that can help not just your clients' GMB rankings, but also their entire local SEO situation.

They have fast turnaround times.

A problem that may occur with white labeling is that the white label company may not be able to keep up with the demands of your clients. But Steady Demand is different. Their team of GMB experts is proud of their fast turnaround times, clocking in at 72 hours. This, of course, results in more satisfied clients and customers.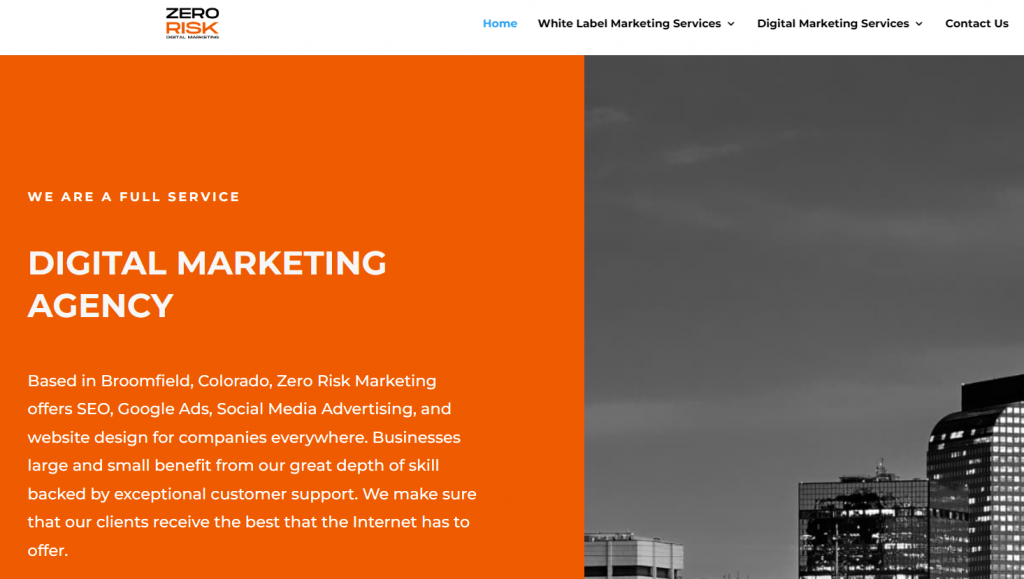 Zero Risk Marketing is like Steady Demand. They are not a fully white label digital marketing agency. They offer Google Ads, SEO, social media advertising, web design, and of course, GMB optimization. And you can white label them.
Here are the details of their white label GMB services:
Zero Risk Marketing focuses on ranking you in the Google Maps Pack. When you are searching for businesses in your local area, you will notice that the search results will have three businesses from Google Maps contained in a box. This is the Google Maps Pack. Ranking in the Google Maps Pack is super advantageous. And this is exactly what Zero Risk Marketing is trying to exploit.
They have comprehensive content and link plans.

Zero Risk Marketing does the basic GMB optimizations – writing accurate listings and making sure you can actually control the listings. What sets the company apart is their silo pages, where they can organize and link content, so Google will have an easier time crawling articles with keywords, websites, and GMB listings in a particular industry or geo-location.

They can also do on-page and technical SEO for your client's websites.

The company's offerings go beyond the space of Google My Business and Google Maps. They can also help with your client's websites. They can do on-page optimizations, including writing effective titles, meta tags, and subheadings. And they can do technical SEO, including auditing and fixing common SEO issues like mobile responsiveness, site speed, and SSL hosting.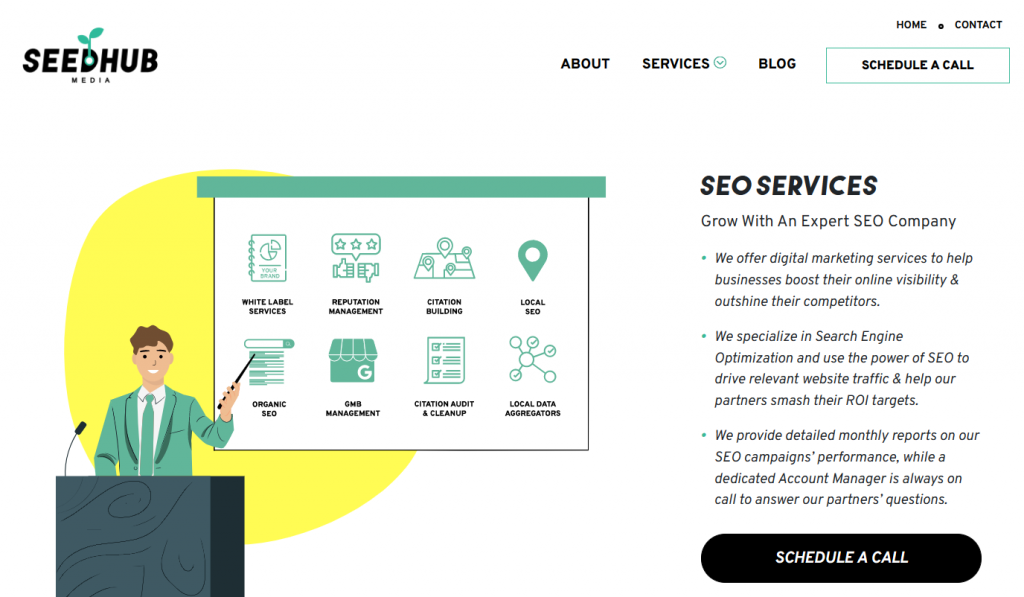 Seedhub Media is a digital marketing agency specializing in white label local and organic SEO services. They have multiple offices around the world, including in Cyprus, the UK, and the Philippines. You know an agency is competent when it's already going global.
They have comprehensive GMB management services. They can optimize profiles and posts, monitor and respond to reviews, and fight spam. Here are the particulars:
Seedhub Media can create monthly posts, photos, and videos for profiles. Seedhub Media doesn't just optimize GMB profiles. They optimize the posts too. They use a variety of GMB posts for their clients, such as company news and updates, events, special offers, and photos and videos of products and services. The best thing about these – they are all backed with pre-approved links and strong calls to action.
They monitor and actually respond to reviews.

Customers and searchers nowadays heavily scrutinize companies before they shell out money. Some of the things they look at are reviews in GMB profiles. Seedhub Media can manage the reviews in your clients' profiles. They can show good faith to your clients' customers by responding to all reviews, including negative ones.

They fight attacks and bad GMB practices.

Google My Business and Google Maps are very competitive spaces. Many businesses will try to bring you down, bombarding you with fake duplicate listings and negative reviews. Seedhub Media can help fight against these attacks and fix GMB bad practices such as keyword stuffing.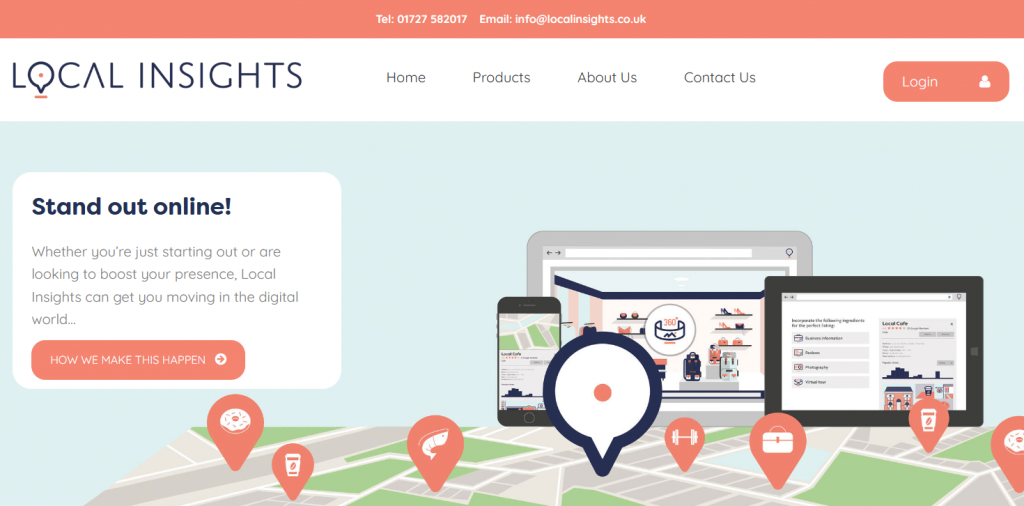 Local Insights is a UK-based digital marketing agency focusing on ads, SEO, social media, and GMB optimization. Their number one priority is to serve small businesses. Big-name companies almost always have the advantage online because of big budgets and more competent talents. But Local Insights is here to level the playing field.
Here are the details of their white label GMB optimization services:
Local Insights has a full Google listing management service.

Their GMB offerings encompass everything – GMB profile optimization, posts and updates, photo uploads, review management, and of course, white label reports. It's a complete package where you don't have to micromanage the details unlike in other agencies where you pick and choose specific optimizations. It's the perfect white label solution. Let Local Insights focus on your GMB service offerings. And you focus on growing your own business.

They have a world class dashboard. A dashboard is incredibly important in accessing and navigating through white label operations. It's a good thing that Local Insights has a top-tier dashboard that provides real-time data 24/7. This will keep you up-to-date with key performance indicators and the level of success of your clients' listings. The dashboard can also do white label reports, which GMB and SEO resellers will appreciate.
They manage thousands of listings in-house.

Agencies always say that they are competent digital marketers. But are they? Local Insights boasts about its strong client base with more than 1000 listings. They also manage everything in-house, from the profile optimization to the content creation.
How to choose a white label GMB service company
Digital marketing as a whole, not just white label GMB services, is a super competitive and saturated space. Many agencies are truly competent while some just pretend to be. The pretenders will just take your money and give you lackluster results.
So no, hiring a white label GMB services company will not automatically solve all your Google My Business and Google Maps problems. You have to filter out the bad companies and choose only among the truly competent ones. If you don't, you may even lose clients because the bad companies can't pull off GMB services. Here are some tips on how to choose white label GMB services companies:
Understand your goals and values first.

Yes, it's important to know the offerings of the different white label GMB services companies out there. But how do you even know which ones to hire? You have to define your company's goals first and set budgets. You have to have clear definitions first, so you can create a checklist that you can use as a guide when looking for a white label company.

Know the options.

Do you prefer a digital marketing agency that is dedicated to white label services? Or are you okay with one that isn't fully a white label company but offers white label services? The former probably has better infrastructure for white labeling. But this doesn't mean that it's automatically better. Again, it will depend on your goals, budgets, and values.

Look at previous results. You can't go wrong with social proof. A white label GMB services company that has a proven track record will always be a good choice. Do your own research about the company you are eyeing. Take a look at their case studies to gauge if they really know what they are doing. Sometimes, GMB optimization is not about the GMB profiles themselves. Websites can be heavily involved. For example, does the company even embed Google Maps on their websites? These simple practices can be an indication of a company's competence as a white label provider. Take a look at their customer reviews too to find out if their customers are satisfied with their performance.
GMB optimization is an integral part of digital marketing
If you are already offering local SEO to your clients, consider adding GMB optimization to your services to give you an extra revenue stream. Thankfully, you don't have to start Google My Business and Google Maps from scratch. You can hire white label GMB services companies to save you time and money. They already have the knowledge and infrastructure, so you can immediately offer GMB services to your clients.
There are so many companies to choose from. There are those who can be one-stop shops for all your digital marketing needs, such as Marketer's Center. And there are those who are more specialized. They all have pros and cons.
At the end of the day, the right white label GMB services company for you will depend on your goals, budgets, and values.
---