Backlinks are clickable hyperlinks on an external page. These links lead back to your website, and that's why they are called "backlinks." Of course, for the owner of the external page, these are simply outbound links.
Backlinks need to be clickable hyperlinks. They may be anchored by texts or images. For example, you can use "prevent COVID-19" as an anchor text or an image of a person with a facemask as an anchor image. But there are backlinks that are not anchored by texts or images too and are just very simple URLs.
Backlinks are important for your SEO campaigns. Throughout the years, digital marketers and SEO specialists have ranked backlinks highly in their big list of priorities for their SEO campaigns. Google itself has repeatedly said that backlinks are some of the integral factors in determining search result rankings.
Consider looking closer into companies that specialize in link building, like Marketer's Center.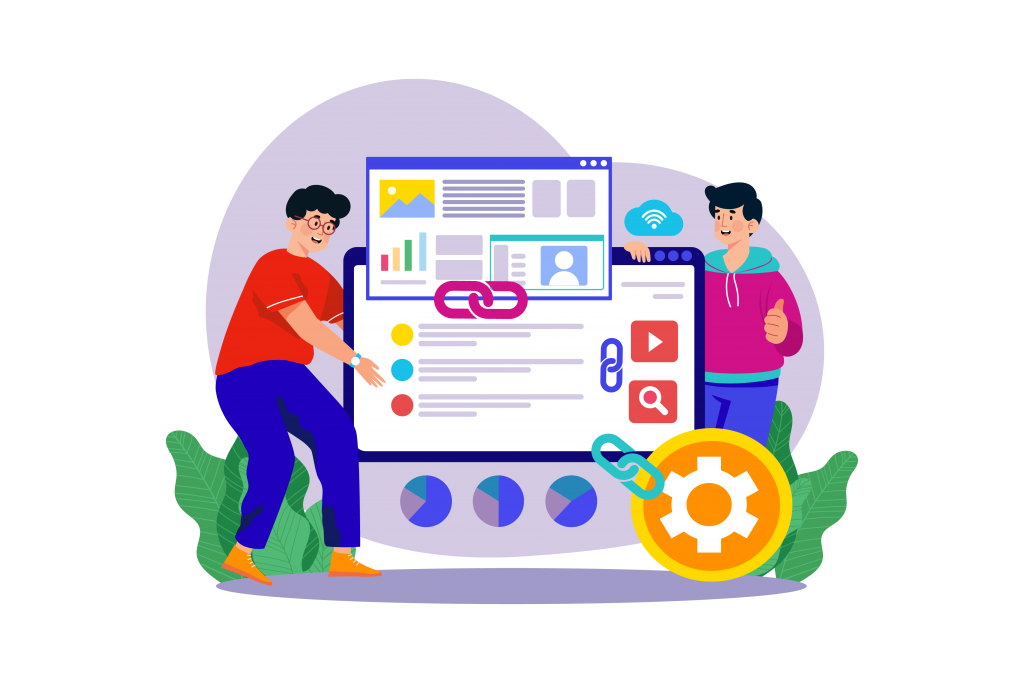 Table of Contents
How to build high-quality backlinks
Backlinks are considered high-quality if they are found on authoritative websites and pages. It helps too if the backlinks are contextually relevant to the content of the websites and pages. For example, getting a backlink from the anchored text "COVID-19" from a Healthline article can be considered high-quality. Healthline is an authoritative health website and the backlink for "COVID-19" is contextually relevant to health.
But how do you build high-quality backlinks? Here is a simple step-by-step process.
Step 1: Find domains with significant authority in your industry, interest network, or niche
To find websites and pages that have high authority and relevance, you can use tools like BuzzSumo. There are also tools that help determine authoritativeness like the Moz Link Explorer.
The best thing about many SEO tools is that they are very intuitive. BuzzSumo has a lot of search filters that will help you weave through their database. You can enter keywords, niches, and other subcategories to narrow down your search. Moz, on the other hand, has a comprehensive domain authority rating system. DA ratings range from 0 to 100, with 100 being the highest.
You can also manually check the authoritativeness of a domain. For example, the domains of educational institutions and local governments are most likely authoritative. You probably don't need the likes of Moz to tell you something so obvious. The domains of big companies like Apple and Microsoft are no different.
Step 2: Check the page authority of the recently published pages of your shortlisted domains
Page authority can predict the SEO quality and rank valuation of a page. It's a good thing that the tools of Moz don't just score domain authority. They also score page authority with a similar 0 to 100 range.
Again, if you don't want to use tools, it's still possible to somehow determine the page authority of a recently published page. Just take a look at how comprehensive it is and how relevant it is to the other content of the website. If the content is relevant and strong, there is a good chance that it has a high page authority.
Step 3: Verify the citation flow and trust flow of the domains and pages
Citation flow and trust flow have considerable effects on search engine ranking placements, so you should definitely check these as well. These are metrics you can find in Majestic SEO's flow metrics system.
Citation flow predicts a domain or page's authority in a particular field, industry, or topic. It is based on the number of domains that link to the domain or page. The more links it has, the higher its citation flow rating.
Trust flow, on the other hand, predicts a domain or page's trustworthiness. It is based on the quality of the domains that link to the domain or page. The more trustworthy the domains, the higher the trust flow rating.
Step 4: Assess if there are opportunities to reach out to the domains
There are a lot of ways to get backlinks from high-authority websites and pages. You can try advertising deals, content syndication, guest posting, and sponsored posts. Browse their main pages to find out if they are accepting such arrangements.
If they don't blatantly say that they are accepting such opportunities, you can reach out to them directly. Most domains have a "Contact Us" page. You can reach their administrators and webmasters through there.
How to avoid low-quality backlinks
Backlinks are considered low-quality if they are found in low-authority websites and pages. It doesn't help too if the backlinks are not relevant to the content of the websites and pages. For example, getting a backlink for the anchored text "COVID-19" from a crossbreed dog website will not have the same weight as that from a health website.
Websites and pages with technically inaccurate and out-of-date information are of low authority.
So, how do you avoid low-quality backlinks? Here are some key insights.
Insight 1: Don't believe those that guarantee top Google rankings
Nobody can guarantee top Google rankings. Period. Even the people in Google's team will not be able to guarantee such a thing. There are just too many factors involved in search result rankings and many of these factors are very volatile.
Many backlink building service agencies and freelancers target business owners, digital marketers, e-commerce operators, and publishers who have minimal SEO knowledge. That's why many times they get away with such guarantees.
Insight 2: Review the platforms and websites the backlink building service provider is working with
Look at the service provider's packages. See if they are still offering backlinks from article directory submissions and Web 2.0. These are spammy tactics that don't work anymore.
Google has caught up a long time ago. And if these backlink builders still use such tactics, you know they are not that good, to begin with. They have outdated tactics that will not produce results. They may even hurt you in the long run.
Insight 3: Avoid backlink building service providers who don't talk about content syndication and guest posting
Based on the test results of many SEO professionals, outreach campaigns are some of the most cost-effective ways to get high-quality backlinks. So, if the backlink building service provider you are negotiating with doesn't even talk about such campaigns in their tactics, you are better off moving on to the next one. Otherwise, you may end up wasting a lot of time, money, and energy.
Link building is essential to ranking high in Google Search
Google is the most prominent search engine in the world. It uses a lot of tools to determine your rankings. Getting backlinks continues to be one of the main factors Google uses in determining the rankings of websites. It's a good thing that you can find high-quality backlink building services on microjob sourcing platforms like Fiverr.
The platform has a lot of professionals who are familiar with Google's tools. It also has a nice system in place to make working with service providers simple yet effective and efficient.
The power of Google's PageRank
In 2017, Google's very own Gary Illyes said in a tweet that their ranking algorithm still uses PageRank for evaluating web pages. When talking about PageRanks, Google's team members, digital marketers, and SEO specialists often link to this page, which says:
"The heart of our software is PageRank™, a system for ranking web pages developed by our founders Larry Page and Sergey Brin at Stanford University. And while we have dozens of engineers working to improve every aspect of Google on a daily basis, PageRank continues to play a central role in many of our web search tools."
The page also explains how backlinks are considered as "votes." But having a huge number of votes doesn't necessarily mean that you will rank high in Google's search results. The search engine also considers the "voters" or the websites or pages where these backlinks come from.
If the websites or pages are high-authority, you are more likely to rank better in search results.
But take note that backlinks are not the be-all and end-all in Google search rankings. Google uses more than 200 factors, including relevant keywords, search terms, and user intent. But that's an article for another day.
Here's how Google uses PageRank:
Google bots crawl the entire internet for old and new web pages. They look for updates in old content and fresh information in new content. Then they add these to Google's database. The company has a lot of computing resources, enough for the bots to simultaneously do this for millions of keywords, industries, and languages.
While the bots are doing this, Google's other algorithms identify the most relevant entities on each indexed page. A backlink can be considered as an entity.
Google's algorithms process the entities with the Knowledge Graph. They try to determine the relationships between the entities and their meanings. Basically, they are trying to "read" the content.
This is where Google's PageRank system comes in. They verify the content and calculate their SEO quality and rankings. Moz and other SEO companies have made metrics themselves regarding this system. They call it DA (domain authority) and PA (page authority).
Backlinks are important for your SEO campaigns because the biggest search engine and its tools read backlinks and consider them when ranking search results.
6 effective link building services for local link building
Local optimization is a lot different from trying to rank a website worldwide. If you're trying to rank a website locally, there are some great link-building strategies that you can use to see your rankings slowly rise to the top that normally wouldn't work well with a website that is trying to rank globally.
As you can only imagine, link building, no matter what kind of website you're trying to rank, is going to take some time. If you feel you don't have the time to dedicate to link building, you may want to consider outsourcing your work to another company. If this sounds like something of interest, here are some effective link building strategies you may want to outsource:
Citations
A local citation is a reference to your business name, address and phone number. These citations can be listed on hundreds of reputable websites online, such as Yelp, Foursquare, YellowPages.com and more. The more citations a search engine sees, the more reputable your website is going to look. Since it could take hours to submit your website to these citation-based websites, it's only best to spend a few extra dollars to have someone else do it for you.
Big local data websites
Submitting your website to big websites, such as Infogroup and Acxiom, allows your business listing to be shown across multiple resources on the web. These data aggregators are powerful because once a website is submitted, the data is shared with major websites like Google Maps, Apple and many more. Similar to citations, submitting your website to big local data websites is an amazing way to be seen and draw in outside search engine traffic.
Develop videos
Since many local businesses don't develop videos for the Internet, this is your chance to create a few informative videos and have them distributed across multiple channels. As these videos are distributed, you're going to build links and get your video seen. If you optimize your website and video right, you can often see your website and video show up in the top 10 results for your primary keywords.
Blog commenting
Commenting on local blogs is a great way to build links and make a name for yourself in the community. As long as the blog comments are informative and don't use over excessive anchor text, there shouldn't be a problem with it. While you don't want to have all of your backlinks coming from blog comments, this is a strategy that you may want to consider using from time to time.
Guest posting
Sharing your expertise with other bloggers is a great way to dip into their audience and get a solid backlink. Similar to blog commenting, you're going to want to make sure that you're targeting credible websites and writing content that people actually want to read. If your content is good enough, this is a great way to draw in additional clicks, get your name out there and even network with that website owner.
Start a scholarship
If you have the funds to start a scholarship, this is a great way to help the community and build a ton of great backlinks. The first thing that you're going to want to do is think about a scholarship idea. Who do you want to target? What do you want them to do? Once you have the details, find local colleges and businesses in your area that will be willing to link out to your scholarship page.
All of the backlink strategies mentioned above can easily be outsourced to an outside company. However, before you choose a company, always make sure that you do your due diligence and be certain you're working with a company that doesn't take shortcuts. By working with the right company, this is a fantastic way to set aside more time to work on your website instead of having to worry about building links.
Trusting someone else to build your backlinks is a big deal. If the agency fails to build the right links, you might as well kiss your rankings goodbye and count on seeing a penalty coming your way, which can be next to be impossible to get rid of if thousands of bad backlinks were created.
While there's nothing wrong with hiring an outside service to build backlinks, you have to understand what you need to look out for to make sure you're making the right choice.
What makes a quality link?
Results
A good link building company is going to offer a lot of evidence that comes in the form of case studies or even reviews from past customers. Sure, while companies can post fake case studies and reviews, the best thing that you can do is research their reputation.
For example, if you were to find a reputable service on a popular SEO forum, you could see what other forum members are saying about the service. If reputable members with lots of forum posts are saying great things, then you could take this as a good thing; however, if the service posts reviews on its website from people you never heard of, this could be a red flag. In the end, results are going to come from a real person and a website.
Always avoid automation
Building as many links as you can isn't the name of the game anymore. A solid backlink profile is going to have links from reputable websites, not hundreds of blogs that post duplicate content.
When choosing a service, make sure that they build every link by hand and use no automated software. As much as the service can boast that its software works, you have to understand that automation doesn't work anymore.
Be informed
Backlinks have always been the main reason your website ranks, and while some strategies have disappeared, many have worked for close to 20 years now. One strategy that has worked for some time is contextual links. These are the links that show up naturally within an article that is relevant to your niche.
The key here is to hire a service that builds links that you can use for years to come. Try to avoid article directory services, low-grade press releases, social bookmarking, and links that show up in the footer or sidebar of a website. While these services may be cheap and you see them as a backlink, you have to understand that these backlinks no longer hold no power and can get you penalized in a heartbeat.
Reputation
Any company can pitch a good sales pitch when they want to acquire you as a new client; however, behind every good pitch is a company that is looking to steal your hard-earned cash.
Before you hire a company, search for the company online to see what other people are saying. If nothing comes up, the company may be too new and could be seen as a gamble, but if a lot of reviews come up, browse through them to see what others are saying. A solid company will have a fair amount of positive reviews with a negative review here and there.
Avoid guarantees
One large red flag that can give most bad link building services away is guarantees. If a company guarantees a ranking, it's best to turn the other way. As you probably know, there's no guarantees with a search engine ranking. Since there's so much that goes into an algorithm, it's hard to predict exactly where you're going to rank.
If you treat hiring a link building company like hiring an employee, you shouldn't have a hard time hiring a new service. As long as you take your time, ask the right questions and follow the tips above, you should have great links pointing toward your website for years to come.
The 10 top link building mistakes that are easily avoided
Back in the AltaVista and early Yahoo! days, webmasters could throw up a few meta-description tags, create some mediocre content and not even have to worry about acquiring links from other website owners.
As the years went on, backlinks from other websites became more important. Just like the early AltaVista days, when backlinks slowly became relevant, webmasters could set out and get just about any backlink possible and watch their rankings soar overnight. Sadly, this isn't the case anymore.
Today, webmasters have to focus on getting backlinks that count. It takes a lot more effort and if done right, your website can truly thrive. However, if it's done wrong, you can quickly find your website on Google's bad side.
To make sure you're building links the right way, here are 10 mistakes you don't want to make:
Mistake 1. More isn't better anymore
A sad misconception that most webmasters focus on today is quantity. Instead of focusing on quantity, think about the quality. Let me ask you this one for a second: Would you rather have one solid backlink from the New York Times or 10,000 links from various WordPress blogs with no visitors?
Mistake 2. Focusing on exact anchors
If you have the chance to pick your anchor text when acquiring a backlink, don't focus on using the same anchor text over and over. Techniques like this will look artificial to Google and can potentially lead to some severe penalties.
Instead, try to vary your links. Use your website name, use random words, and sprinkle a few targeted anchor texts in less than 10 percent of your link building opportunities. While building anchor text backlinks is great, remember that backlinks that you don't have to work for are the best to get.
Mistake 3. Links to the homepage
Just like varying your anchor text, don't have every backlink go to your homepage. While it's okay to have most backlinks go here, make it a habit to link to other sub-pages, popular category pages, and even pictures. Again, the more diverse you are, the more natural you will look to the search engine.
Mistake 4. Over-aggressive velocity
It's okay to set aside a few weeks and aggressively link build, however, make sure that you're not setting out to get 10,000 links. Again, this is going to look artificial to Google. Instead of setting a "number" goal, set a traffic goal. Today, a great backlink is going to send you traffic and build your credibility with search engines. Once again, don't worry about the number.
Mistake 5. Focusing on the PR bar
Back in the early 2000s, the PR bar was all the rage. Sadly, the PR bar isn't what it was. While it's so tempting to focus on that green bar and the number that goes along with it, you're going to want to focus on other aspects.
When looking for potential backlink partners, look at their OpenSiteExplorer.org domain score, social media profiles to see how many followers they have and get an idea on how much traffic they are getting. To get a ballpark idea on their traffic numbers, use services such as Compete, Quantcast or Alexa. With this data, it should give you a good idea how powerful their website could be.
Mistake 6. Writing for search engines
A great way to get backlinks today is by guest posting. However, when writing a guest post, you don't want to write for the search engines. This means keeping your keyword density down and actually providing their readers with quality. No one wants to read an article that is riddled with 50 keywords that don't blend in with the content.
Mistake 7. Canned responses
Requesting a link is going to take a lot of interaction with other webmasters. Sadly, this is where a lot of you get lazy. Instead of copying and pasting the same request to every webmaster you come across, it's so important that you're unique with every email.
When sending an email, greet them by their first name, don't be pushy, and let them know why a link would be beneficial to their website. If you're going to write a guest post, let them know what you're going to write and send them samples from your earlier work.
Mistake 8. Relying on just one type of link
When building links, you may find it rather easy to get certain kinds. However, that doesn't mean you should stick to that strategy only. For example, getting a backlink via article submission websites and forums is rather easy. If your link profile is 99 percent forum links, is this going to look natural?
Mistake 9. Exchanging links
There's nothing wrong with exchanging links, however, make sure that you're not doing it on a large-scale. If someone lands on your homepage and notices 300 links, this is a large red flag. If you're going to exchange links, make sure it's relevant and the website you're linking to is actually going to offer value to your readers.
Mistake 10. Black hat strategies
No matter what year we're in, black hat strategies will always be around. Yes, these strategies can work; however, how long are your rankings going to last? While it's so tempting to game the search engines, you're going to want to ask yourself if you're in it for the short-term or the long haul. Similar to selling drugs, do you want to take the risk?
Link types to think about building
Since Google has introduced PANDA and PENGUIN algorithms in its search engine, link building has experienced a significant turn. Many online business managers have turned to despair because they should have provided higher-quality content and less spamming. A few years ago, many people could make easy money online by simply spinning other articles and providing low-quality links.
Since the recent improvement of search engines, backlink building has become an intense activity that requires effort and commitment from online business owners. PANDA algorithm was introduced to verify the content of pages while PENGUIN algorithm is supposed to sort out any unnatural links. Hence, the latest filters of search engines are based on relevance and natural traffic.
So, backlink building is not dead but has become more complex and consumer-oriented. Here are some tips about how you should handle this activity by the new rules.
Social network pages are a must in today's internet marketing. They provide you with an easier way to access your audience, and your business will be more easily spotted by search engines. For more info, visit http://www.marketerscenter.com/social-foundations-service.html.
Replace automatic link building with high quality link-building strategies that will serve you by avoiding any unnatural link notices in Google Webmaster Tools. It is recommended that you deal with this activity rather than outsourcing it.
If it's about outsourcing, do it for citations. These are very well-documented statements that correspond, describe and are part of your page's content. There are many online citation providers that can help you with high-quality, often researched citations, perfectly related to your niche. One such provider can be found here: http://www.marketerscenter.com/hyper-local-citation-service.html
Create original and real press releases. Everything being about quality rather than quantity today, a good press release will increase your site's popularity in no time. Distributed on newspapers' sites or social media, it is a great way to advertise. Outsourcing it is recommended as many providers not only they write your press release but are also able to distribute it. For an example of a quality press release service, check out http://www.marketerscenter.com/press-release-service.html.
Focus on providing your readers with good, original content that is useful for the large majority. The more useful your content is, the more researched it will become.
Stop spamming, it's so last season. Spamming no longer works for either search engines or for your consumers. It makes no sense to use it anymore.
Add FAQ and HOW TO content pages to your page. Think of what consumers may ask about your products and expand the FAQ page. Also, developing a How to page is like offering an instructions manual. If your product is general and also produced by lots of other businesses, the instruction manual you provide to your consumers will be the main attraction point of your website and will differentiate your business from others.
There are many options for where you can start link building but not all of them are effective. Here are some recommended tools as well as some which you should avoid.