Asking for Yelp reviews and requesting ratings on Google isn't always easy but they can do wonders for your business.
The review process can often feel like you're begging customers to prove your credibility online but once you have the right process in place, this tactic can really start working in your favor. Reviews provide potential customers with the social proof they need to make a decision. In fact, according to Review Trackers, 4 out of 5 American consumers will read a review before they make a purchase decision.
Most consumers read reviews to make sure that a product or service is good and that it works. 53% want to make sure that they're not being scammed and over 80% of consumers use reviews to discover new products.
What to Keep in Mind When Asking for Yelp & Google Reviews
Because reviews improve your credibility, reputation and brand image, they are excellent for local SEO, but when and how you ask for a review will determine how easy it is to get them.
Before you start asking for reviews on Yelp and Google, there are a few things to keep in mind:
Timing matters. Ideally, you want to ask a customer for a review soon after they've finished working with you or just after they purchase a product. You want to catch your customer in the right mood and ensure that your product or service is fresh in their mind.
Keep it natural. If your requests for a review don't sound genuine and natural, customers aren't going to jump at the chance to help you out. Make sure that you use your brand voice and that you engage in a conversational tone.
Make it about your customer. Even after the sale has been made, you will still have to make it about your customer if you want more reviews. By structuring your ask around them, you're bound to get better follow-through.
Now that you have a better idea of the basics, let's get more specific.
How to Request a Review on Google
A recent study showed that over 60% of customers prefer leaving reviews on Google, which means the platform is still overtaking Facebook, TripAdvisor and even Yelp. This is not to say these other platforms are not valuable, it simply proves the impact that Google can have on your brand's reputation.
So, how do you go about generating more Google reviews? Here are some steps to follow:
Claim Your Google Business Listing
If you haven't already, make sure that you've claimed your Google Business Listing as this will make review management that much easier. Plus, it gives you more control over what potential customers see when they search for your business, including a map, images, logos and social media icons.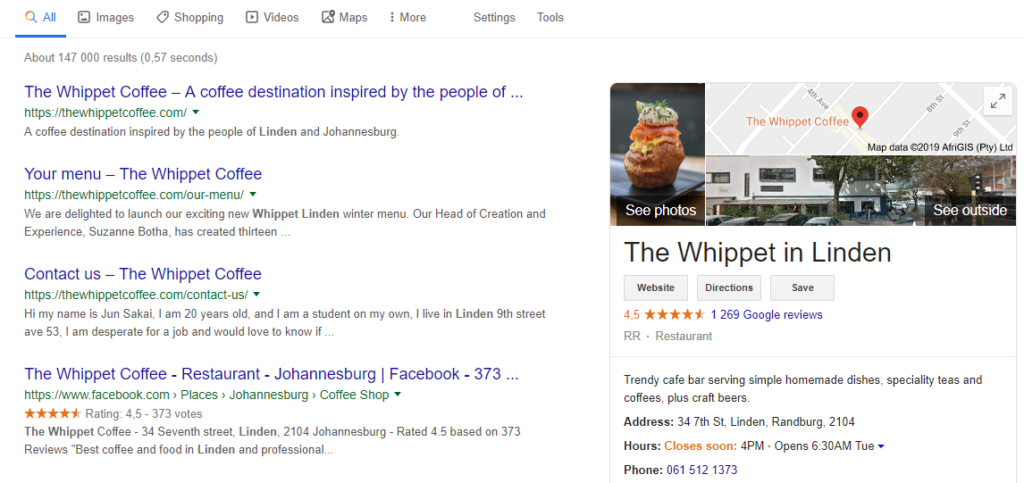 Find Your Google Business Review Link
By finding your Google Business review link, you make it that much easier for your customers to leave a review. To find this link, search for your business name on Google. Once you find your Google Business listing, scroll down until you see the option to write a review.
Once the review window pops up, copy the long URL that shows up – this is what you want to send to your customers when asking for reviews. You may want to use a tool such as bit.ly to shorten the URL first though.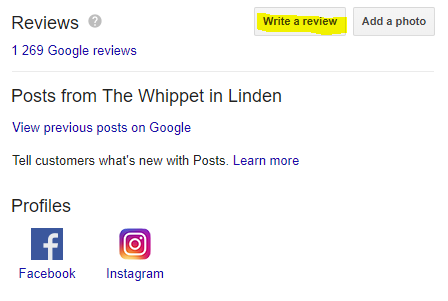 Send Your Review Link in an Email
Most of today's businesses choose to use email to send out their review links to customers. Email gives you the flexibility to reach out to customers directly after they've engaged with or made a purchase from your business. Here are a few templates that you can use when asking for a review on Google:
Email Template Asking for Reviews
Subject Line: We'd Love to Know What You Think
Hi [FIRST NAME],
Thank you for [describe action or client relationship].
Reviews ensure we can provide you and our future customers with better service. We really value your opinion and were wondering if you would take a few minutes to leave us a review on Google?
You can click this link <direct URL to whatever review service you use> and it will take you straight there.
We really appreciate your time.
Best regards,
[YOUR NAME]
It's important to adapt your email template to your brand voice in order for it to sound authentic.
Try Google Review Stickers
Small Thanks is a new tool from Google that allows you to create, download, and print personalized social posts, stickers and posters that highlight your Google reviews. Once you navigate to the Small Thanks with Google site, simply type your business name into the search box. If your business is listed, you will be redirected through to a personalized review page where you will find the various creative assets.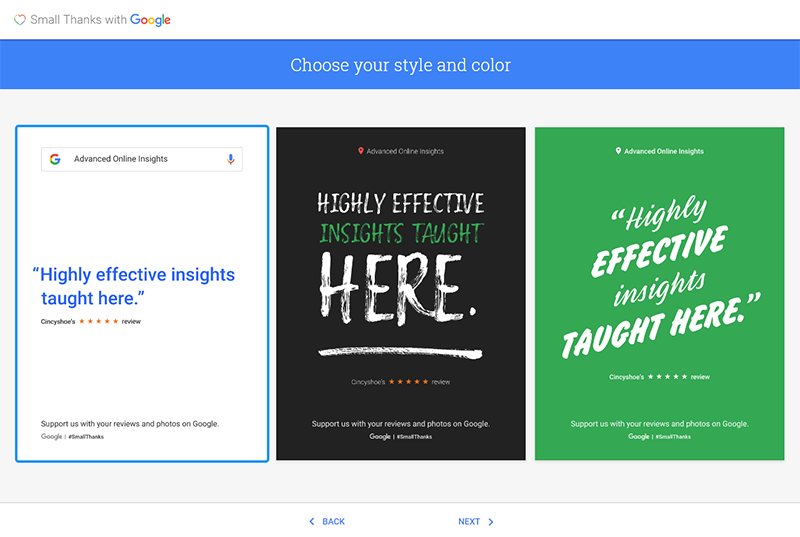 A Note on Google Reviews
Building up quality reviews is not a quick process and buying reviews in order to speed things up is not going to get you the results you're hoping for.
Buying reviews is against Google's review guidelines, as is Review Gating. Review Gating is a tactic that involves sending a survey to customers and based on their response, the review will either be submitted to Google or forwarded to the business directly. Naturally, the negative reviews never make it to Google.
Businesses that buy reviews or use Review Gating to grow their credibility could be slapped with a hefty penalty, which is why it's best to go the reputable route.
Asking for a Yelp Review
Unfortunately, businesses are unable to ask for Yelp reviews directly from customers because it's against Yelp's review policies.
 "The businesses that do best on Yelp are the ones that provide a great customer experience to everyone who walks in the door without any expectation or encouragement that they write a review. Your best bet to get high quality and unbiased reviews about your business is to provide a memorable and amazing customer experience — not by asking your customers to post on Yelp."
The only way that you can increase your Yelp reviews is to promote your business and engage with users as often as possible. Be sure to let your website visitors and social media followers know that your business is present on Yelp by adding links to your site, newsletters, and any printed marketing materials.
Yelp stickers are available and make it easier to let customers know they can review your business there. To get your hands on the different types of stickers, you will need to claim your business on Yelp and complete as much of your profile as you can.
What to Do with Positive Customer Reviews
If you would like to show potential customers just how much people love your business, you can consider displaying your reviews on your website or asking a few reviewers whether you can tell their story on social media.
The more you can spread the word about your great work, the more the reviews will work in your favor. Just don't forget that overdoing it can make the reviews seem forced, so use your positive reviews tactfully if you want them to have the right effect.
---