A report by CIODrive showed that over 70% of web traffic stems from mobile devices, while Google reported that people visit over 1.5 billion locations related to what they searched for every month.
Local search is booming, but at the same time, this ecosystem continues to become more complex. In order to make local SEO work for your customers, it's essential that you have a clear understanding of the inner workings of the local search ecosystem.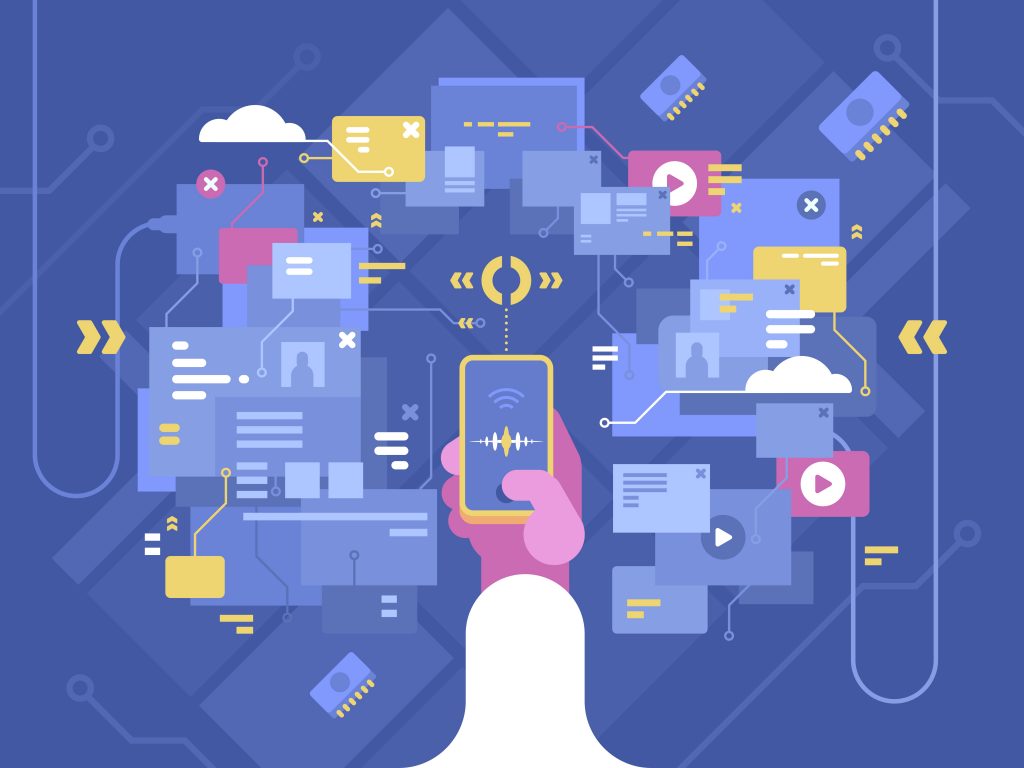 Why does the local search ecosystem matter?
The local search ecosystem is a web of data providers, directories, and search engines that exchange citation data on a daily basis.
In order to rank well in Google, it's necessary to understand each of the elements that make up this ecosystem and how they affect each other.
Did you know that half of all consumers who conduct a local search on their mobile device are bound to visit a brick-and-mortar store within 24 hours? Reviews also play a crucial role in the decision-making process for clients. In fact, over 70% of consumers are more willing to trust a local business if they find positive reviews in their search results. This is why many businesses ask for Google reviews.
There are several factors that determine how well you rank in local search results, but none of it would be possible without the three key components that make up the local search ecosystem.
Key components of the local search ecosystem
David Mihm, local business advocate and founder of Tidings, introduced the Local Search Ecosystem to the world.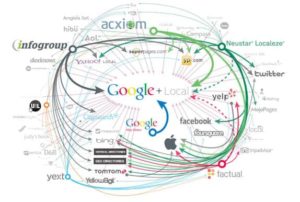 This is what this ecosystem is made up of:
1. Data aggregators that syndicate business information
Business data aggregators collect, match, format, and sell data for a profit.
If you've ever received junk mail, which you most probably have, know that it was routed to you via a local data aggregator. Here are some of the top local data aggregators that form part of the local search ecosystem:
Localeze
Acxiom
Infogroup
Factual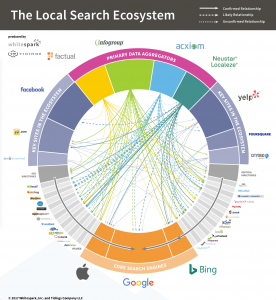 There's a handful of primary data aggregators that you can use.
Some will want you to pay and some are free.
Many have become more difficult to submit to over the last few years. Factual, for example, no longer supports hand submissions to their system.
Data aggregators take the data that exists in the local search ecosystem and broadcast it to a series of search engines, review sites, directories, and social media platforms. What data aggregators can't do is differentiate between inaccurate or outdated information, which is why brands and businesses need to ensure their listing data is correct. If it is not, they can even get a company to clean up these listings.
Can you have a successful local SEO campaign and ignore aggregators?
Yes, absolutely.
While it's helpful to get listed on them, don't worry too much if you don't want to pony up the big bucks to get listed in a place like Localeze. There are countless other places you can submit your business information to that are free. Some of those sites that these big sites syndicate out to you can simply submit the business information to yourself.
2. Search engines that collect business data
Search engines receive information from a multitude of different sources, including data aggregators, in order to provide searchers with the most accurate information. The most popular search engines are:
3. Business directories to submit to
Geo and vertical business directories are used to post business data and information online. Business information directories are much more on the receiving end of data than providing it, but search engines do include directory listings in search results. Popular business directories include:
Yelp
TripAdvisor
Open Table
Dun & Bradstreet
Foursquare
Get the local search ecosystem to work for you
Google looks for three key things when deciding whether or not to display a local listing:
Only businesses that offer what the searcher is looking for will be displayed
Businesses that already rank high and have good reviews tend to show up at the top of search results
Finally, businesses that are closest to the searcher's location or are in a location that matches the searcher's query will be displayed first
Now, it's a case of knowing how you can tick all of these boxes. The answer lies in accuracy and consistency.
Making sure that NAP or citation data is accurate is how you can improve. The more accurate your business listings are, the more Google will pay attention. Citation building services can really make this process a lot easier by allowing you to submit your business details to an array of data aggregators, search engines, and directories.
While the local search ecosystem is complex, it helps to know what it consists of if local SEO is one of your key responsibilities. Knowing how each component interacts with the other will ensure you know where to focus your efforts and how you can optimize your local listing strategy.
Find more helpful citations with Local Citation Builder 3.0

With over 1,700+ different citation sites, our new free tool called Local Citation Builder 3.0 can vastly improve your business data footprint if you have the time or inclination to put it to use.
Built with Google Data Studio, this free tool lets you sort through citation opportunities by country, traffic, backlinks, and more.
Check it out here and download a copy for yourself.
---