Backlinking with EDU domains is not something you would commonly see in the digital world, but it does happen. After all, EDU domains can help consumer websites with link juice. In this article, we will share with you four EDU backlink services.
But before we get into the nitty-gritty details, we need to talk about EDU backlinks in general first.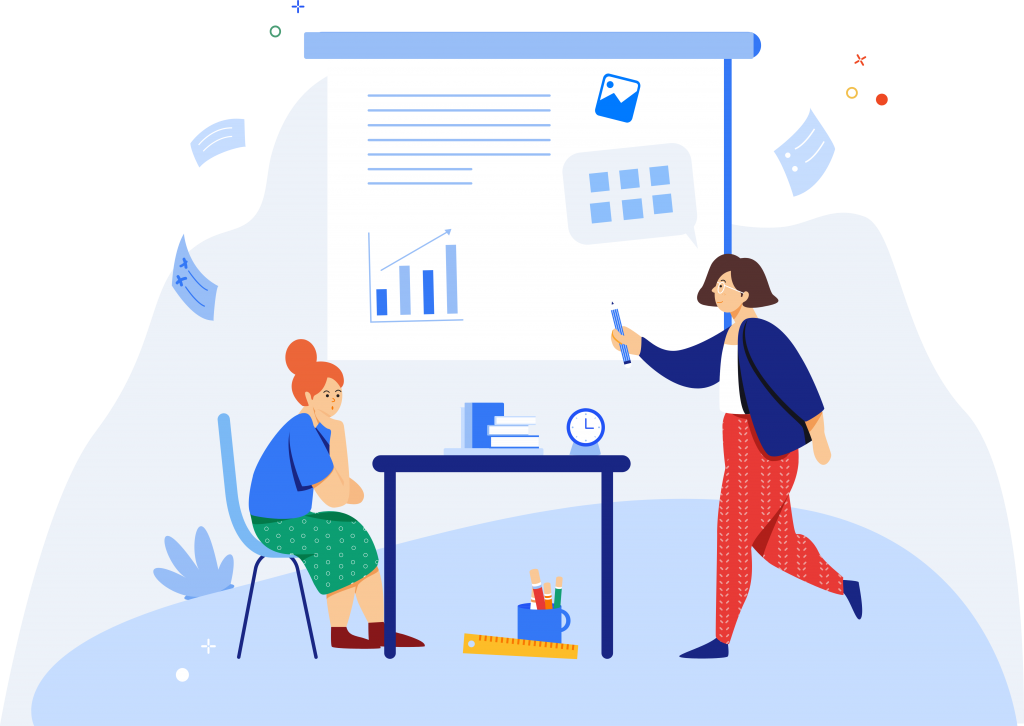 What are EDU backlinks?
EDU backlinks are links that come from EDU domains, also known as websites that deal with education.
Remember that EDU domains don't necessarily belong to colleges and universities. They can also belong to academies, conservatories, seminaries, technological institutes, vocational schools, and other authoritative bodies that educate people.
But how does this help your business? Is it really beneficial to get links from EDU domains? Your business doesn't even involve education, so it may seem unnecessary to get EDU backlinks.
But hear us out.
EDU backlinks in relation to SEO
Domains that have a ".edu" extension are reserved for those that provide education to people. Even though the extension is available worldwide, most websites that use it are from the United States.
Because of the exclusivity of these domains, getting links from them will tell search engines that your website is authoritative and trustworthy. After all, an educational body referring to you or one of your posts is a good sign that you know your stuff. And search engines will reward you for it.
This is the reason why getting EDU backlinks is crucial for your off-page search engine optimization campaign. It can even be argued that EDU backlinks are some of the most powerful backlinks you can get.
EDU domains have very domain authority and page authority. They simply cannot be ignored even if the nature of your business doesn't directly involve education.
The power of EDU backlinks
Some digital marketers and SEO specialists theorize that Google values EDU backlinks more simply because they come from EDU domains, which are automatically high authority. But there is no real proof of this.
It seems like the true value of backlinks, whether they are from EDU domains or not, comes from the authoritativeness of the websites they come from. It just so happens that most EDU domains are highly authoritative because they have been around for so long. They have had a lot of time to build their reputation to gain the favor of search engines.
It's a little different from what some digital marketers and SEO specialists theorize. But the basic idea is the same – EDU backlinks are powerful because they come from authoritative domains.
With that said, let's take a look at some companies that offer EDU backlink services. With their help, you can get EDU backlinks for your website to increase authoritativeness, trustworthiness, and visibility.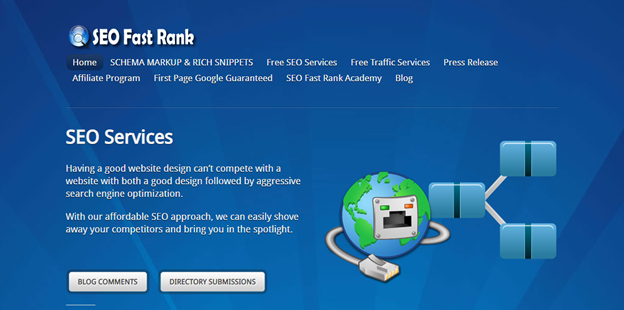 There are a lot of companies out there that offer SEO services, and some even offer white label SEO services. But SEO Fast Rank has an edge over the typical SEO company – they promise to give you backlinks to high-authority websites such as EDU and GOV domains.
Their packages are very cost-efficient, and all of them include excel reports and premium indexing.
Here are other promises from SEO Fast Rank's website:
Affordable Prices. They have packages that will suit your budget, whatever it is.
Fast Service. They adhere to a strict schedule so you are sure to get satisfying results quickly.
Full Guarantee. If the results are not exactly what you have expected, SEO Fast Rank can give you a refund.
High Quality. Sure, they may give results quickly. But this doesn't mean that the quality suffers. The company promises results that are second to none.
Quick Support. They value your time. You will receive answers to your queries as fast as possible.
100% Safe. They are proud that their methods are legal and safe. They don't rely on methods that could potentially make search engines penalize you.
The world of digital marketing and SEO is extremely competitive. Having EDU backlinks will give you an edge over your competitors, who probably don't get backlinks from trusted institutions like universities. This edge may be the one you need to pass through them in search engine result rankings.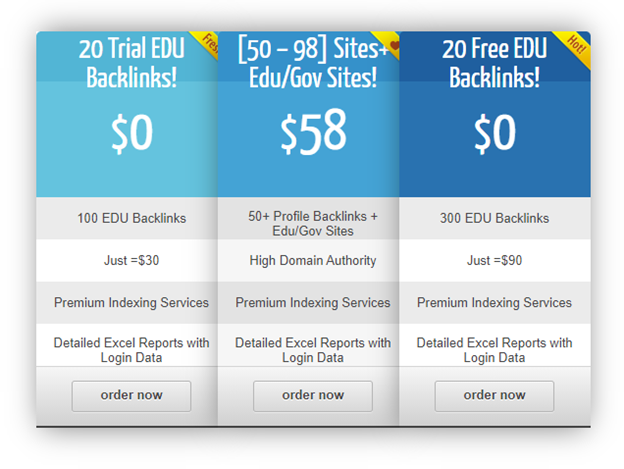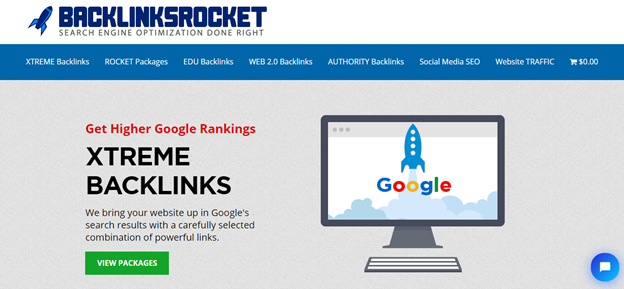 Not all EDU domains are created equal. Some domains have higher authoritativeness, trustworthiness, and visibility. You can't just reach out to random EDU domain admins and expect results that are equal to those who specialize in this kind of thing.
This is where BacklinksRocket comes in. It is an SEO company that specializes in building backlinks for websites. And one of their backlink services involves EDU domains.
BacklinksRocket only works with high-quality EDU domains, so the backlinks you will get are all powerful. They also send these backlinks to highly-trusted link indexing services. This way, Google will notice and index the backlinks earlier than normal.
The company is also very transparent. Their packages include detailed link reports. All their EDU backlink service packages come with the following:
Unique and SEO-friendly content. BacklinksRocket doesn't rely on generic content and black hat techniques. All the content you will get from them is engaging and optimized.
Multiple blog posts on EDU domains. One or two blog posts on EDU domains may not give you the results you want. But it's a good thing that BacklinksRocket's packages include up to eight blog posts.
Multiple high authority EDU backlinks. You will get tens of high-authority backlinks no matter what package you choose. This is a great amount for your backlink portfolio.
Multiple keywords. You can input multiple keywords you want to rank for. This shows that BacklinksRocket is not a one-trick pony. They can get you backlinks for any industry, interest network, and niche.
BacklinksRocket also has a lot of testimonials from their clients, further proving that the company knows what it is doing.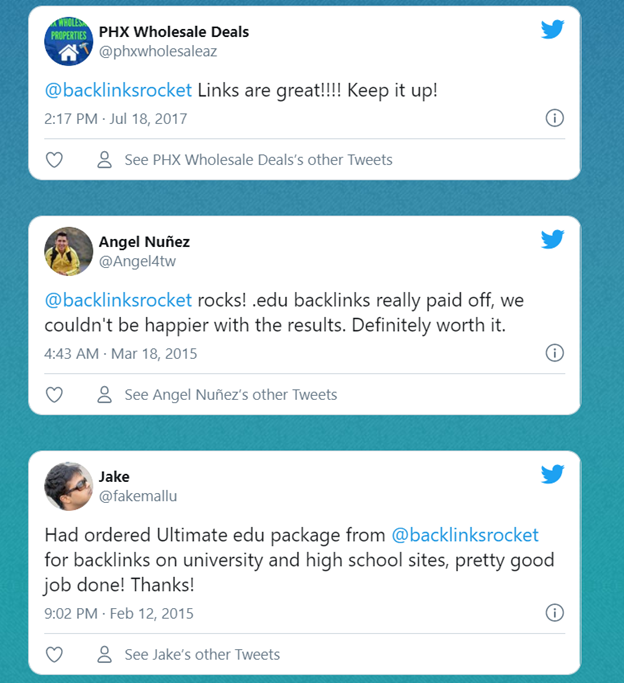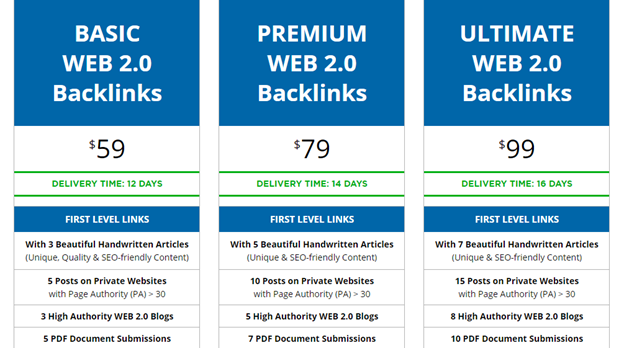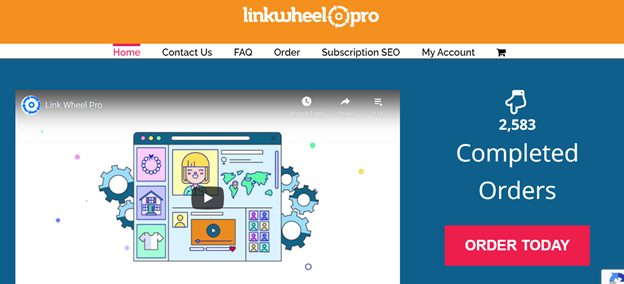 Link Wheel Pro is a digital marketing agency that focuses on backlinks. And like the other companies in this list, Link Wheel Pro is good at gaining EDU backlinks for your websites.
Another thing that makes EDU domains high authority is the fact that not everybody can get such domains. You will need a lot of paperwork to prove your legitimacy as an educational institution. Most EDU domains exist to supplement the education institution's online and offline learning. Oftentimes, they are not used with commercial intent.
The administrators and webmasters of EDU domains would prefer to keep their websites clean and free of links that look like they are trying to sell something. Link building is already complicated in itself, but link building with EDU domains is an entirely different monster.
With the help of the professionals at Link Wheel Pro, the process of building EDU backlinks becomes much easier. Here are some of the promises on their website:
Affordable links. Link Wheel Pro has a variety of link building services. They can get you backlinks from EDU, GOV, and even Wiki domains. The best part is that these services are affordable relative to the quality of the links you will get.
Effective links. Link Wheel Pro builds links like a real human, not like a robot using workarounds to trick search engines. The company has a "secret sauce combination" that makes its links high authority and future-proof.
Safe links. Link Wheel Pro guarantees that the links you will get are 100% safe and off-site. They only use white hat techniques and emulate natural human link building patterns.
If you are looking for someone who can get EDU backlinks for you, Link Wheel Pro will not disappoint.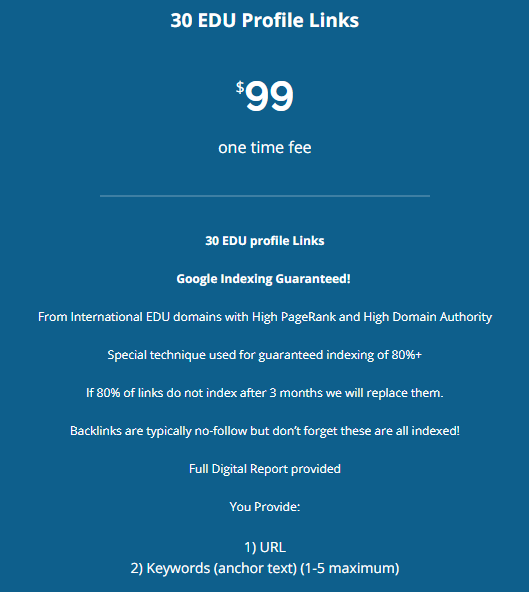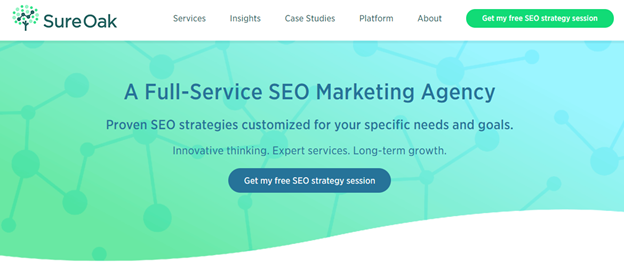 Sure Oak is one of the fastest-growing digital marketing companies in the United States. They are trusted by major national brands because of their phenomenal link building services. Throughout the years, the company has built real and strong relationships with a lot of companies, content creators, and yes, educational institutions that they utilize for their EDU backlink services.
Sure Oak promises the following for their backlink services clients:
Links that you won't be able to gain elsewhere. Sure Oak doesn't rely on a database of EDU domains. They look at your company's data and reach out to the EDU domains that will give you the best bang for your buck. This can be the game-changer between Sure Oak and a random outreach company that blindly reaches out to everybody.
Links that are built from real and strong relationships. Sure Oak believes that the highest quality links can only be built with real human relationships. The company may not rely on a database of EDU domains, but they do have a lot of connections. These connections are diverse enough to fit the needs of every business.
Campaigns that are highly customized. Sure Oak doesn't have a single universal link building strategy. Their link building campaigns are highly customizable to accommodate your specific needs and wants. In fact, they review your business and your competitors before they go all-out on your campaign.
Sure Oak calls their EDU backlink services scholarship link building. With this type of link building service, the company promises EDU backlinks that are not just high authority, but also future-proof. They claim they don't really "sell" EDU backlinks. But they build genuine relationships and reach out to real educational institutions to give you the EDU link juice you so crave.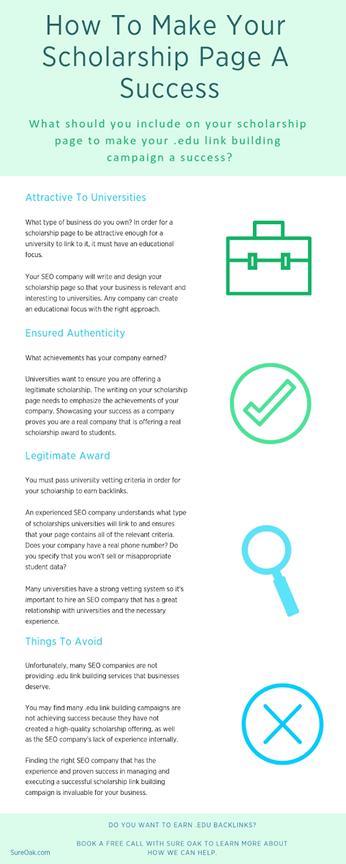 Additional services
Those are the top companies with EDU backlink services. But this doesn't mean you can disregard the other companies that offer such services. We have two additional recommendations you may want to check out – NextLeadLinks and Business Powered.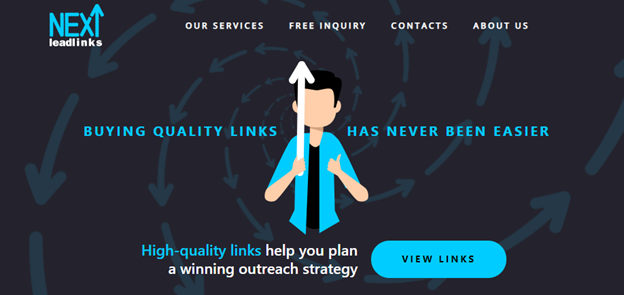 NextLeadLinks is a search marketing agency that caters to clients worldwide. They have more than 10 years of experience in the industry, so they do know what they are doing. The fact that they are serving international clients is also proof that they are legitimate. Their techniques work everywhere.
NextLeadLinks boasts about the following features for their backlink services:
Different themes and criteria. They have a huge range of categories that will fit the needs and wants of your business. They have contact with webmasters in dating, gambling, pharmacology, and so on.
Experienced staff. They claim to have the best outsourcing experts. Whether you are looking for a builder, checker, finder, or whatever else, NextLeadLinks has a rich selection of experts for you.
Huge website database. They have about 2,000 webmasters at their disposal. These webmasters are ready to promote your business at a moment's notice. Their list of webmasters will only continue to grow.
In-depth research. Their approved experts study your case first before going all-out in their link building campaigns. Then the company will formulate offers to you that are too good to pass up.
Individual approach. Once you get their services, an expert will be assigned to you. This expert will communicate with you thoroughly, understand your needs and wants, and execute with precision.
NextLeadLinks doesn't just offer EDU backlinks. They can also get you GOV backlinks if you choose or if they think they will be good for your case.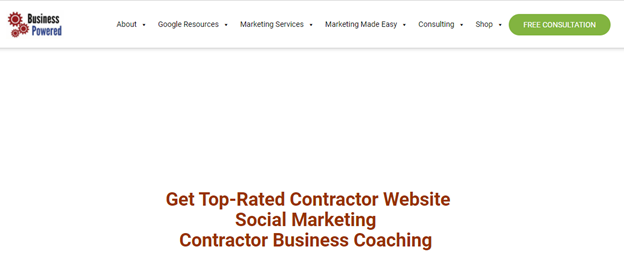 Business Powered is a Fortune 500-level advertising agency with internet marketing and SEO services. They will use their different fields of expertise to help your business grow exponentially in a lot of departments, including influence, profits, and overall success.
They cater to both small and big businesses, so there is no need to be intimidated. You can get their expertly-executed services regardless of your business size. And they do everything in-house. You will never feel ripped off by middlemen. In fact, Business Powered is the go-to outsourcing destination of many marketing agencies out there who only act as middlemen.
Their EDU backlink services have the following features:
Different EDU link building methods. Content, discount, resources, and scholarships – these are the four EDU link building methods the company uses. The method they will use will depend on your preferences and your company's needs.
High-quality articles. To get backlinks from EDU domains, your articles should be very high-quality. After all, their reputation is also on the line. Business Powered dedicates a lot of hours to writing, editing, and optimizing your articles.
Helpful content. You don't want to appear like you are blatantly marketing your business in your articles. Business Powered is well-aware that this tactic will not work not just for the EDU domain webmasters, but also for the domain readers. The company only creates content that is truly helpful for the domain's audience.
Business Powered is an established company. You can never go wrong with this advertising agency if you are looking for backlinks for your website.
Conclusion
Off-page SEO, particularly link building, can be very volatile. There are just so many factors outside of your control. If you do it yourself, there is no assurance that the content creators you reached out to will give you a link. They may not even reply to your proposal.
You are already busy with your business. It's best to let the digital experts do the link building for you. You can never go wrong with EDU backlink services. Getting links from EDU domains will make search engines trust your business website more.
Your competitors are also not likely to be targeting EDU domains, especially if your industry, interest network, or niche doesn't even involve education. EDU backlinks may be the edge you need to get ahead of your competitors.
---