Search engine optimization is no easy task. Thankfully, there are digital marketing and SEO agencies out there that can competently pull off different SEO techniques for the benefit of your company. But even these agencies need help sometimes. This is especially true when a particular type of SEO or SEO strategy is currently beyond their infrastructure and knowledge. When this is the case, they can get white label SEO services for agencies.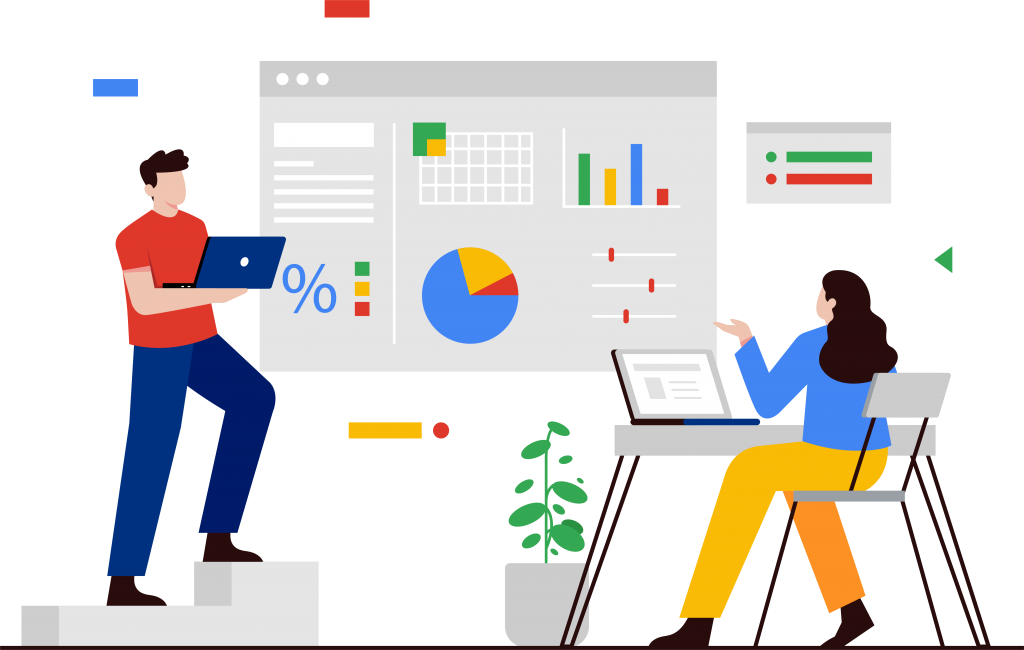 What is white label SEO?
White labeling is the practice of presenting a product or service as your own even though you have outsourced it to someone else. White label SEO simply means you are outsourcing your clients' SEO needs to a company that provides white label SEO services for agencies. This company will do all the dirty work while you get all the glory for the results.
If you are an agency, there are many advantages to outsourcing your SEO services to a white label SEO company, such as:
It expands your products and services.

As an agency, you already have your own products and services. And you have built the proper infrastructure and knowledge to be competent in them. But you can expand on SEO products and services that you don't have the infrastructure and knowledge for by outsourcing these products and services to a white label SEO company.

It gives you a bigger revenue stream.

Because you have more products and services to offer to your clients, you will naturally have a bigger revenue stream. Who knows? Maybe this is exactly what you need to further expand your agency. In the future, you may even end up doing in-house the things you are initially outsourcing to a white label SEO company.

It makes you more competitive.

SEO services are becoming more and more competitive. Agencies are always trying to one-up each other with additional products and services and better results. One way to stay competitive is to outsource some of your products and services to a white label SEO company.
White labeling can go beyond SEO. It can also involve other aspects of digital marketing, such as Google Business Profile optimization.
What are the common white label SEO services?
You can practically outsource any type of SEO or SEO technique to a white label SEO company. These companies can do on-page, off-page, technical, and local SEO. But there are others that specialize in specific types and techniques to give themselves an edge over other white label SEO providers.
Here is a quick overview of the different SEO types and techniques that you can white label:
On-page SEO.

As its name suggests, on-page SEO is the optimization of on-site and on-page elements to make websites and specific pages rank higher. This includes the content itself, keywords, title and heading tags, meta descriptions, images and alt texts, and internal and external links.

Off-page SEO. It's the opposite of on-page SEO. It involves anything you do that is SEO-related outside of your website and its pages. This includes backlinks, competitor analysis, GMB optimization, keyword research, local citations, paid ads, and social media.
Technical SEO.

This is about optimizing your website to make sure that search engines like Google will have an easy time understanding it and its contents. It's also about the user experience. Technical SEO includes website crawlability and indexation, content hierarchy and structure, core web vitals, mobile friendliness, and security.

Local SEO. This is more like a combination of on-page, off-page, and technical SEO, but they are more optimized at the local level to make a business more competitive in a particular location. GMB optimization, local citations, NAP consistency, reviews, and reviews management are strongly associated with local SEO.
Take note that this is not a complete list of all the techniques for each type of SEO. But it gives you a good idea of what each type can do. And here's the best part – you can white label all of them. You just have to find the right white label SEO services company for them.
Who are the best white label SEO services companies out there?
As a digital marketing agency, there is no shame in outsourcing some of your SEO services to a white label company for agencies. It has many advantages. It can expand your product and service offerings, give you a bigger revenue stream, and make you more competitive.
Here are the top white label SEO services companies you should look into.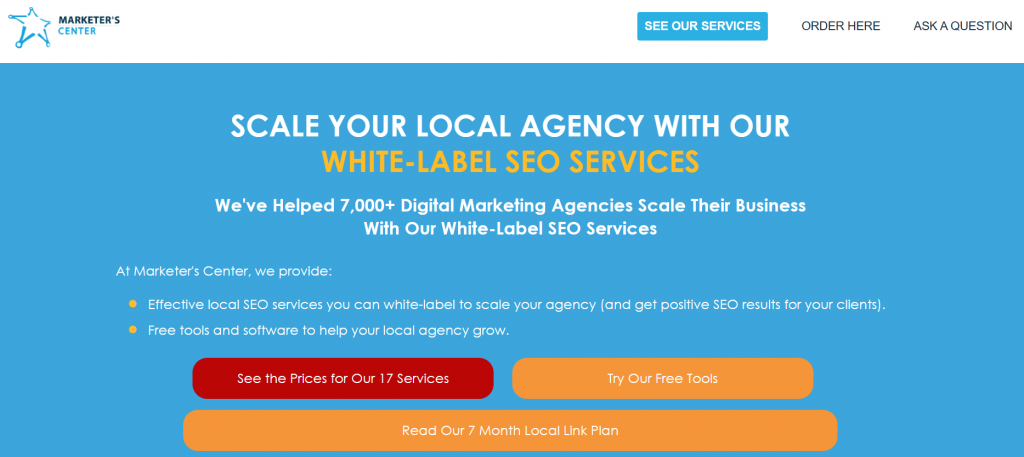 Marketer's Center is a dedicated white label SEO services company. They have helped thousands upon thousands of agencies scale their businesses by letting them outsource their SEO services. The company is headed by Andrew Scherer, who has been in the digital marketing space for more than a decade. You will definitely be in good hands.
Here are more things to learn about this white label company:
Marketer's Center has a lot of local SEO services. Marketer's Center specializes in local SEO. They can do practically anything that is related to local SEO, including building and cleaning up local citations and creating and optimizing business profiles such as Google My Business.
They also have authority link building and organic SEO services.

Marketer's Center can also build links for your clients, especially when you need guest posts and press releases. They can also help with organic SEO, particularly when you need contextual links and online social presence.

They have a projects dashboard.

Having a dashboard to handle orders and entire projects is very important in white labeling. After all, you need to have an efficient way to communicate and link projects with your chosen white label company. Thankfully, Marketer's Center has a powerful dashboard that makes white labeling SEO services smoother and easier.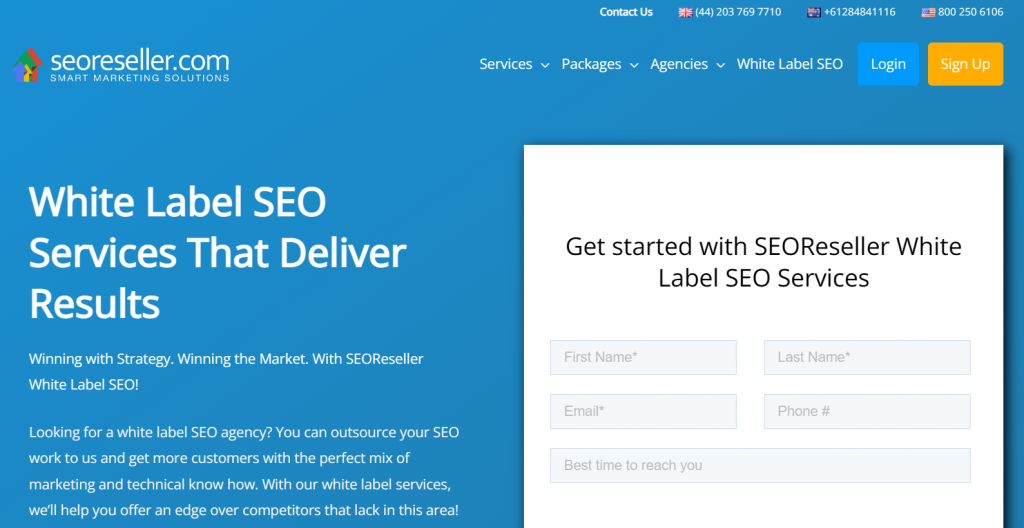 SEOReseller is a, well, reseller of SEO services. They are one of the biggest names in white label SEO services for agencies. And this is well-deserved. Their SEO services have resulted in hundreds of millions in website traffic for their clients, as well as tens of thousands of published pieces of content. And these are calculated annually!
Here are more things to learn about SEOReseller:
SEOReseller has comprehensive white label SEO packages.

As a dedicated white labeler, SEOReseller understandably has complex packages available to agencies that want to avail of them. They have packages for on-page content optimization and technical optimization. And they also have monthly packages that will make SEO more routine and easy.

They specialize in multiple industries.

It really helps if your white label SEO company has a deep understanding of specific industries and niches. It gives you more confidence if you happen to be in these spaces. SEOReseller has extensive knowledge in a wide range of spaces, including e-commerce, finance, healthcare, home services, law, and real estate.

They boast about their huge client base. When you are looking for whatever company, it's important to look at how much influence they have in their industry. SEOReseller has social proof. They have thousands of active users in their dashboard and they run an equal amount of campaigns for them every year. The company also has multiple locations across the U.S., ensuring that they can manage multiple clients with ease.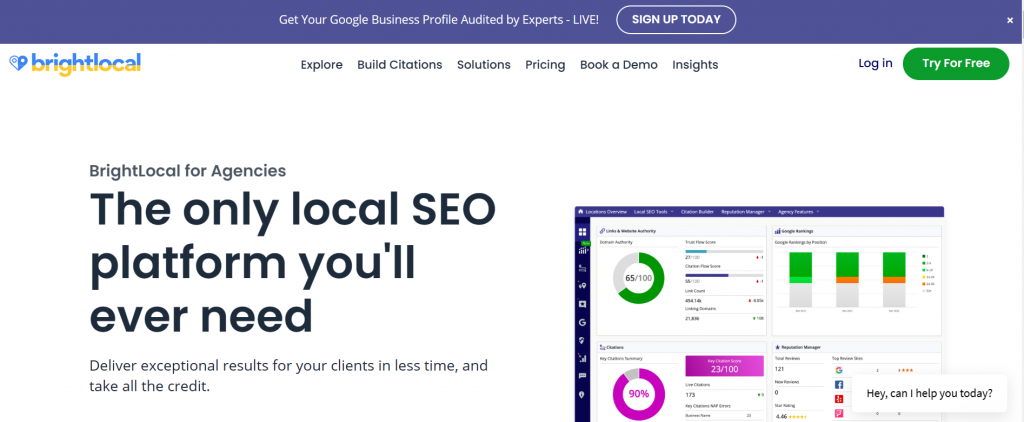 BrightLocal is a gem in the local SEO scene. When people in the know think about local SEO agencies, BrightLocal is one of the first agencies that come into their minds – and rightfully so. This company has local SEO experts from all over the world, including the U.K., the U.S., Ukraine, and the Philippines.
Here are more details about this local SEO company:
BrightLocal boosts local rankings with their excellent local SEO techniques.

BrightLocal has all the tools, including infrastructure and knowledge, to boost your clients' local SEO rankings. The white label SEO company can build citations, develop good online reputations, and increase online visibility.

They have a powerful dashboard that is perfect for white labeling SEO services.

One of the many powerful tools of BrightLocal is their dashboard. It's even customizable for your white labeling needs. In the dashboard, you can edit brand colors and logos, customize reporting, and manage your clients easily.

They can deal with different sizes of businesses.

As a high-quality white labeler, BrightLocal has handled different kinds of clients over the years. They can handle small businesses that are just starting out. And they can also deal with entire enterprises with multiple locations. Wherever you are in your business journey, BrightLocal will be able to help you.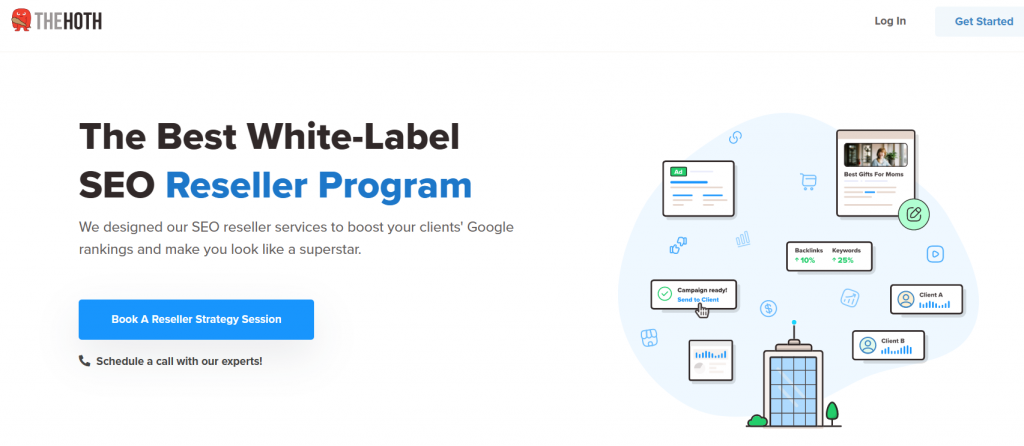 An SEO companies list won't be complete without The HOTH. It's one of the most prominent digital marketing companies out there. And they happen to have white label SEO packages, so you can ride the excellence of their SEO experts.
Here are the important details you need to know about this company:
The HOTH has fully managed SEO campaign packages.

The HOTH has individual SEO services, including those that involve content creation, link building, and local SEO. But they also have managed services, so you don't have to pick specific services anymore. They have managed services for PPC, SEO, and social ads.

They make the white labeling of their packages easy.

Their managed services are great because they make SEO more accessible and easier to manage. But it gets even better. You can easily white label these packages with The HOTH's dashboards, report systems, and sales materials that you can copy and edit on your own website.

They have a great website with powerful tools.

The HOTH is obviously a competent SEO company. Look even just one time on their website to remove your doubts. The company features a comprehensive blog, complete with SEO guides and even case studies for their previous work. Their website also has free tools you can use. Some of the tools can help you check backlinks, keywords, and rankings.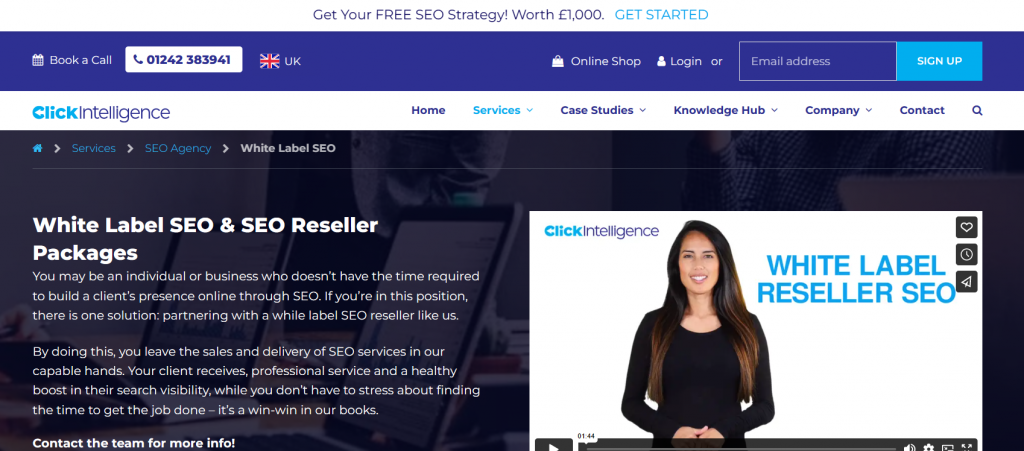 Click Intelligence is a digital marketing agency that is based in the U.K. They have been around for more than a decade, helping clients with ads, content, link building, and SEO. And of course, you can white label their services. Get all the glory from the results, but let the SEO experts in Click Intelligence do all the dirty work.
Here are more interesting things you should know about this digital marketing company:
Click Intelligence has a wide variety of services. Click Intelligence can handle ad campaigns, whether they are in search engines like Google or social media platforms like Facebook. They can write any kind of content, from authoritative articles to press releases. They can handle link building, including blogger outreach and broken link building. And they can also offer managed SEO services like The HOTH.
They are widely recognized in the industry.

Click Intelligence doesn't have a wide variety of services just for show. They are actually competent in them too. In fact, they have accreditation and partnership with the most prominent players in the industry, such as Search Engine Journal and Semrush. They are also finalists in multiple Search Awards.

They have a comprehensive knowledge hub.

The award-winning competence of their SEO professionals really shines in their website's knowledge hub. In this part of their website, SEO articles and tools are available to you – all for free.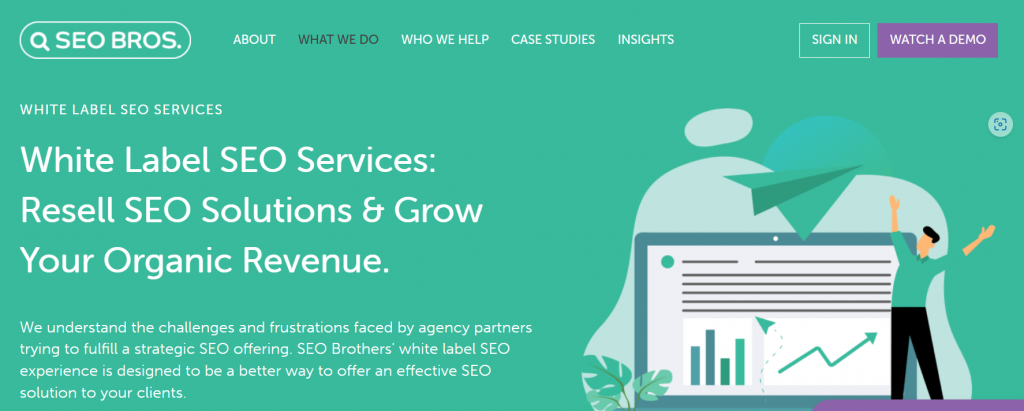 SEO Brothers is an SEO agency that has been founded by, yes, brothers Adam and Devon Bate. The company focuses on organic SEO services and solutions for agencies and web designers. In other words, they are a white label SEO services company, with some focus on organic SEO.
Here are the most relevant details you need to know:
SEO Brothers has a powerful portal for your white label needs.

This can't be stressed enough. It's crucial to have your own portal if you are outsourcing operations to a white label SEO company like SEO Brothers. Thankfully, the company has an intuitive portal where you can manage projects. You can even add team members to your portal account.

They have one-time and ongoing managed SEO campaigns.

If you are white labeling SEO services, you will get clients with widely different needs. You may meet clients who only need one-time optimizations and others who require consistent SEO management. Whatever it is, SEO Brothers has your back.

They have comprehensive white label SEO campaign components. When you are hiring someone, it's important to know what you are actually paying for. You don't want to get burned when outsourcing. Fortunately, SEO Brothers has broken down their white label SEO campaigns into easily digestible components. This way, you can easily have a bird's eye view of everything. Their breakdown starts with onboarding and strategy formulation and ends with data reporting.

LinkGraph is a digital marketing and SEO agency that has a data-driven approach to everything. They believe that SEO is math, not magic. This is why they try to study and understand analytics and search algorithms to give their clients the best results. And the best part – you can ride their competence with their white label SEO services for agencies.
LinkGraph boasts about their premier white label services.

Because of their data-driven approach, LinkGraph is proud to deliver results in a variety of SEO services. They can deal with content creation, link building, reputation management, and technical SEO. Oh, and they are particularly proud of their link building expertise.

They specialize in e-commerce and SaaS.

The best thing about white label providers specializing in particular industries is that you are sure they are the best when it comes to those industries. If you have clients in the e-commerce and SaaS spaces, LinkGraph will be the best white label SEO services provider for you. And they are not specializing just for the sake of it. They actually know what they are doing in these spaces. Read their case studies.

They have worked with more than a thousand clients.

Over the years, LinkGraph has reached several milestones, including servicing more than a thousand clients, building over a hundred thousand links, and being an award-winning agency. This company has the expertise and the social proof to show you that they can take care of you and your clients.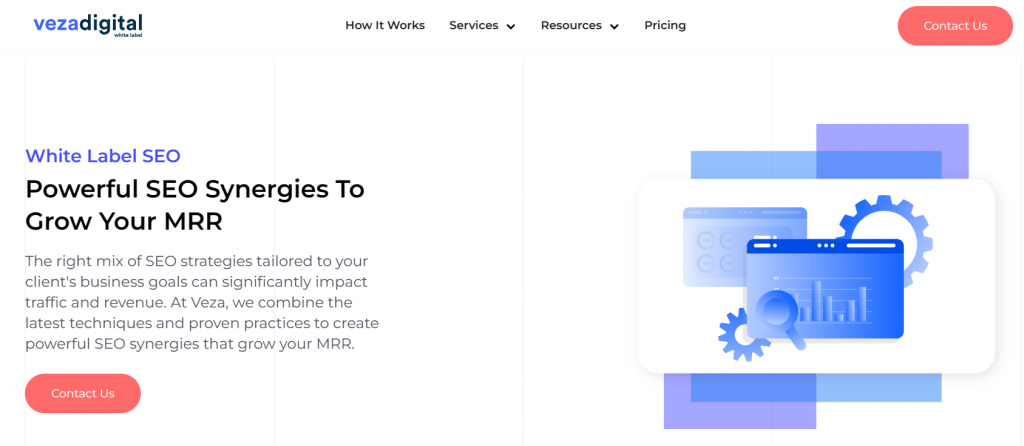 Veza Digital is a dedicated white label SEO agency. You know the company has made it when it's already starting to branch out. Veza Digital already has three locations. You can find them in the U.S., Canada, and Serbia.
Here are some things you should know about this top white label SEO provider:
Veza Digital goes beyond white label SEO.

Veza Digital can do everything you need for white label SEO – audits, keyword research, optimization, backlinking, and long-term planning. But they also have other services you may be interested in. They also do email marketing, paid ads, social media, and web design and development. And like their SEO services, you can white label these others services as well.

They use multiple platforms for client communications.

Veza Digital has their own white label marketplace. In there, you will be able to talk to an agency partner to walk you through everything you need. They also use ClickUp, Slack, and other platforms to effectively communicate with their clients. However, you will have to communicate and manage your own clients on your own.

They prioritize communication in their white label services.

Proper communication with your white label SEO services provider is an integral part of your entire operation. Veza Digital recognizes this. They view themselves as over-communicators, which means you won't have any problems with the handling of your white label SEO services with them.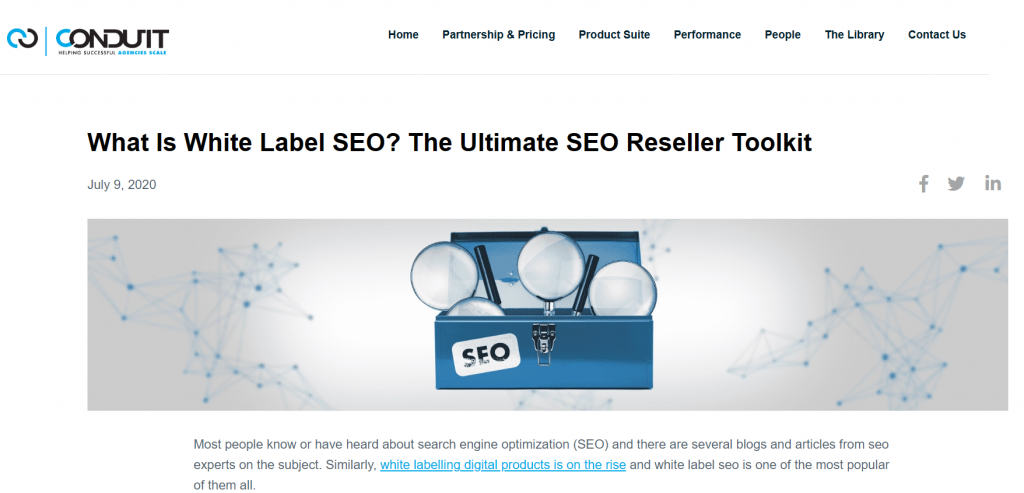 Conduit Digital is a white label digital marketing agency that helps scale already-successful agencies. They are proudly American-made. They don't automate or outsource their digital marketing solutions. And they have a hands-on approach to everything they do. They are here for the grind, and it shows in the quality of their work and in the accolades they have received over the years.
Here are the relevant details you should know about this agency:
Conduit Digital does everything in-house.

Strangely enough, it's possible for white label providers to outsource their products and services to other white label companies. This can get ugly really quickly. There are just too many hands involved. But with Conduit Digital, they do everything in-house and on-site. No automation, offshoring, or outsourcing for the proud Americans in Conduit Digital.

They feature numerous case studies on their website.

Some digital marketing companies only feature a few case studies and they expect potential clients to be swayed. But what if these are just lucky results? Conduit Digital features many case studies and results on their website. Their full in-house approach is clearly working.

They have an impressive communication system.

With Conduit Digital, you will feel like a valued white label SEO partner. This is because you will have direct access to their account managers and relationship builders via their platforms, including their very own agency portal, Slack, and Zoom. Red tape is just non-existent in this white label company, thanks to the in-house operations and smooth communications.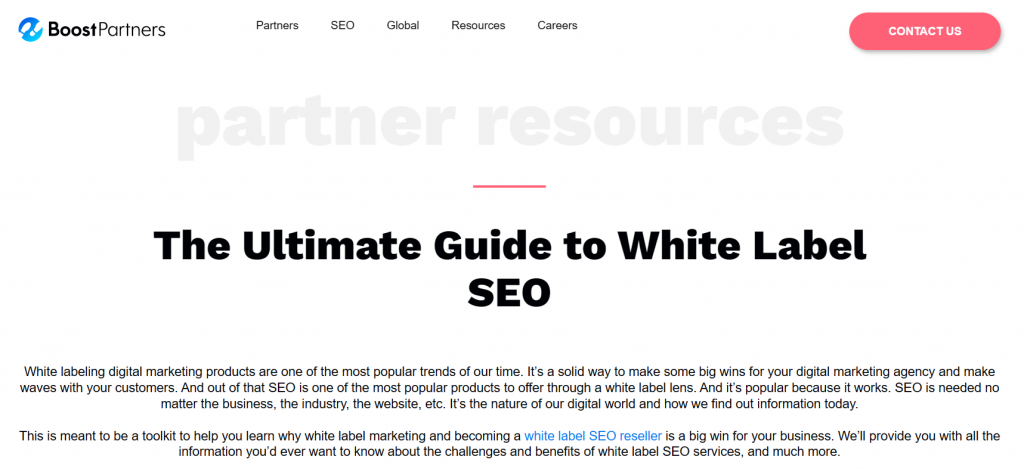 The SEO professionals at Boostability see themselves as modern Robinhoods. They are here to provide accessible and affordable SEO services for small and medium businesses. This is because they believe that digital products and services should not be exclusive only to enterprise-level businesses. But take note that their focus on SMBs doesn't mean that they can't compete at a high level.
Here are the key details you need to know about this interesting SEO company:
Boostability doesn't believe in one-and-dones.

Yes, Boostability focuses more on SMBs, but this doesn't mean that they are cheap. They may not offer enterprise-level SEO. But they also avoid one-size fits all and super short-term projects. They are not here to charge you by the blog post or keyword. In fact, they are here for personalized and long-term SEO strategies.

They have multiple white label SEO services you can choose from. Boostability helps different kinds of agencies. They help advertising agencies, PR agencies, social media agencies, and even web design and development agencies. This is all thanks to their diverse white label SEO services. They can do content writing, link building, and local SEO for websites.
They are proud to be technology-powered and people-enabled.

Those sound like buzzwords. But for Boostability, they are not. They are indeed technology-powered because of their proprietary task management software. They are also people-enabled because they complete 100% of SEO tasks in-house. And as you have learned in this article so far, having a dashboard and not outsourcing their own work are great traits to see in digital marketing companies.
Are there other sources of SEO services?
You can completely rely on white label SEO services companies like Marketer's Center. But this doesn't mean you have no other choices. You can go with independent digital marketing specialists, freelancers, and other lesser-known agencies for your SEO needs. And yes, they can white label SEO services too.
Here are some interesting places where you can find them.
Upwork is one of the most popular gig platforms out there. With the rise of freelancing during the pandemic, it has become even more popular. You can find incredibly talented individuals here. And you can find not just digital marketing specialists for your SEO needs. You can also find other experts in various areas that may be important to you, such as content writing, media designing, photo and video editing, and website designing.
But being a big platform also has its caveats. Upwork does have a big pool of talent at its disposal. But a big portion of this talent pool can also be inadequate for your needs. Be smart when you are looking for white label SEO services on gig platforms like Upwork.
Fiverr is another freelancing platform that you should look into. Like Upwork, it has a great talent pool in different areas where you may need help. It's not just SEO, but digital marketing as a whole, as well as branding and other business-building services.
Finding talent on Fiverr is just as easy as it is on Upwork. After all, they both have the dashboard and interface to make everything run smoothly. But also like in Upwork, you should be proactive in scrutinizing SEO service providers in Fiverr.
Legiit is a business marketplace you can try. It's pretty much another Upwork and Fiverr. Legiit has a lot of SEO offerings for you, including backlink building, keyword research, on-page optimization, and even guest posting, which can get difficult if you don't know how to write outreach emails.
However, the platform seems to have quite questionable categories too, such as PBN domains and links. These can get ugly for you and your clients really quickly if you don't know what you are doing. Remember that, in white labeling, you are putting your company and its reputation at risk. Make sure to find people who rely on white hat tactics to avoid penalizing your clients' websites.
SEOClerks is a great business marketplace like Legiit. The only difference is that SEOClerks has more focus on the digital marketing needs of its clients, hence the name of the platform. Here, you will find everything you need for your digital marketing needs, including content writing, link building, and even web hosting. And of course, you can white label them too.
But like other digital marketplaces, SEOClerks is flooded with poor-quality SEO providers who are just looking to make a few quick bucks. Use the platform's comprehensive search tool (with filters and all that) to find the most appropriate and legitimate SEO service providers.
No, Blackhatworld is not a dark website for blackhat SEO tactics. Don't let its name fool you. It's a digital marketing marketplace and forum. In the marketplace, you will find a lot of SEO specialists that offer different kinds of services. You can even find packages with multiple SEO services combined, giving you a better price compared to buying services individually.
What's great about this platform is that it also acts as a forum. You can learn so many things here. And this means that many of the people on the platform are very knowledgeable in what they do. You can find a lot of competent specialists here if you are looking to white label some of your SEO services.
Warrior Forum is just like Blackhatworld. It's a marketplace and forum that specializes in digital marketing. Its marketplace features are not as complex as other platforms like Upwork, Fiverr, and Legiit. But they are good enough to find what you are looking for – competent SEO professionals for your white label SEO needs.
Its forum community is also strong. This is great because digital marketing and SEO knowledge are always appreciated, especially now that the space is becoming more and more competitive.
How do you choose which ones to use?
If you do your due diligence, you can find competent white label SEO services companies across the web and great digital marketing freelancers in online marketplaces and forums. But this doesn't mean you should hire the very first competent company or individual that you find. You have to be a good fit with each other. And you actually have to make sure that they can get the job done for the price point that you think is respectable.
Here are some quick tips on how to choose SEO service providers for white labeling:
See if they are the right fit for your budget and goals.

Are you a big agency trying to expand your products and services to compete with other big players? Are you a small agency trying to diversify your offerings? Different agencies have different needs. Your needs will influence your choice of white label SEO services for agencies. If you are a big agency, you may want to play it safe with the more well-known choices like Marketer's Center. But if you are a fledgling agency, you may try to find diamonds in the rough in marketplaces and forums.

Understand that you will get what you pay for.

You may think you can just hire the cheapest option. But often, the cheapest option is also the worst. You will get what you pay for. However, this doesn't mean those with expensive rates produce high-quality results and those with cheap rates produce low-quality ones. Again, this highlights the importance of choosing the right agency or individual.

Look for social proof. If you are eyeing a white label SEO agency, the first thing you should do is look at their website. They may have case studies that showcase their results. They may even feature testimonials from satisfied clients. You can also take a look at their business profiles, particularly their GMB profile. You may find some reviews there. If you are eyeing an individual, take a look at their profile on the platform of their choice (Upwork, Fiverr, etc.)
With a little research, you will be able to find the best white label SEO service providers. Yes, the effort and time you dedicate to this research are worth it.
White label SEO services for agencies
If you are an SEO agency looking to scale, try white label SEO services for agencies. It will make scaling so much easier. This is thanks to the additional products and services you can offer to your clients – products and services you don't necessarily have the knowledge and infrastructure for.
There are full-blown white label SEO companies out there like Marketer's Center. But there are also platforms such as Upwork and Fiverr where you can find competent white label SEO providers if you know how to look.
---