There are so many agencies out there offering blog outreach services. Some of them are legitimate. But some of them are not even worth the price and commitment because they use scummy tactics that don't work or just straight-up hurt your rankings.
Enter Only Outreach, a link-building company that knows what tactics to avoid and what to use.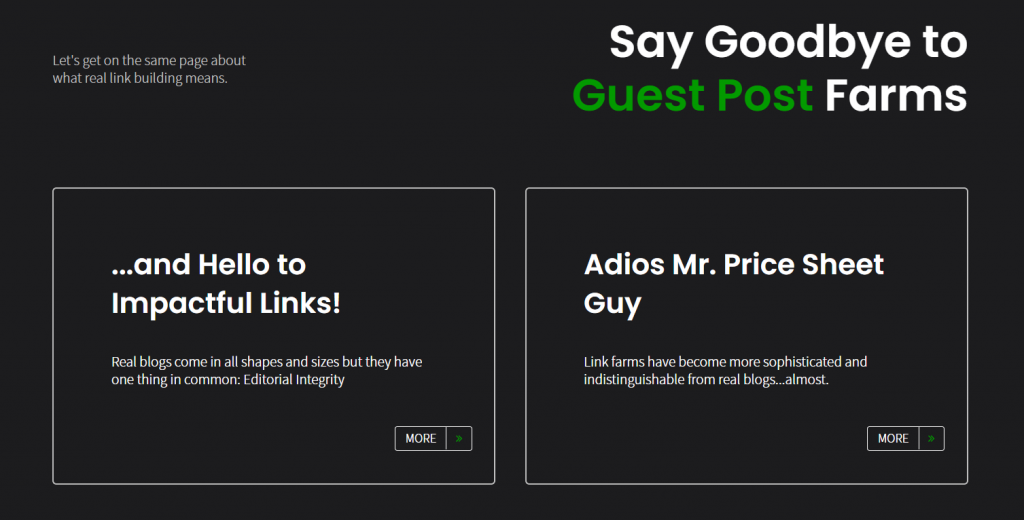 Only Outreach is a relatively new link-building company, but it's founded by an experienced SEO and link-builder who recently sold a seven-figure link-building agency. Their team is composed of well-trained strategists, prospectors, outreachers, and writers to ensure that all aspects of their blog outreach service are top-notch.
They know the ins and outs of outreach. They know the strategies that work, those that are overused, and those that don't produce results at all. Because of their extensive experience in the industry, they can provide you with specific solutions that will clearly address your pain points, not just random solutions that they use for all their clients.
How does their blog outreach service work?
Only Outreach's blog outreach service has a monthly retainer pricing model. You give them a specific amount of money, and that money will be the balance for your blog outreach campaign. The balance will cover the value of the links you receive and the number of hours their team dedicates to your campaign.
The value of the links will depend on a number of factors, such as the domain rating and traffic of the website where they are found, and the type of link. Guest posts and link insertions have different values.
The team that will dedicate a lot of hours to you per month will have an SEO strategist, link prospector, link negotiator, content writer, and project manager.
The best thing about Only Outreach's pricing model is that your remaining balance can be carried over to the next month.
What makes Only Outreach different?
Some blog outreach service providers already have a set formula for all their clients. They send out generic email templates, send poorly-written articles to those who reply, and then charge their clients with insane markups to cover costs and take some profit.
Only Outreach is unique because their formula and the metrics they use are somewhat different.
Only Outreach doesn't just rely on domain authority and ratings.

Many blog outreach companies look for prospects by pressing a few buttons in Ahrefs and other tools and choosing websites with high DA, DR, and other metrics. But here's the thing – everyone is already doing that. These same websites are being reused over and over again, and some of them become less authoritative because they become guest post farms.

Only Outreach doesn't maintain a database of prospects that they can reuse for other clients.

Link-building companies, especially those with experience and deep relationships with high DA and DR websites, already have a database of prospects they can reuse. This can mean that the results they give for each client are basically the same. Only Outreach has a more unique vetting process that doesn't result in dishonest positioning.

Only Outreach understands unfair pricing for links.

Only Outreach knows that blogger outreach can get expensive, especially because of the value of high-quality links and hours logged by competent professionals that need to be paid. But their monthly pricing model with adjustable rates on link value and time worked can be beneficial, especially to clients who have specific needs and don't want to break the bank for them. This is unlike other link-builders who offer insane prices for links from websites with high DA and DR when many clients don't even know if those websites are already guest post farms.
Only Outreach knows what's up
Only Outreach is a competent blog outreach and link-building company. Their team knows the tactics that are overused and now have limited effectiveness. They have a unique approach to finding prospects and pricing outreach campaigns, and this separates them from generic blog outreach service providers.
Only Outreach knows what it is doing, and for that, they are worth a try if you are looking for someone who can do blog outreach and link-building for you.
---