If SEO is not an area that your agency specializes in, white label link building services are the best way to offer your clients something new without having to worry about fulfillment.
Link building is one of the many ways that you can increase brand authority and drive more traffic to client websites, which is why more agencies are looking to add this to their SEO service offering.
Google's algorithms are complex and forever changing but backlinks have always been a factor that carries a lot of weight SEO-wise. Backlinks signal to Google that a website is trustworthy and a credible resource of valuable information, which is why more backlinks lead to higher rankings.
Examples of Link Building Strategies
There are a number of different ways that websites can earn more backlinks, including:
Reviews. Getting a client's product or brand reviewed on a high-traffic site, such as that of a popular blogger
Content Creation. Creating and posting high-quality, engaging content on third-party sites and linking back to the client's website
Link placement. Placing a link to a client's site within relevant content on a high-traffic site
Link building can be a time-consuming process, something that general digital marketing agencies don't always have the capacity for, which is why white label services have become so popular.
Top White Label Link Building Services for Agencies
Marketer's Center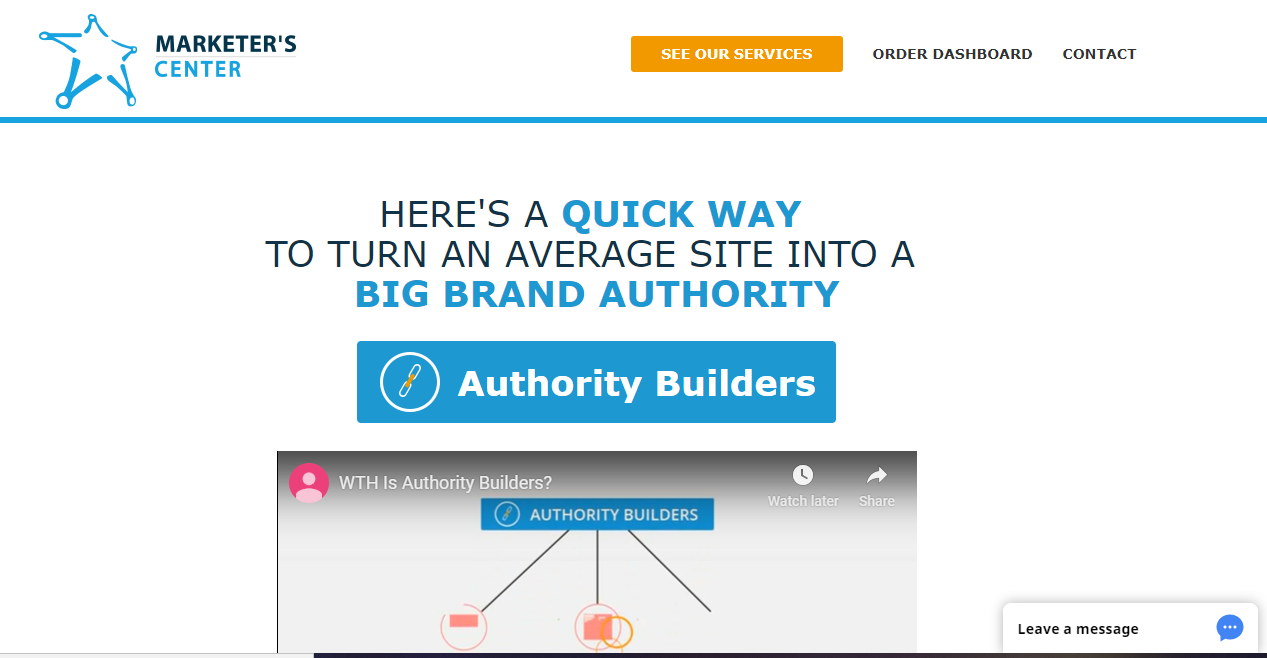 We are a leading SEO reseller that currently serves over 2,000 digital marketers and agencies. The white label link building service we offer is designed to increase brand authority by placing content on high-traffic sites such as Bizcommunity, Digital Journal, Inc., and The Huffington Post.
After a new link is generated, we push it live using a unique indexing process at no extra charge. We only take a limited number of orders per site every month and only work with sites that have extensive and valuable resource pages – we believe in offering our partners just as much value as we do our customers.
View the Marketer's Center white label link building pricing here
Outreach Monks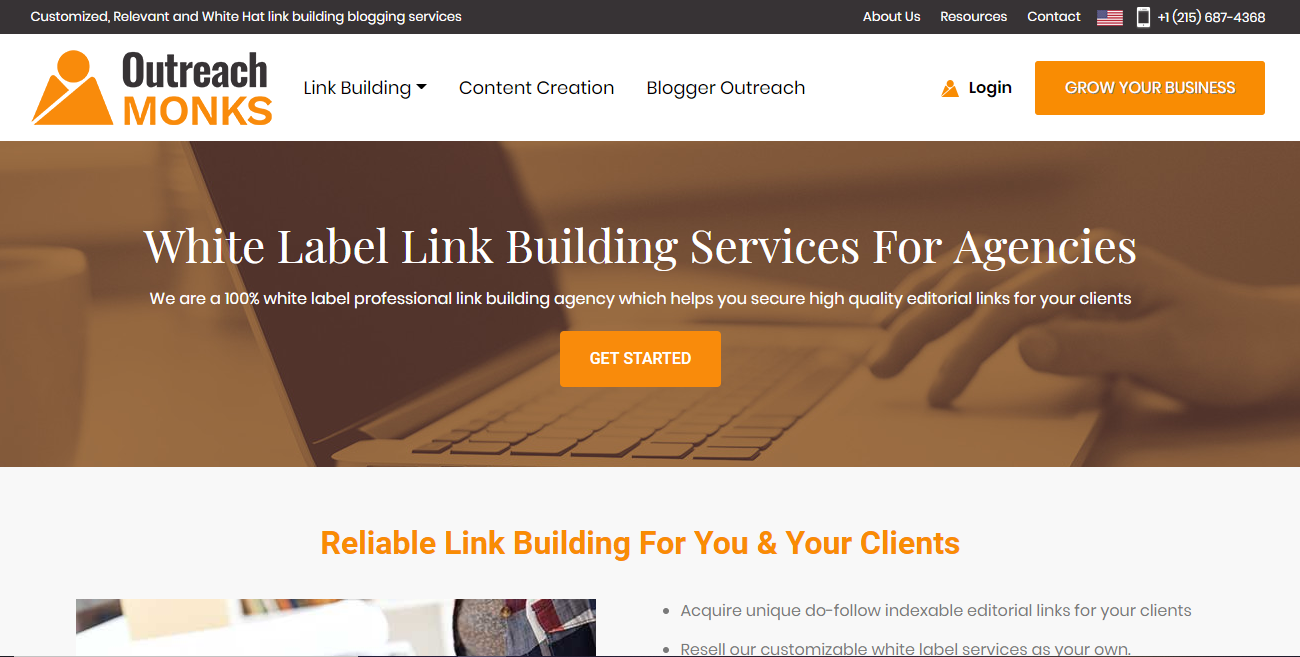 Outreach Monks is a professional link building agency that specializes in heavenly curated content marketing. Their white label link building solution is designed to help agencies improve client rankings, drive more targeted traffic to client websites, and build brand authority.
Some of the sites that Outreach Monks works with include Forbes, Search Engine Journal, The Huffington Post, and Social Media Today. The agency is well known for adhering to best practices and offers agencies a dedicated account manager, link profile analysis as well as Symantec keyword research. Outreach Monks prides itself on being transparent and processes bulk orders.
Find out more about their services and pricing here
Page One Power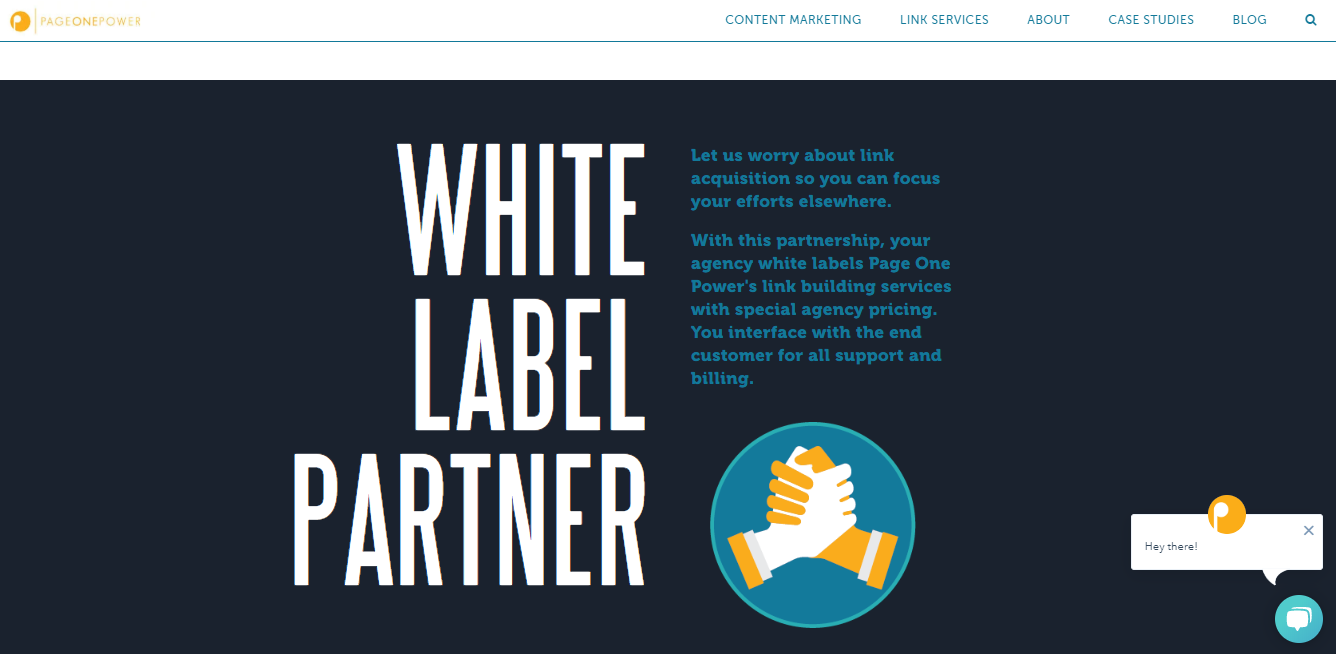 Located in Boise, Page One Power specializes in content marketing and link building services. Using the latest link building best practices, Page One builds tactical link building campaigns and sees them through from start to finish. Whether you are interested in individual link placement or a custom SEO campaign, they can assist.
One Page Power only works with reputable third-party sites and offers an array of pricing options, which means you can build a strategy that suits your client's budget. Page One guarantees a link placement within 60 days of every order.
Read more about One Page Power's offering and pricing here
The Hoth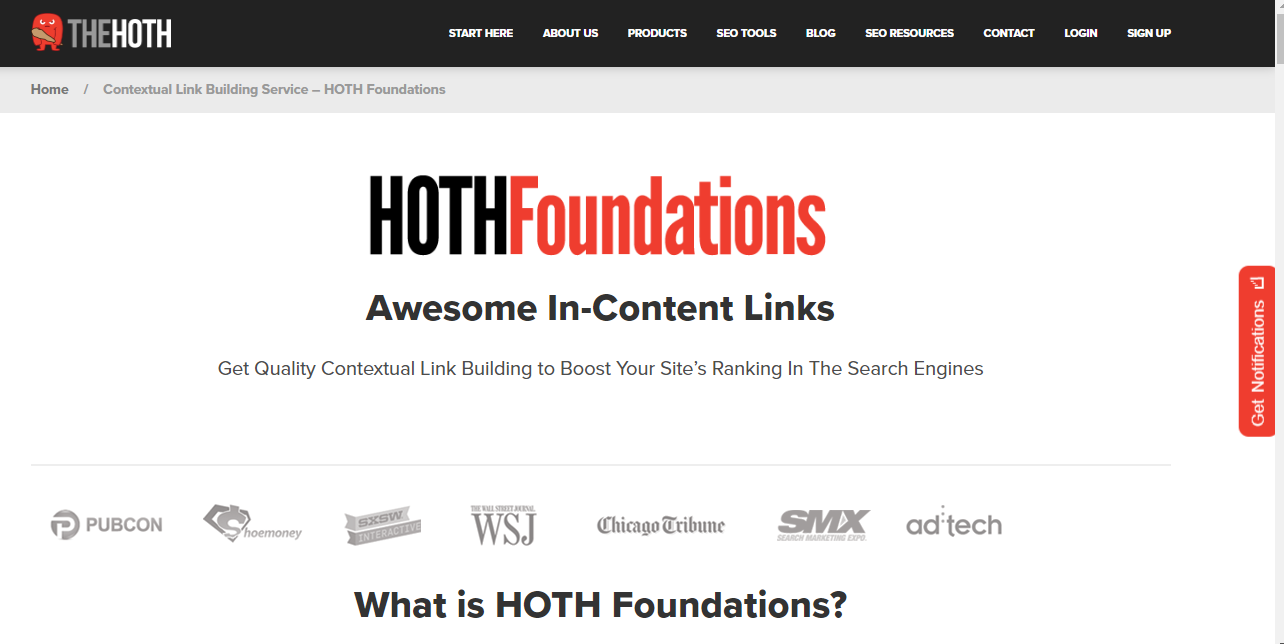 The Hoth is a white label SEO service provider that has been around for close to a decade. They are well known for their speedy delivery and great results. Link building is just one of the many services that they offer and they work with sites such as The Wall Street Journal, Shoemoney, Pubcon, and Chicago Tribune.
Simply submit the URLs and anchor text that you would like to use in your campaigns and their team will get to work developing engaging content that links back to your clients' sites. Once the links have been secured, you will receive a detailed white label report that you can share with your clients.
Find out more about The Hoth's link building packages for agencies here
Outreach Crayon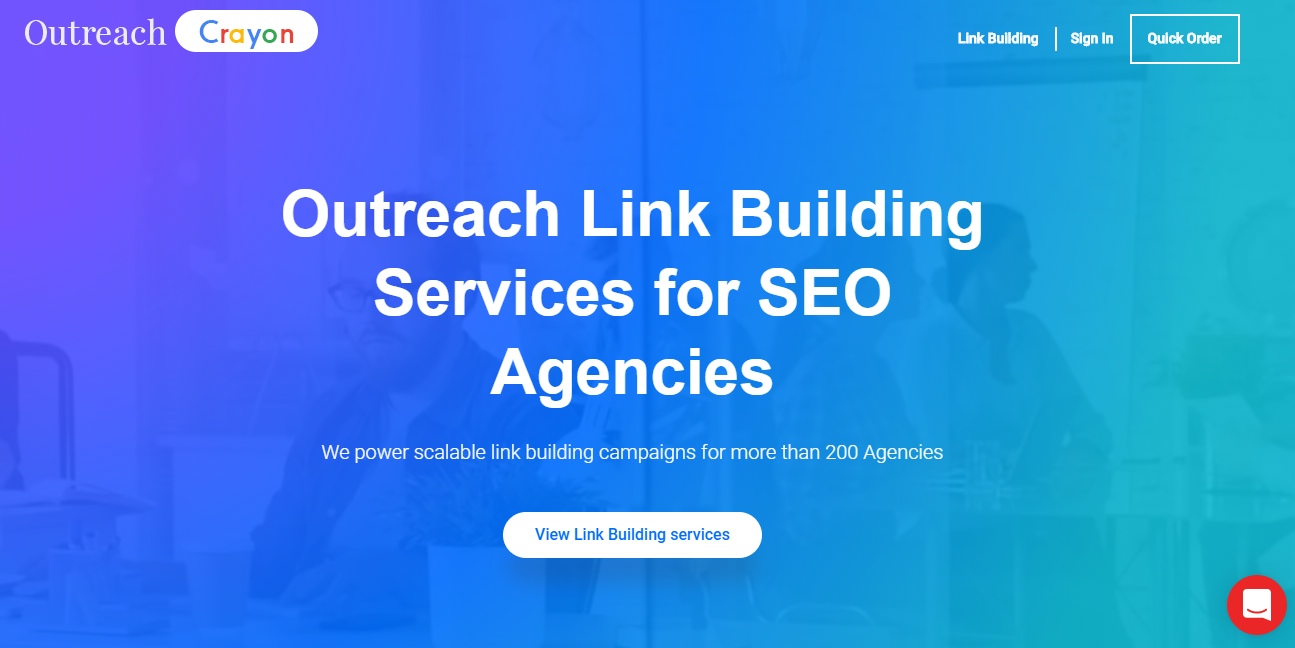 Founded in 2008, Outreach Crayon has been helping agencies increase brand authority for clients using proven content marketing and link building tactics. Outreach Crayon currently works with hundreds of agencies in several different countries across verticals such as business, health and fitness, and travel.
Along with generating relevant and engaging content, their team also specializes in infographics. Outreach Crayon offers one time or monthly orders.
View Outreach Crayon's pricing structure here
FATJOE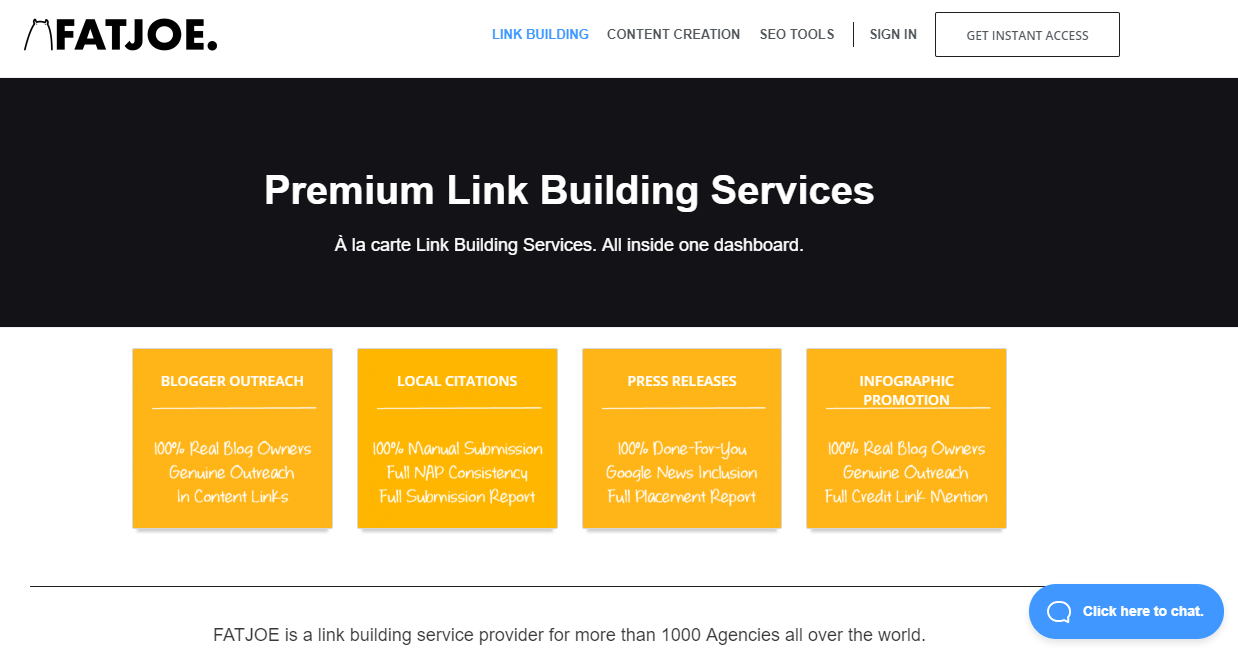 FATJOE is a reputable content marketing and link building white label solutions provider that partners with a number of high-profile sites, including PubCon, MOZ, and Smart Insights. They also currently work with thousands of agencies.
Every order that is placed can be managed and tracked from an easy-to-use dashboard, making it very easy to manage campaigns for multiple clients. Agencies will also have access to detailed white label reports that they can share with their clients.
Sign up for an account to access FATJOE pricing
Linkologists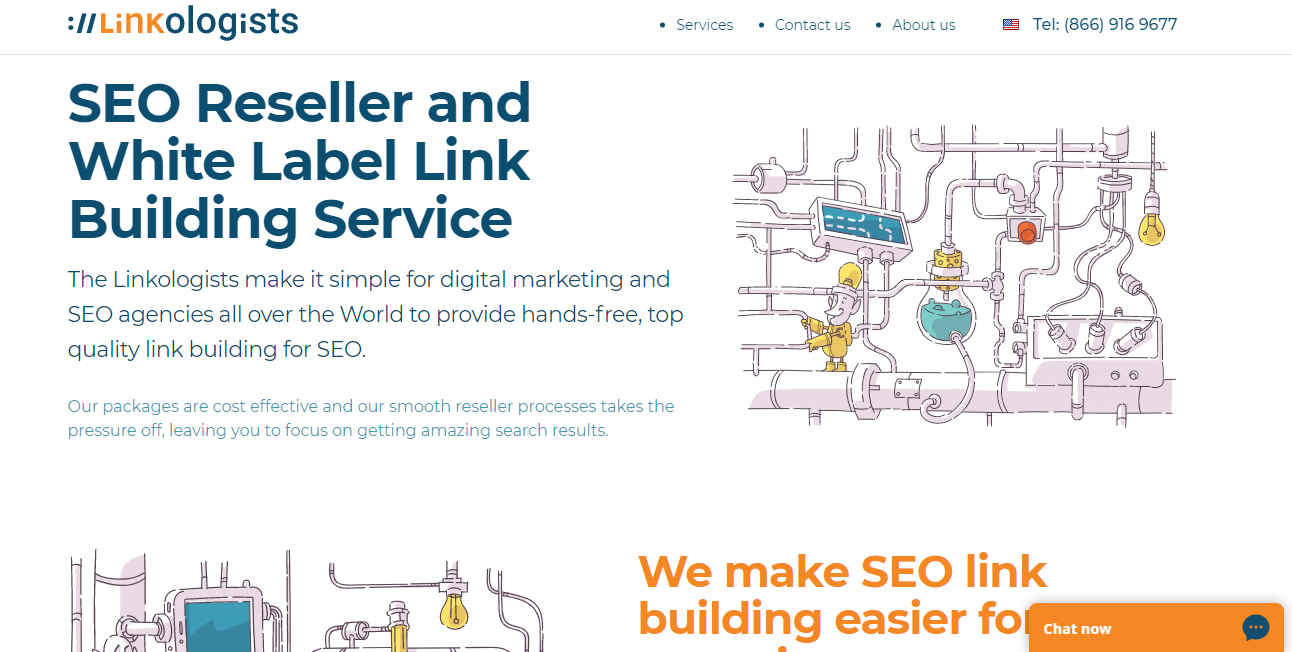 Linkologists is dedicated to taking the complexity out of link building and gives agencies the chance to expand their SEO offering without needing to upskill. With offices in both the US and UK, Linkologists is renowned for their fast turnaround times – most campaigns are completed in less than a month.
Orders can easily be placed online and once it's in the system, it can be repeated. To ensure that agencies have more flexibility in terms of finance, Linkologists offers different payment methods and terms.
Find out more about Linkologist's pricing here
Whether you want to add link building services into the mix this year or simply test it out to see if it's something you want to add to your agency's SEO offering next year, these white label solutions come highly recommended.
Recommended Read: Getting Started with White Label SEO
---