Starting a new SEO agency can be difficult, but you might be surprised that you don't need a whole lot to get going.
This blog post is part of a 3 part series, please check out the other 2 as well: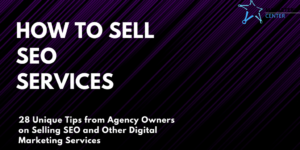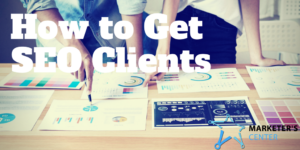 Getting Local Clients Is Easiest
I think it's better to start with local clients. You can pick them up more quickly via networking meetings or just by happenstance. In fact, my first client was my Mercedes repair shop when I needed my car serviced. We started talking about internet marketing, and it was on from there.
You Might Be Surprised to Know That You Don't Need a Perfect Website
If you're new to the business, you might think you need a great website to start, not true. While an excellent looking website helps, I've seen many SEOs sell their asses off with rough-looking websites or no website at all. So don't let this be a reason to hold you back from starting initially, it's just not a core factor to your success.
For what it's worth, I had 6 clients signed before I had a website for my agency (and it still doesn't do much for me).
Newbies Be Warned: Demonstrable Proof Is Huge
Dan Kennedy talks a bit about a preponderance of proof when you're presenting yourself to your potential client. To build some credibility for yourself initially, evidence of sites you've ranked and results you've obtained will help a great deal when you're selling SEO. You want to be able to show these to prospects, so they know you're not, for lack of a better term, full of shit.
If you're new to SEO and the business in general, it would be a good idea to rank a few sites first. Experimenting on client sites is a recipe for disaster, you'll need your own sites at least for this alone.
Have Your Systems in Place Before You Need Them
Unless you plan on doing this all yourself, you'll end up needing writers, designers, link builders, and other specialists to keep the wheels turning. Get your systems put in place before you need them because you don't want to start putting together these processes at the last minute. Shameless plug: At Marketer's Center we have a lot of these systems already cranking, scaling can be plug and play if you want to use our services as well.
You should also have systems set up for landing new clients as well.
Once You're Making Money, Incorporate
For years I ran my business as a sole proprietor, and I paid a lot more into the pot than I really should have during that time. Get incorporated and pay yourself a tidy salary, take the rest of your profits as distributions, so you don't get hammered so badly by self-employment taxes.
I suppose this is the part where I disclaim that I'm not an accountant or lawyer, and it's not legal advice, but this is just what has worked for me.
Getting New Clients Is Great, But Don't Ignore Retention
I think the little things go a long way. Staying connected to your clients with monthly calls, reports, and in-person meetings are important for me.
I once read from an agency owner that it's impossible to scale if you have 30+ client meetings a month. I don't agree! I believe keeping that connection is important if you want clients to stay with you for the long-haul. And if you don't have the time to make many of the meetings, get an account manager that can.
But this is just the way I like to run my agency; your model might be entirely different.
Here's a Few More Lessons on Running and Starting an SEO Business from 41 Different Agency Owners
Justin Bilyj from Bantamedia talks about the importance of scalable processes:
I think the most important lesson I've learned is that you have to have a scalable process in place if you want scalable and predictable results. Such an eye-opening lesson, after learning that from the NYT best selling book, The E-Myth Revisited.

Having a process in place, preferably written down, is what separates the amateurs from the experts. This is more evident as you start to hire support personnel. To avoid bottlenecking in the growth stages, it's necessary to delegate or outsource more repetitive and lower-costing tasks. Without a process in place, effectively shifting those responsibilities can be fraught with complications or worse yet, errors.
Sam Borcia from CoflexMarketing has a warning about getting new clients:
Starting my own agency seemed like a fun and easy idea in the beginning. It was portrayed to look easy by all the courses and "gurus" who promoted the idea of starting your own agency. I soon realized the one issue. Getting clients is not easy. Not at all. I learned that I needed to put in a lot of work and figure out a strategy if I was serious about getting clients for my new agency.
Steven Goltiao from G3 Webworks touches on the topic of confidence:
Have confidence that you are an expert and your potential clients need your services. If you speak with conviction and know more about how to grow their business than they do, you are ahead of the game.
Jason Schulz from 5tales:
Only offer services which you can scale. Agencies grow the most efficiently when they do a small number of things very well for clients who really need them.
Martin Smith from Overflow stresses the importance of a reliable pipeline of new clients:
Outside of being competent and getting results for your clients, the most important thing for a digital marketing agency to have is a pipeline of new clients. Client turnover happens… Every client isn't the right fit for your agency, so not every client you start out with is going to stay with you forever. But, as long as you can consistently bring in a flow of clients, your business will be healthy.
Jason Holmers from Oxsome:
Scaling is more difficult then I anticipated. You have to continue to grind and be patient at the same time – all the time.
Scott Allen from Breakthrough Dental Marketing has a tip about communication:
As trite and simple as it sounds, communication is the one thing that should be a constant. After an interaction with a very unhappy client, we made it a policy to have a weekly phone call with the business owner. This keeps things from getting out of hand and it also helps build and maintain the relationship.
Aaron Price from Online Spark mentions the importance of getting help where you need it:
One of the most important things I've learned from running my own agency is that I don't have enough time to do everything. It's important to outsource and to not spread myself too thin. For example, outsource your links! Outsource any web development work you can and focus that time instead into managing clients and sales.
James Alviani from Business Web Marketing Australia stresses the importance of taking action:
You may not be 100% happy with your business logo, products, unique value proposition etc… but just put something out there and go for it. Don't wait for everything to be perfect before you launch because it never will be.
Stuart Pollington from Smart Traffic talks about people and process:
Invest in people and processes. If you have the right talent you get a lot done but if you have the right processes in place you can get even more done. Processes help you scale very quickly whilst maintaining the quality of work.
Scott Gallon from Digital Boss talks about building a business that runs without you:
Have a process in place that delivers the result. Break down the process into segments. Train others to implement the segments. Train someone to manage the segment implementation process. Build a business that runs without you.
Joe Sayles from Envy Digital Solutions has a tip on delegation:
The most important lesson I learned having always been the "doer" of all SEO activity, I have learned that I must delegate activity to trusted sources and partners in order to scale my business. Marketer's Center has been my most trusted partner to date.
Matthew Holmes from chmstrategy says to get a sales pipeline going:
Having a consistent sales pipeline in place is essential for the growth of your agency. I always tended to focus more upon the fulfilment side of the equation as I have a high customer service expectation for our team, but the lack of sales pipeline was hampering our growth. Now I'd like to think we're developing a balance between the two.
David Krauter from Websites That Sell warns against scaling beyond 10 clients without having good systems in place:
Systemise EVERY process. You can easily manage 7 even up to 10 clients running everything yourself. However the moment you get past this numbers thing get crazy and unless you've got a team and systems in place you will not be able to scale!
Chris Casarez from Exact Latitude says this about scale:
Making sure your solutions and product offerings are scalable. There are certain things that worked as an "employee" that simply don't translate well when trying to open up your services to multiple companies.
Andrew Rios from ? (HMU Andrew):
Don't charge the lowest, honestly charge the most you can get away with. Always give yourself extra time on a deadline so never say the first date you could have it done because shit happens in life and you could end up missing that "easy" deadline.
Ross Taylor from Alameda Internet Marketing talks about scope creep:
Protect yourself against scope creep and charge appropriately. It's easy to fall into the trap of doing extra work for clients and not getting paid for it.
Nick Ponte from NickPonte.com stresses organization:
One of the most important lessons I've learned is to keep organized. As the clients begin to come in, files and resources can become extremely disorganized. The more organized you are the higher your quality and output will be.
David Gilliam from Reputation Authority talks about picking a good reseller:
Make sure the reseller platform you're using checks out and has good customer service for partners.
David Castro from RankRabbit makes a point about focusing on just building your business first:
As an entrepreneur, you have to get to the point where you simply stop explaining your vision to your family and friends – they're just not going to get it. We're wired to seek security and I guess a job provides security in many people's minds.

I've learned to expect that most people won't understand. I just focus on building my agency and hitting my goals. I don't bother trying to convince anyone that what I'm doing is smart. At the end of the day, actions speak louder than words. So just prove you know what you're doing with the action you take.
Daryl Osborne from Vancouver BC SEO focuses on providing value:
There's not one business we've ever found that doesn't need help in some way – so we always look at things in that way – how can we help, rather than, what can we sell you?

Also that it's hard work running your own agency but the most rewarding thing I've ever done – rather than working for someone else and not in charge of your own destiny.
Shonda Rogers from SEO is Local talks about diversification:
It's important to outsource as much as you can but do not put all of your eggs in one basket so that if one person quits your whole process doesn't fall apart. Also, start marketing and building your list from the very beginning – don't rely only on referrals because eventually you will need more revenue sources if you want to continue to grow.
Haroon Bhutta from Island SEO Consultant has a good strategy for retention:
Going the extra mile for your clients is huge and has worked out for me very well. Sending them gift baskets on new years or taking them out for dinner every once in a while works wonders.
Justin McGonigal from Build Your Online says to niche it down:
Focusing on a single niche makes it much easier to come up with systems. Once you've established a system begin replicating it.
Jason Lockhart from Mogul Mindset Consulting talks about retention:
Client retention. Once you get a client it is very important to have open communication with them letting them see the process so they know exactly how their money is being spent. A lot of SEO clients I have were frustrated with past companies because they were not able to see what they were spending their money on and that left a bad taste in their mouth. Letting the client see behind the scenes of what you are doing has helped me hold on to a lot of clients.
Aaron Luther from WP Management suggests a more customized approach:
Each client is coming to you for different reasons and it's important to always have that in mind when working with them. They all want help growing or maintain their business, but this looks different to them dependent on their outlook and business.
Taylor Murchison from Mayd Media has a good tip about delegation:
You have to learn to delegate. If you can outsource or white label any of your services, do it. I still struggle with letting go of control over certain aspects of the company but having a partner like Marketer's Center makes it much easier.
Thaddaeus Hubbard from Local Marketing Muscle:
The most important lesson I've learned is that in order to maintain clients over time you must always provide value. Weekly checkups, monthly reports, under promising and over delivering.
Mark Valderrama from Velvet Cloud One finds good partners:
There is a lot of crappy advice these days and its easy to get sucked into the get rich quick douchey ads you see on the internet about how easy it is to do this. The truth of the matter is that it takes a ton of work to build your agency and it takes a number of trusted partners (like Marketer's Center) to get all your services down.
Keith Baxter from Baxter Digital Marketing likes working referrals:
Referrals are key. Foster the relationships with the customers you attracted through paid advertising, then work on getting referrals from them though incentives once they benefit from your work.
Jacob Hagberg from Orange Fox:
Your agency must provide real value. Do the math for your clients and make sure your company is providing ROI. Otherwise your business needs to rethink its service offerings.
Bennie Stander from Pretoria SEO says to be selective when taking on a client:
Pick your clients. Don't just take on any client. There is enough business out there to cherrypick…
Marie Ysais from Ysais SEO says starting your own agency doesn't happen overnight:
Starting your own agency takes a lot of grit. If you believe everything you read online you can set yourself up for failure. Setting up your own business isn't a sprint but a very long marathon. I leaned it doesn't happen over night but keep setting your goals and moving forward and never compare yourself to others in the industry.
Lee Ann Webb from Informative Energy:
That SEO isn't one size fits all and don't put all of your eggs into the one proverbial Google basket. Google can and will pull the rug out from under you if you try to take shortcuts so, even though customers want quick results, it's our job to coach them on the long game for lasting success.
Amine Rahal from Little Dragon has a good tip on retention vs new clients:
The #1 lesson that took me years to understand is that client retention is way more important than client acquisition. I used to dedicate so much of my time into deploying all types of marketing efforts to acquire new business, while giving my existing customers less than 20% of my time. Today, I do the exact opposite and give my existing clients over 80% of my time. Not only did this raise client satisfaction and retention, but it increased the amount of incoming leads through referrals and "word of mouth".
Jason Feemster from Santa Fe SEO says to set proper expectations:
The most important lesson I learned was to set the proper expectations with my clients right off the start. I found myself answering too many calls and wasting so much time dealing with needy customers. Now I simply let all my customers know how MY process works. Now I will answer any questions over email and we can have a monthly call to discuss progress if scheduled in advance. Eliminating the sky is falling calls.
Justin Herring from Yeah Local talks about the importance of results:
Clients only care about results. You can provide all the reports on all the great services you provided, but if they are not getting new customers then it is only a matter of time before they leave you.
Mick Spencer from Octocat:
Never short change yourself. Believe in the quality of the service you can offer and stand by your pricing structure. Your customers will appreciate your service and what they pay when they start to see the results.
Brandon Hopkins from Diamond Links remains adaptable:
I have learned to adapt. What worked yesterday may not work tomorrow. Because of the constantly changing landscape of SEO and reputation management, I always want to be ahead of the curve so I can consistently get results. I care more about ranking results than just about anything else.
Lorne Fade from Academic Ads talks about finding the best clients:
I've learned not to take on clients that have expectations that do not match reality. We have found throughout the years that the best clients are the ones who are self-sufficient and educated in the digital marketing process. The clients that require too much education often do not understand the value we provide and end up causing wasted time and resources.
Clayton Johnson from ClaytonJohnson.com says to make an effort in showing your value:
Getting better rankings and traffic is important, but you can still lose clients by not showing them the true value of what you are doing. Once I started keeping track of attribution on various aspects like calls, leads and revenue it became much easier to show results and retain clients.
---