SEO has evolved so much in the last decade. There is no longer a single set of techniques that will surely increase your organic traffic. But here's the upside – webmasters now have several options, particularly in building links that can increase their website rankings.
There are already a lot of link building techniques out there, such as guest posts and outreach campaigns. But if you have been in the online business for quite some time, you have probably heard of niche edits as well.
In this article, we will provide insights into the following niche edit links and service providers:
But before diving too deep into the matter, let's talk about niche edits in general first to help those who are hearing about them for the first time.
What are niche edits exactly?
Niche edits are anchor links that are inserted into old pages or posts. The main key here is that the pages or posts are high-quality. They are already indexed by search engines and may already be ranking well on search results.
And since they are already high-quality, the links inside them are very strong. You want to have such links in your backlink profile. So, you should prioritize niche edits links during your outreach campaign.
You can say that niche edits links are a safer and stronger choice compared to guest posts links. This is because Google and other search engines favor aged and high-quality pages and posts. That's not to say that guest posts links are not desirable. It's just that niche edits links are more of a guarantee when it comes to building high-quality link juice.
How are niche edits different from other off-page SEO methods?
Off-page SEO can be very volatile. It has a lot of factors that are outside of your control. For example, you may have to be at the mercy of other webmasters' interest. This is very prominent with guest posting.
Webmasters may not have the interest or the time to review all guest post submissions. After all, they can't just accept and post everything on their website. They have to ensure the authoritativeness, factualness, optimization, and readability of each post. This makes it harder to land a guest post and get a link back to your website.
If you focus on niche edits instead, you will have an easier time getting links. This is because niche edits take a lot less effort and time. Webmasters won't need to review thousands of words for a full-blown blog post. They only have to review the short anchor text and the link itself.
In short, niche edits links are high-quality and relatively easy to get. There are no downsides.
Are niche edits considered white hat?
Here's the thing – any SEO method can be considered black hat. Even the most innocent SEO method can be abused by an SEO agency or professional that tries to game the system. Niche edits are no exception. They can be black hat. But they can be white hat too.
But how do you identify whether an SEO agency or professional is using the method as black hat or white hat? Here are some key indicators:
If the links come from natural means, such as broken link building or resource sharing, it's white hat.
If the links come from unnatural means, such as paying for links, it's gray hat. These links are not natural but they don't necessarily game the system either. So, they are somewhere in between black and white.
If the links come from suspicious link networks, like SAPE or stolen websites, it's black hat. These links may end up causing more harm to you than good.
But when you think about it, Google and other search engines may be frowning on link building strategies in general. They may prefer a more natural approach, where a content creator just happens to link to your website because it's relevant to their content.
But even the most popular SEO professionals like Brian Dean and Neil Patel still recommend implementing a link building strategy. And such strategies still work. If Google and other search engines truly don't like such strategies, they will penalize them.
As long as you are not doing anything shady, you are good to go with niche edits.
Where did the term "niche edit" come from?
The term "niche edit" was coined by SERPNinja, a digital marketing agency. The term started as a way for SERPNinja to differentiate themselves from other agencies. They figured it would be a good idea to use their own jargon.
SERPNinja got the idea for niche edits from link wheels. In a link wheel, several websites link to each other, thus creating a "wheel." This wheel creates a good link profile. The businesses within the wheel can experience growth in sales and traffic, thanks to the authority the wheel gives them. This simple method worked wonders back then.
SERPNinja gathered everything they have learned from link wheels and tried to come up with their own technique. And "niche edits" were born. To be fair, editing, revising, and updating old content was not really a revolutionary idea. In fact, you can even argue that these are inevitable parts of being webmasters.
But SERPNinja was able to turn such inevitable parts into an effective SEO technique.
The two most popular niche edits service providers
Here are the two most popular niche edits service providers. But take note that this doesn't mean you can get niche edits from them only. There are a lot of great niche edits service providers out there. It's just that these two are the most prominent. If you want surefire niche edits links, they are the way to go.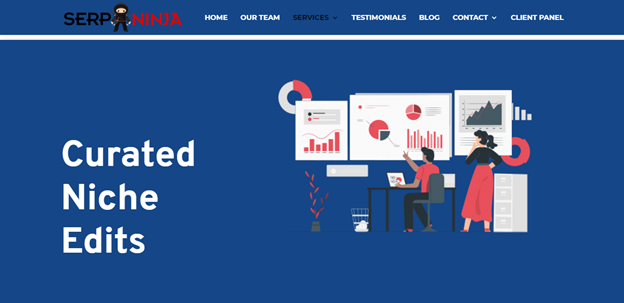 Admit it. You saw this coming from a mile away. One of the best niche edits service providers out there is the agency that coined the term.
Their promise
It's hard finding a good marketing company that will deliver results for you every time. Usually, you allocate budgets to different companies to test them out. And you are allocating more to those who show results here and there.
This can be very stressful. You just want one reliable company. And there is nothing more reliable than SERPNinja, especially when it comes to niche edits.
SERPNinja assures their clients that their niche edits will begin showing results within 1 to 4 days. There is no longer a need to try out other companies when you have one here that delivers observable and tangible results.
Their process
SERPNinja has been doing niche edits for a long time. They have built real and strong relationships with content creators in a huge variety of niches. So, you can rest assured that the websites in their network are high-quality. They are so much better than those made-for-sale setups from Private Blog Networks.
The websites are built by real people, either by bloggers who are seriously passionate about their niche or industry professionals. They are also well-aged, meaning they have high authority or have good rankings in search results. They are the perfect websites for niche edits.
SERPNinja's website network is big enough to cater to any client. Whatever industry or niche you are in, there surely are real and high-quality websites for your niche edits links.
Another great thing about SERPNinja's niche edits services is that they are handled by real people. The company doesn't rely on GSA's, programmed bots, or other methods that don't personalize your orders.
Real people search SERPNinja's network of websites until they find the right ones that will fit your specific needs and wants. They also consider certain metrics, such as domain authority, domain rating, and the quality of referring domains.
SERPNinja also has a lot of reviews and testimonials. Many clients can vouch for the effectiveness of the company's niche edits services. This isn't really surprising. They coined the term niche edits after all.
Frequently asked questions
Here are some frequently asked questions about SERPNinja's niche edits services and some answers from the company itself.
Question: Aren't these technically just guest posts?
"No – the websites weren't originally created a few months ago to be another thin blog network – there's plenty of those available if those are the links you're looking for. We edit indexed content in our network of properties – allowing faster reindexing, more natural and powerful link juice – and an actual relevant backlink to your website. Trust us, it's better than fresh guest posts. We sell to the big shadowy 6-7 figures a year SEO profiteers of today. We're confident these are the kind of backlinks that will bring the greatest long-term benefits to your website."
Question: How long does it take for me to receive my order?
"Since we scrape through our large property inventory for your relevant order anchors (to place your backlinks on the most relevant pages – [for example, survival knives anchor would go natural in camping or wilderness related articles/properties]) and then manually place each edit for your website – we guarantee a 6-10-day turnaround time. We'll try to get these completed much quicker – but that's our safety if we get bogged down with orders."
Question: Can I create and submit my own contents and articles?
"Nope – because of the explanation above. Plenty of inferior services you can purchase that will allow this."
Question: Do you offer larger and more customized packages for high-volume clients?
"Of course – it's honestly 90% of our biz and why we've never really opened our network to the public. Even now – the network will probably be open temporarily until we meet a few more large volume customers and close up. So, get in on the best backlinks you'll ever try while the chance is available."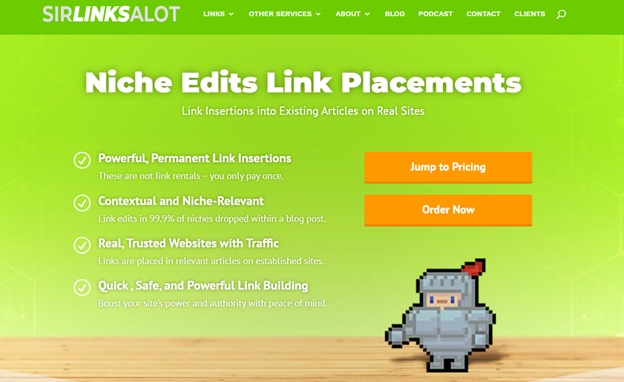 SirLinksaLot may not be as old as SERPNinja, but the marketing agency knows what it's doing. It's a relatively young company, founded in 2017 by two entrepreneurs who saw gaps in link building methods and services.
The founders launched SirLinksaLot with the purpose of helping business owners and SEO professionals rank higher in search results, with link building at the forefront of their services.
Their promise
Relevance is an important factor in link building. You don't randomly reach out to content creators and ask for niche edits. You have to target content creators that are actually relevant to your industry or niche. If you end up getting random niche edits links, you can confuse search engine algorithms. You may end up lowering your website's rankings.
SirLinksaLot's promise is that it will only provide contextual and niche-relevant links. Of course, these links will come only from highly-influential and powerful websites in your industry or niche too. If you have specific needs and wants, you can also tell SirLinksaLot the industries and niches of the websites you want to get niche edits links from.
Their process
Even though SirLinksaLot is relatively new to the game, at least compared to SERPNinja, it does have a massive outreach database. Its database is composed of real websites only. And these websites are high-quality, after being indexed and ranked by Google and other search engines.
SirLinksaLot also thoroughly inspects each and every one of these websites to guarantee that only high-quality and real ones are in the database. So, you can rest assured that the niche edits links you will get from SirLinksaLot's services will be top-notch.
One of the most important metrics SirLinksaLot looks at is the quality of referring domains of the websites. In fact, this metric is so important to the company that it is one of the bases for the pricing of services.
There is no downside here. This just means that all the websites in their database can deliver good results for you.
Frequently asked questions
SirLinksaLot's sales pitch doesn't really go into much detail about how it will build links for clients. But the company has prepared a long list of questions that potential clients may ask. Here are the company's answers.
Question: Do your niche edits links come from PBNs or real websites?
"No, they are not. Niche Edit links, also sometimes known as curated backlinks, are link placements within your niche in existing articles on real websites."
Question: Do you have access to every industry and niche?
"Yes, but there are a few niches we stay away from with our niche edit links – gambling, adult, pharmaceutical, payday loans, etc. Sorry but that's just the way it is!"
Question: Do you recommend purchasing niche edits for my website?
"Like a guest post, everyone can buy niche edits and they can be beneficial for any website. However, if we determine your site to be spammy or scammy, we will cancel your order and refund your money."
Question: Is it possible for me to choose different niches for links in a package?
"Sorry, but no. In order to decrease our turnaround time and get your links to you quicker, links from each package must be in the same niche."
Question: Is it possible for me to specify a TLD?
"Not at this time. The majority of the websites niche edit links are placed on are .com sites."
Question: What is your policy when it comes to refunds?
"All sales are final once work has started."
Question: How long does it take for my website to rank highly?
"We can't answer this question for you. It depends on your on-page, other links, competition, niche, and more. Niche Edits are powerful links that will push your website towards its goals, but there are many factors to consider.
If you need help with building backlinks, you might consider our Managed Link Building program."
Question: Are the links priced by the referring domain of the website or of the linking page?
"Links are priced by the amount of referring domains the domain has according to Ahrefs."
Question: How long does the whole process usually take?
"Link building usually takes about 14 days but can sometimes take up to a month. Results usually follow soon after as the articles are already indexed."
Question: Can I see the list of URLs where the orders are from?
"Absolutely not. This is to protect the privacy of our clients and website owners. We do, however, provide the URLs your order was placed on in the white label report that you receive on completion."
Question: Do you drip feed the niche edits?
"We don't drip-feed the links because the natural rate of indexation does that for us. After the link building, the backlinks will all get indexed at random intervals by Google, acting as its own drip-feed."
Question: How can I get backlinks that are over a certain DA rating?
"Our niche edit links are not priced by DA (Domain Authority), DR (Domain Rating), or any other metric except for RD (Referring Domains) the overall domain. Once we have established a website to have a high-quality backlink profile relevant to your niche, RD seems to be the best determiner of impact a niche edit will have."
Honorable Mentions
SERPNinja and SirLinksaLot may be great at what they do, but they are not the only good players in the game. Here are three more niche edits service providers that may interest you.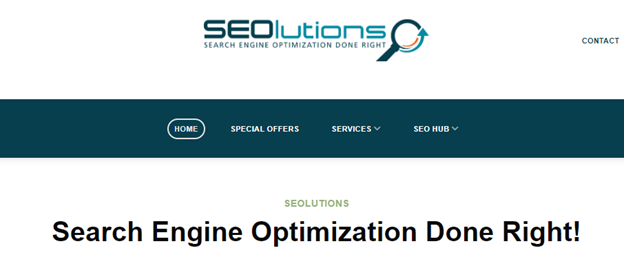 SEOlutions has years of extensive experience in digital marketing and SEO. They use the most up-to-date methods to ensure that their clients are getting the results they need. This is a company that doesn't rest on its laurels. It continuously tries to improve to stay ahead of the competition.
Their promise
Because SEOlutions focus on both digital marketing and SEO, their services are a little spread out. The company offers a small array of link building packages. But this doesn't mean that they are not worth the money. The team behind its link building campaigns produce results. It does intensive research and internal testing to ensure the effectiveness and quality of link building campaigns.
Another great thing about the company's link building packages is that you can combine them to fit your needs and wants. You can customize and personalize packages for a more powerful link building campaign.
Their process
The company's niche edits services feature four prominent features:
Fully legitimate backlink services. For every package you order, SEOlutions will initiate a fresh outreach campaign. They will gather a list of prospective content creators to reach out to and negotiate a backlink placement. Their process is very organic and natural.
Guaranteed powerhouse metrics and performance. SEOlutions uses third party metrics to evaluate prospective content creators. If the content creators at least have 1,000 visitors and a domain rating of 30, they can be considered good and worthy of reaching out to. But the great thing here is the company's pricing. It remains the same even if you get a backlink from a website with 100,000 visitors and a domain rating of 50. 1,000 visitors and a domain rating of 30 are just the borderlines of their standards.
Guaranteed white hat. SEOlutions guarantees that you that their services are completely white hat. The problem with services that are not white hat is that they can end up penalizing your website instead of helping it rank better in search results. SEOlutions has the audits and reports to prove to you their efficiency and legitimacy.
High-quality contextual links. Backlinks are almost useless if they are not from contextually relevant websites. There are even instances where they can hurt your rankings instead. But SEOlutions will not let this happen. Their niche edits are only reserved for high-quality and highly-relevant websites.
SEOlutions has the tools for a great niche edits service. They are definitely a company you want to consider.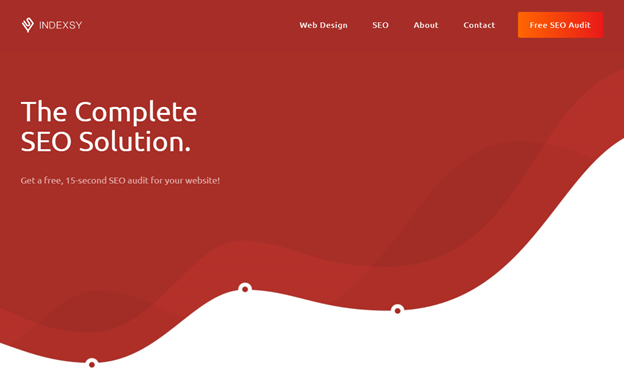 Indexsy has a lot of SEO services. They can help you with SEO setups, GMB verifications, local citations, guest posting, and of course, niche edits. With their decades of experience in various SEO methods, you can rest assured that they know what they are doing.
Their promise
Indexsy only does manual niche editing. They don't rely on bots and other automatic approaches. Their manual approach makes their link building campaigns more genuine and personal, and it isn't surprising that they are getting better results.
They manually reach out to content creators and webmasters for niche edits. Sometimes, they even exchange links with these prospects. After all, why would these content creators and webmasters make the effort to coordinate with Indexsy if they are not going to benefit from it?
That's one of the problems in outreach campaigns in general. Your prospects are often not interested and they couldn't even bother replying to your outreach emails. But with Indexsy's manual approach, they are more likely to get replies and niche edits links in the process.
Their process
Indexsy's network has thousands of content creators and webmasters. Whatever your niche is, Indexsy probably has some highly relevant websites where they can reach out to and negotiate a backlink.
The company guarantees that the niche edits links their clients get are entirely white hat and outreach-based. They don't rely on shady tactics that may end up penalizing your website.
They say you can expect results in 4 days or less. There are even instances where results can be seen on the very next day.
Another great thing about their niche edits links is that they would have different personas with individual A-B class intellectual properties, so rest assured that the links you will get are diverse and strong.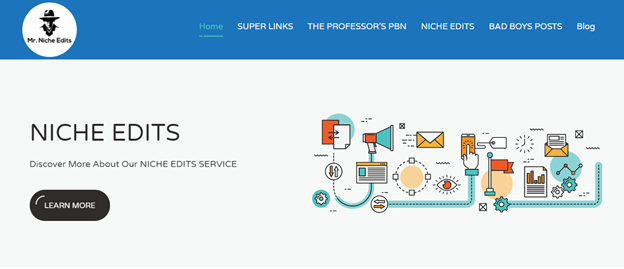 Mr. Niche Edits is one of the most well-known India-based digital marketing agencies. They are currently located in Jaipur, India. And they are well-known for a reason.
Their promise
Mr. Niche Edits are best known as digital brand promoters. They can work with e-commerce websites, legal services, real estate agencies, home improvement services, and many more. Because of their extensive experience in branding and communicating with others in the online space, they are very good with SEO as well.
Their packages are relatively cheaper compared to other niche edits service providers out there, but this doesn't mean that their quality suffers. They use everything they have learned in digital marketing and SEO to ensure you are getting the results you deserve.
Their process
Mr. Niche Edits follows a simple four-step process:
Provide the details of your order. Give them the URLs you want to rank for, your niche, and your preferred anchor text.
Wait for them to search for prospects in their database. Mr. Niche Edits has a database of websites and content creators they can reach out to. Once you have provided the details of your order, they will filter through these websites and content creators to find the most appropriate prospects for your specific case.
Let them place the links in their prospects. You don't have to micromanage everything. Let Mr. Niche Edits place the niche edits links in the aged and ranked content of the prospects they have found.
Watch your rankings improve. Once they have placed the niche edits links, you can simply sit still and watch your rankings improve for the URLs and keywords you have provided.
It can't get any simpler than that. This company's process is just so simple yet so effective.
Conclusion
Google's stand has been unchanged – the only acceptable way for a website to gain links is the natural way. When you think about it, you can say that niche edits are kind of unnatural. But it can also be argued that they are natural. After all, you do natural outreach.
Google probably prefers it if you get backlinks through references. For example, your content may be so awesome that someone else has decided to link to it on their page or post. But this doesn't automatically mean that you are trying to game the system with niche edits links.
Like any SEO method, niche edits can be abused to become black-hat. But they can also be controlled to become white hat. The key is to find niche edits service providers that will do niche edits the right way.
---