In today's competitive digital market, citations play an integral role in establishing your business and building an impactful brand presence. How? Most customers use major search engines like Google to find information on services and businesses locally. However, a significant portion of this crowd inevitably gets directed to local business directories. These directories serve as powerful platforms to drive heavy footfall and also have higher organic search rankings for popular search terms. Building local citations to appear on these business directories may not only help improve your search rankings but also make your brand easy-to-find across these platforms.
It is a vital element of local search optimization, wherein there is a mention (aka citation) of your business, products, or services on a third-party website – local directory, nice/industry directory, event site, or review site. The mentions will typically include your business name, address, and phone number. Additionally, it may also have more important details such as a short description of your products or services, payment modes, business hours, images, etc.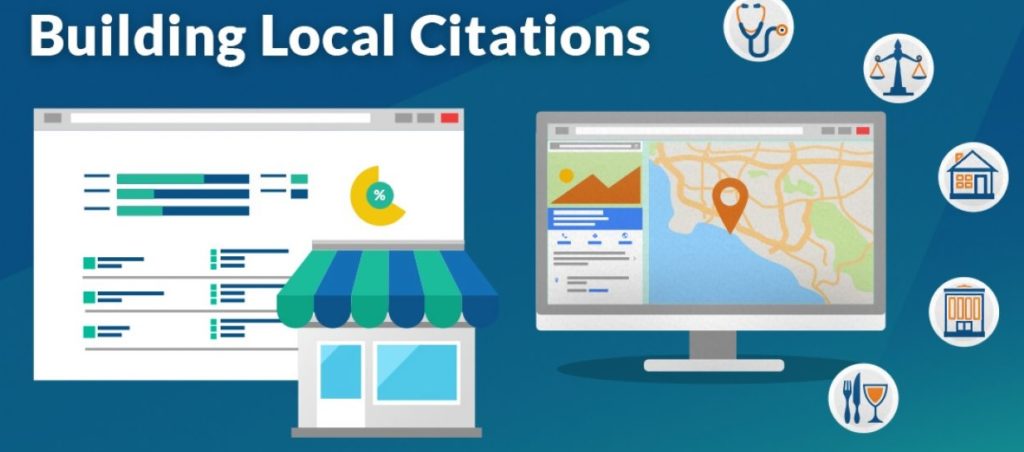 What is Yext?
Yext is a cloud-based citation building tool that provides businesses with an opportunity to address your customer queries right when they are searching for products or services related to your business. The idea is to empower businesses wherein they can answer customer questions themselves, and NOT from unverified sources. It is a preferred solution for businesses because 82% of online answers about your brand come from unproven sources. This can remarkably affect your brand image if the citations aren't relevant or accurate.
Through Yext, you can provide the right brand answers to your consumers, address their feedback, and foster loyalty. The cloud-based tool further helps "capture, convert, and retain more customers" by delivering rich and insightful answers about your business whenever someone asks a question online. By minimizing manual effort, time, and discrepancies, the tool can help enhance operational efficiency.
Cons of Yext
However, the biggest disadvantage of Yext is it works with only a handful of directories. This can affect your brand's reach across a diverse range of platforms. Additionally, the basic reporting system is also not satisfactory. And if you stop paying for the service, your listings will also automatically go away. The huge cost of building citations on Yext is another disadvantage of why businesses are now looking for a good alternative.
Looking for a cheaper alternative to Yext? Then you have come to the right place. As the best Yext alternative, you will find among all of Yext competitors, you can be sure that we have the ideal solution for you – at a more affordable price and with more to offer you.

Two approaches to citation building
If you have used the citation building services provided by Yext, then you probably know that there are two main approaches to building citations – automated and manual. With manual citation building, you need to sign, claim and verify every citation. Needless to say, this consumes a lot of time and can drain you physically and psychologically.
Automated citation building, on the other, involves the use of the software. Of course, service will not control your local business citations. However, this is still a better alternative in the long run than going the manual way.
The best Yext alternative: Marketer's Center citation services
If you are looking to make smarter decisions about local search, then you need us. As the best of all Yext competitors, you can be sure that we will provide you with the essential, fast, and accurate data you need to improve your local search engine optimization performance.
We are currently used by thousands of resellers, consultancies, and agencies across the globe to improve local search. Our client base includes those from the Australian market, the UK market, and other specialized markets that have unique needs. These clients continue coming back to us because we are the best, most affordable of all Yext alternatives.
Marketer's Center typically takes 3 approaches to improve your local citations and maximize your presence:
Hyper-Local Citations: We help create custom, handmade local business citations that cater to your unique niche and city. It is suitable for businesses that are positioned hyper-locally and target only audiences in their core niche and city. The search terms and positioning for such citations are likewise built to generate only the most relevant traffic.
Big Citations: This is a process of building high-authority citations by combining submissions to 20+ best citations and major local data sites. It is most suitable for new businesses or websites that do not have too many citations yet. The approach focuses on building big data aggregators and must-have citations at just 30% of the cost compared to Universal Business Listings or Moz Local.
Rich Media Citations: Rich media citations combine the power of local links, videos, and local citations together, providing a bigger platform for businesses to showcase their products or services, and drive traffic. The process involves image and audio syndication, video production and syndication, local link building, and creating high-authority local citations.
Not only will we provide you with snapshots of your local citation progress, vis-à-vis your competition, but we will also ensure that you can finally make the tactical decisions required to put you on top of your industry.
Additionally, we can save you time and money by getting you the right results every single time. This is why we are the local SEO toolkit of choice for so many local SEO resellers.
By continuing to be incredibly useful and helpful to our clients, we ensure that our tools can enable them to manage their own customer bases effectively and affordably. Is it any wonder that we are a more affordable alternative to Yext? With our services, you will soon discover that we will become an integral part of your marketing fulfillment for all your local SEO campaigns.
By using our service, you will also be able to gather all the data you need to enable you to respond to your customer's needs and concerns. This will, in the long run, improve your levels of professionalism, and keep these customers coming back to you over and over again. This is a particularly important aspect, especially when you are white labeling link building.
Instead of jumping from one reporting tool to the next, why not try us today? At Marketer's Center, we will give you everything you need to empower your local search engine optimization strategies including launching, maintaining, and growing your client's results.
Our service offering
At Marketer's Center, we will enable you to automate all the following processes:
Audit your pre-existing citations and clean them up if necessary
Build all sorts of citations: structured, unstructured, and rich media
Perform white-label reporting
We have 10 great services for local SEO and growing!
As local SEOs and as local business owners, you can sometimes be guilty of employing boilerplate search practices. One thing you need to remember, however, is that local SEO is one of the most evolving of landscapes in the online world. Therefore, you need to use a service that will enable you to adopt all the changing practices before your website and business are affected. Marketer's Center will help you do exactly that – but more effectively and affordably than Yext. With our service, you also will be able to manage your local SEO efforts easily and professionally.
We take a comprehensive approach to Local SEO with more focus on local citations. Therefore, Marketer's Center offers ten distinct local SEO solutions that include:
Hyper-Local Citations
Big Citations
Rich Media Citations
Local Citation & Website Audit
Citation Cleanup & Boost
Google Cloud Links
GMB Foundations
GMB Premium Posts
Local Mini Sites
Infographic Creation and Distribution Service
Why choose us?
Marketer's Center is one of the greatest of all Yext competitors you will come across. Our Hyper Local Citations service, for instance, is way cheaper than it is on Yext. We also have the following in store for you.
a) Control
We will give you greater control over the citations you build. This means they won't be messed up if you discontinue working with us. We will also provide you with full passwords, and logins to access all these citations.
b) Fees
Unlike Yext, we won't charge you monthly or annual fees. You only need to pay once. Additionally, there are no hidden or extra fees. Just pay what you order.
c) Citations
We can provide tons of citations. Yext only performs about 10% of the total citations a business needs online to actually compete. Marketer's Center performs the other 90% – and at a much more affordable rate!
d) Ranking
Did you know you don't even need Yext to rank? Plenty of SEOs have figured that out, some the hard way, and some haven't even tried Yext at all and are having great local rankings. You can even appear in the Google Maps Pack even without the help of Yext. Why pay their high fees when we can help you accomplish the same thing?
e) Greater Value for Money
With us, you get more value for your money. For instance, we will help your business get listed with 300+ websites. This is a great advantage over Yext because the latter works with only a few third-party websites, thus, having a narrower scope of building citations and promoting your presence.
f) Support
Additionally, as the best Yext alternative, we support each and every country on the globe. We dedicatedly address our client queries in a prompt and efficient manner.
g) Reports
You can also easily white label the reports we generate, which is great for reselling the same to your local clients. This is a unique feature that our citation builder provides and is most suitable for SEO agencies. This is a great way to ensure that your SEO reseller and white label plan works.
h) Reseller Dashboard
Check out our sleek reseller dashboard, it makes managing multiple clients and multiple locations a breeze.
Check out our reseller prices
Go to our Reseller Dashboard and request an invite. Inside you'll be able to download a full price list of everything we offer.
Are Yext PowerListings even worth it?
In the following piece, we are going to review what Yext has to offer. We will also summarize the reasons why their PowerListings may or may not be worth the price that they charge. Read on to learn more.
Essentially, Yext provides services that are designed to help local businesses manage their listings on online business directories. For these services, you need to pay an annual fee of at least $499, depending on the size of your company.
Is this price fair? Basically, the short answer is not really. When you research the claims from Yext, the actual network on Yext.com, and the search engine ranks and web traffic results for its clients, you will discover that Yext PowerListings:
Will have difficulty delivering real ranking results because of the small handful of sites it will put you on (only about 10% of potential business directories you can get listed on – this is a conservative estimate)
Will not need verification from the owner, therefore you don't retain real control of your listings (more on this shortly)
Are pay-for-inclusion listings; this means that when you stop paying Yext's exorbitant fees, only your NAP (name, address, and phone number) and categories will appear on the Yext PowerListings
Additional "rich" information such as text descriptions and photos will disappear when you stop paying
You will no longer be able to easily update your information or track it
Sometimes, Yext PowerListings results in duplicated and copied listings on the business directories; these duplicates are difficult to correct and/or remove
The Yext "free" scan
Yext also provides a free scan. This is a great diagnostic tool in the sense that it will help you check whether you have listings in the business directories within the Yext network. Using tools for local SEO is great, but you also have to be smart and know if they are worth it.
Using the tool from Yext, you will be able to determine whether the NAP information posted on these directories is consistent across all the listings you currently have. However, once you use the free scan, you should expect to receive pressured sales calls and emails from Yext through the Yext PowerListings team. When you consider the time you will waste answering these calls and emails, you will realize that there is actually a price to Yext's scan.
Yext business directories
If you evaluate all the directories within the Yext PowerListings network, you will be able to determine those that are actually valuable for incoming links. After that, you can claim and optimize every value-added listing.
For all this, you need to pay an expensive annual fee.
What happens if you don't renew Yext?
So, what will happen to your business listings and the information you have online after you decide not to renew your subscription or are unable to do so at Yext? Although you might not have used Yext or you are still new to it, you probably have your own misconceptions. Therefore, you might not understand what will happen when Yext PowerListings get turned off.
Essentially, Yext PowerListings will give you control over your business listings through their Match and Lock process. However, if you fail to renew your subscription, you will experience something you never knew was possible.
Of course, you will wonder whether Yext will delete all your business listing data from every publisher. Additionally, you won't know whether your online presence will disappear or if Yext will revert all the old data – some of which might have been wrong and misleading.
Well, essentially, Yext will remove their lock when you don't renew your subscription. Therefore, your NAP will not be deleted or removed. However, the lock they put on to protect your business listing will be removed.
This means that your business listing will now become subject to the typical compilation process at the social network, mobile app, online directory and/or search engine.
Actually, since this Yext lock will no longer be in place, their service will no longer be able to control your listings directly. Therefore, your listings will continue acting like they normally did without Yext.
Additionally, when your PowerListings are deactivated, the enhanced content will no longer be available. This content includes your featured messages, biographies, products, hours of operation, menus, as well as photos among other things. This can be damaging. For instance, these essential pieces of information are essential for your GMB rankings. Without them or having inconsistency in them can make you suffer.
This will happen because the Yext lock is designed to provide Dual-Sync technology for delivering such enhanced content. When it is disconnected, your content will still be on Yext. However, no one will be able to access it since the lock was turned off and the connections were effectively severed.
So, is Yext PowerListings worth it?
Overall, Yext PowerListings is not worth it. Not only is it pricey even for a profitable small business, but the price also will not make up for the benefits you will derive from using their technology. Additionally, in case you are unable to renew your subscription to Yext, all the benefits you initially used to enjoy will be retracted – which might put you in a far worse situation than you were in when you signed up with Yext.
What about Local Listing Ninja?
What about this other Yext alternative called Local Listing Ninja?
According to Think with Google, 50% of all people who perform a local search on their phones end up going to a physical store within a day.
Also, 4 out of 5 customers use search engines like Google and Bing to find local information. They use mobile devices such as smartphones, laptops, and tablets to search for a local store address, their business operation hours, product availability, and map directions.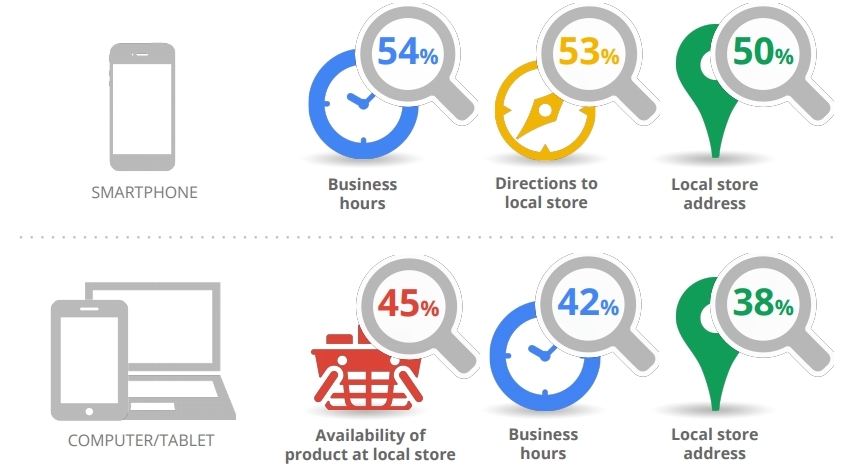 It's no secret that local SEO is essential for brick-and-mortar as well as service-based businesses. And while you can follow the usual SEO formula to boost rankings and increase awareness, it's necessary to have a local focus. Check out this fact:
With such impressive conversion numbers, you must consider local SEO as the most important strategy for ranking local businesses.
There are many local listing services that you can choose from, such as:
Moz Local
Yext
Bright Local
Local Listing Ninja
Whitespark
Let's talk about Local Listing Ninja and how it makes it easier to list businesses on a variety of different directories while managing listings for multiple clients at the same time. We are going to help you figure out whether Local Listing Ninja is a tool you should be considering and its comparison against Yext.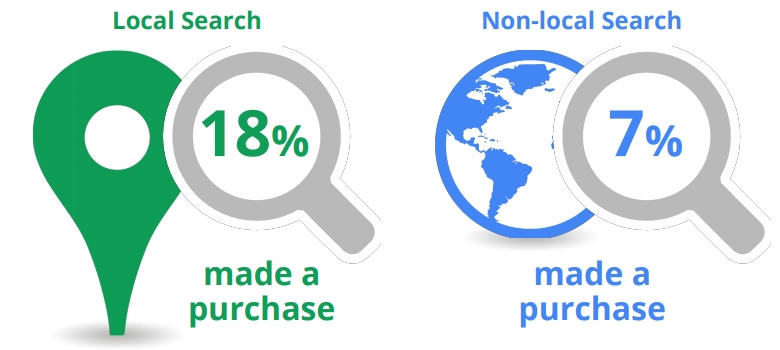 Local Listing Ninja – a brief overview
Local Listing Ninja is fast becoming the most talked-about alternative to Yext. In a nutshell, the platform claims to place your business on more local business directories for less.
Local Listing Ninja forms part of Tutelary Marketing, a full-service local SEO agency based in Nashville. Since the Tutelary team was already taking care of local listings for their clients and was aware of the impact that listings can have on rankings, they decided to create a tool that local businesses could benefit from.
Here are some pros and cons of Local Listing Ninja before a direct comparison with Yext:
Pros
It has a wide selection of local directories except a few like TripAdvisor, Whitepages, etc. Refer to the image below to see the directories they cater to.
The best thing about Local Listing Ninja is that it not only helps with creating and claiming listings, but it also helps in correcting old or incorrect data. They also focus on duplicate suppression.
Cons
They don't offer any other services such as ORM, Review management, etc.
It is expensive. It takes a one-time payment fee of $649. (They also charge an extra $100 if you are relocating and need your NAP to be updated.)
Nevertheless, the platform makes it easy for local businesses to add and manage listings across a wide selection of local directories from one easy-to-use dashboard.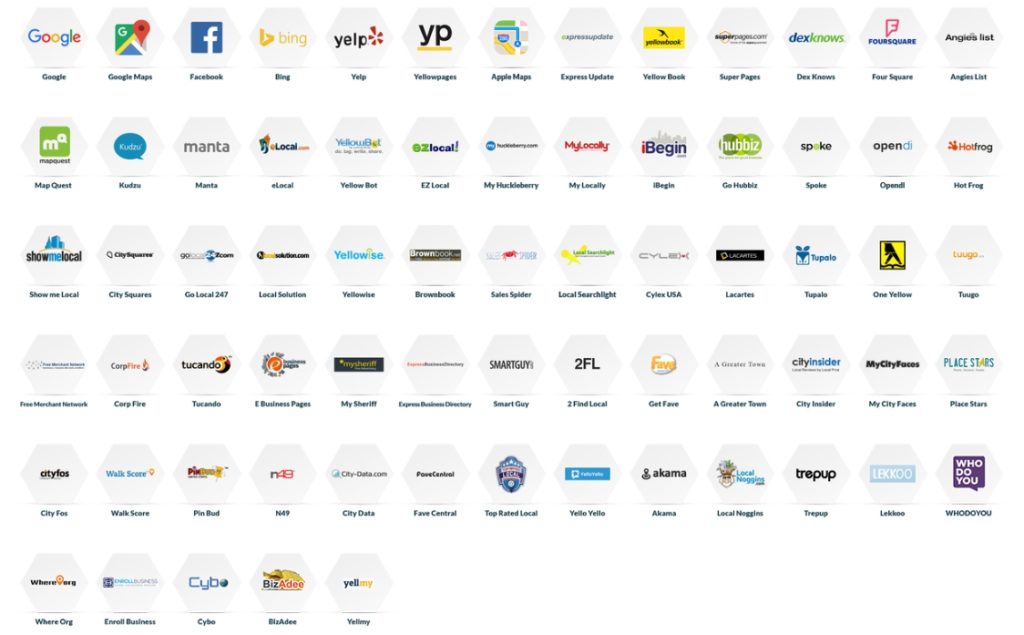 Local Listing Ninja vs Yext
Let's do a quick comparison between the Local Listing Ninja and Yext.
Expertise. Both platforms are backed by a team with years of experience in the SEO space; however, the Local Listing Ninja brand is still new.
Number of Directories. While Yext only places local businesses on 55 local directories, Local Listing Ninja has 77 directories.
Client List. Since Yext has been around for longer, and they do have quite an impressive list of clients. But Local Listing Ninja has already managed to rack up quite a decent amount of positive reviews from clients in a short amount of time.
Listing Ownership. This is one area where Local Listing Ninja stands out. Clients still own their listings should they choose to cancel their membership. Yext, on the other hand, retains ownership of the business listings they create.
Cost. Yext currently charges an annual fee, while Local Listing Ninja only asks for a once-off fee to use their services. The once-off fee is slightly more expensive but it is only once-off. There is a catch though. If you do need to update your listings, you will need to pay another once-off fee of $100 if you don't want to manually update the listings yourself.
Automated Updates. While Yext automatically updates business listings across all directories whenever a change is made, Local Listing Ninja does things manually. There are pros and cons to both these options. One is faster but the other is probably more accurate.
Duplicate Discovery. Both tools are designed to pick up on duplicate listings on the same sites as well as bad data to avoid damaging your Google rankings.
Enhanced Content. Both platforms allow you to add photos, descriptions, keywords, and any other important information you want to highlight on your listings.
Added Features. Yext does offer slightly more bang for your buck in terms of additional features, including reputation management and review generation.
Local Listing Ninja reviews
If we look at sites such as Facebook and SiteJabber, there are no negative Local Listing Ninja reviews as yet.
Of the 114 people who have reviewed Local Listing Ninja on Facebook, all of them have given the platform a five-star rating. Clients agree that the team is professional, and fast, and the platform has helped them save a lot of time.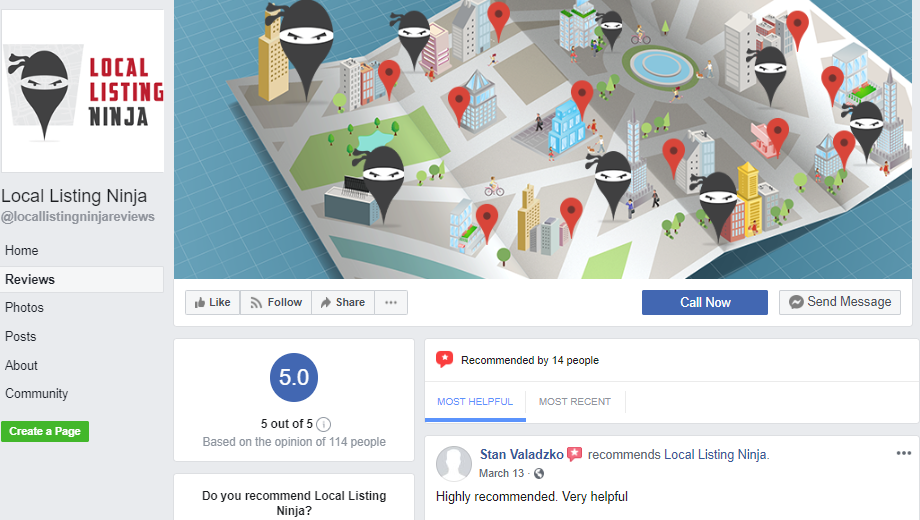 The same goes for SiteJabber. So far, the platform has a five-star rating, with reviewers agreeing that Local Listing Ninja makes it easy for small business owners to manage their listings and boost their rankings.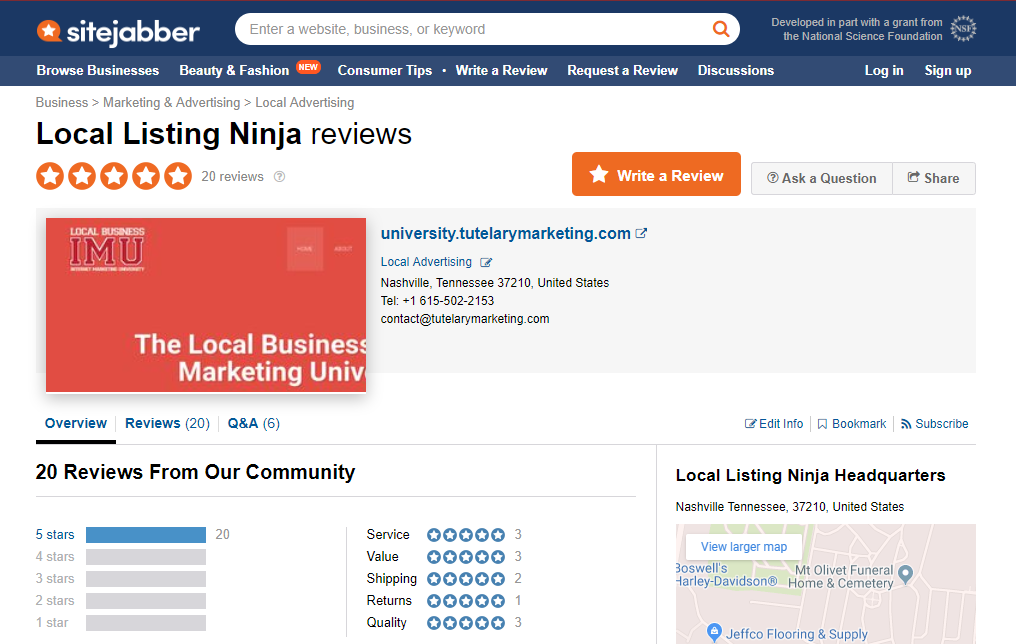 Here are some reviews:
If you wish to go ahead with Local Listing Ninja, here is how it works:
Sign-up via their form
Complete the payment.
You will have to then fill out their"Business Info Form" and submit business information like NAPW, also your business hours and pictures.
Your information will be verified by their SEO professionals
Once the data is verified, they are then manually submitted to their database of sites.
They will share all the listing data along with login details in a spreadsheet within 2 weeks.
Final Thoughts
There are competent Yext alternatives out there, such as Marketer's Center and Local Listing Ninja. It all depends on what your needs are, as each company has its advantages and disadvantages.
---