Local SEO is crucial for franchises or businesses that have offices in multiple locations. While it might seem easier to just focus on the SEO of the brand as a whole, this approach will have you missing out on a lot of potential traffic and exposure.
If you really want to boost a local brand online, it's essential that all locations be managed separately. This doesn't mean purchasing a separate domain for each location though. Rather stick to just one domain and use the necessary SEO tactics to highlight the different locations.
Local SEO: Why Multiple Listings are Best
So, why go to all the effort of creating listings and optimizing for individual locations?
Reach a targeted audience. When a business is operating in different cities and states, it's important to take the different demographics of their target audience into consideration. By creating unique listings and content for every location, you ensure that the brand is reaching a more targeted audience.
Rank higher in search results. The more relevant a business's listings and website are to specific, location-based search queries, the higher they will rank in Google's search results.
Broader reach. When a business is ranking for both brand-related keywords and location-based search queries, they automatically broaden their reach.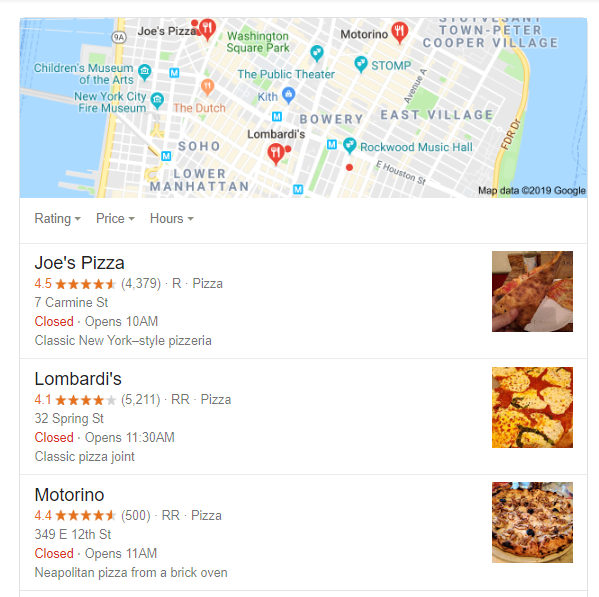 Steps for Managing Multiple Local Business Locations Online
Create a Page for Every Location
While you only need one domain, it's still important to make it clear that a business operates across different locations.
Most businesses will simply include their different locations on one page but they're also losing out on a lot of potential traffic. When you create pages that are specific to each location, a business has more chances of ranking.
Creating a page that is unique to every location might be time-consuming at first but the results will be well worth it.
Think Carefully about URL Structures
The more organized a site is, the easier it is for visitors to navigate and for Google to crawl. Before you begin creating pages for each location, think twice about the URL structure. The structure that most sites use is to first create one page that lists all locations, yourdomain.com/locations, and then an individual page for every location, yourdomain.com/locations/new-york. You can even take it one step further and create pages for specific stores within a city, yourdomain.com/locations/new-york/time-square.
Apply SEO Best Practices to Each Local Page
Next, you'll want to cover all of the SEO basics for each local page, including keyword research, Metadata, alt tags, and schema markup. Naturally, you want to make the Metadata copy specific to every location in order to increase the chances of it ranking well.
Add Unique Content to Each Page
Now that the bare bones of each page have been set up, you can start adding content. Add as much unique content as you can to each page to make them as valuable as possible. Here are a few ideas for content that you can include:
Photos and videos. Show customers what they can expect at each location
Service Descriptions. What are the types of products and services that are offered at each location?
Directions. How do customers find each location? Include contact details, an address and a map to make it look more visually appealing
FAQs. Most businesses are aware of the types of questions that customers ask, so include these to beef up the page and rank for more search queries
Reviews. Online users value reviews and recommendations and will often add the word 'reviews' to their search queries, which is why it helps to include reviews or customer testimonials on each location page if possible
Create a Separate Google My Business Page for Each Location
To benefit from extra SEO juice, you'll also want to create a Google My Business page for each location. By claiming and optimizing these listings, you can really take full control of each location. What's more, you will only need one Google account to manage all of the locations, which really helps in terms of efficiency and time management.
Generate Local Business Listings Across Various Directories
An additional step is to generate local business listings across popular sites. This will provide the brand as well as each location with additional exposure but it's important that the information for each location is accurate and consistent across all platforms. When Google sees the same NAP (Name, Address, Phone Number) across different sites, it enhances your SEO efforts. Citation inconsistencies might not seem like a big deal but it is to Google, so make it a priority if you want a client's local business to succeed online.
See: How to Build a Prominent Appearance in the Google Local 3-Pack
Generate Reviews
Finally, to ensure that a business's local listings are even more appealing and trustworthy, find ways to generate more customer reviews. Reviews are exceptionally important to searcher engine users. In fact, according to BrightLocal, online users trust online reviews as much as a recommendation from someone they know. To generate more reviews, get your client to send out an email campaign to existing or past customers or get them to ask for reviews at their brick-and-mortar stores.
The initial phase of setting up multiple local business locations online does take time but once it's done, all that's left to do is manage and optimize them.
---