SEO is essential for any business that relies on online lead generation to increase sales, making this one of the most in-demand services around today.
Providing customers with added value in the form of SEO solutions is simple enough, but for most agencies, time and resources are what stand in the way of them expanding their offerings. However, there is a way to offer these services without having to hire or train additional employees.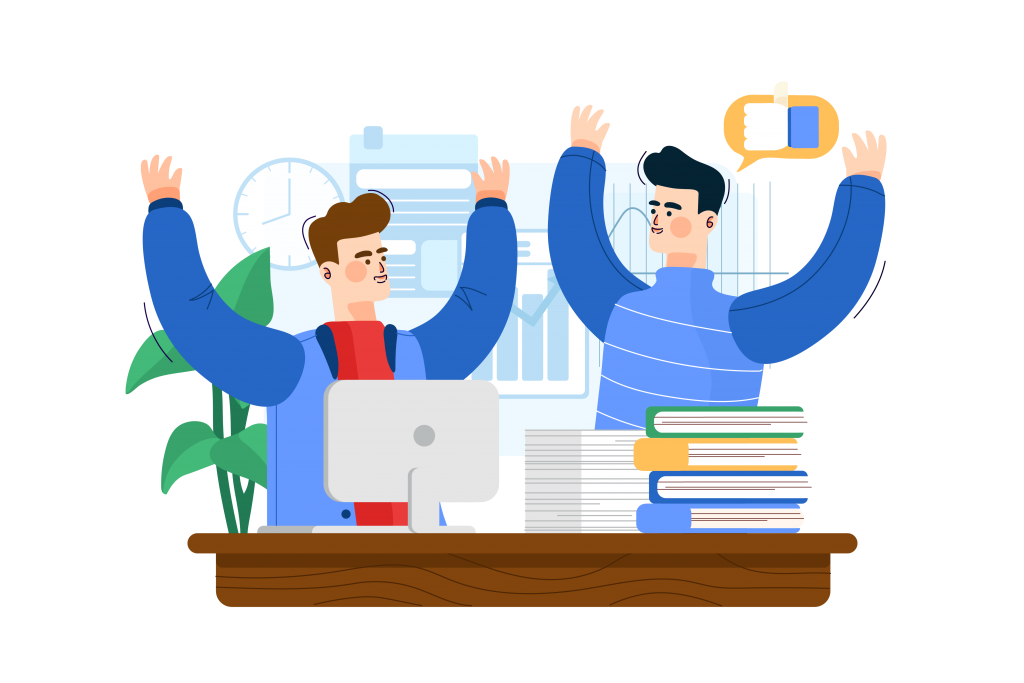 White label SEO – what is it?
White label SEO solutions come in the form of a service or external platform that can be used to optimize your client's online presence. White label refers to the fact that the service can be re-branded and sold as your own.
Basically, white label SEO solutions allow you to sell additional services to your customers without needing to focus on fulfillment.
Here are the two available options:
SEO Services. Purchasing a white label SEO service means a third party will take care of the fulfillment for you.
SEO Tools. Provide your customers with the ability to manage their own search engine optimization using branded tools.
There are currently millions of SMBs in the United States that need to rank higher in search results, making this a worthwhile opportunity for all digital marketing agencies and professionals.
Why go the white label route?
According to MediaPost, a large percentage of small to medium businesses still struggle with search engine optimization and paid search campaigns, making SEO an obvious addition to your existing digital marketing service offering.
Here are some of the reasons to consider becoming an SEO reseller:
Land more or bigger clients. Diversifying your offering will help you attract additional as well as bigger clients. In most cases, businesses don't want to have to shop around for more than one digital agency, so the more services you can offer, the better. Upselling to existing clients will also be possible.
Faster expansion. Adding a whole new service to your overall offering isn't usually a quick process but becoming an SEO reseller helps speed things up.
Focus on your core competencies. Hiring and training staff to fulfill new service roles is a big commitment, plus you need additional budgeting. White label SEO solutions allow you to skip all of this and focus on your core competencies instead, sales being one of them.
The best white label SEO resellers
There are a number of important aspects to consider when choosing a white label SEO solution, including affordability, the quality of the fulfillment, as well as results. You also have to look at the locality. For instance, it can be a good idea to hire an Australian agency if you are in the Australian market and a UK-based agency if you are in the UK scene.
You have to look for these factors to increase the chances of your SEO reseller plan working.
Here is a roundup of the top white label SEO resellers:
1. Marketer's Center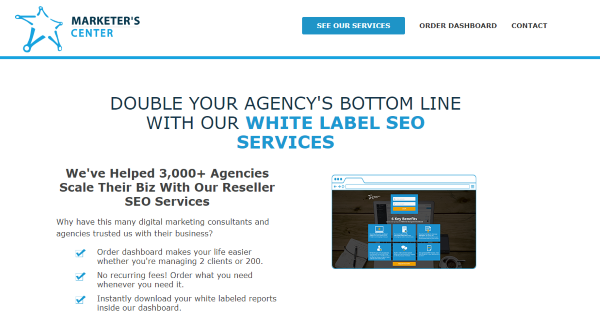 We are a leading SEO reseller and are well known for offering the best services to clients. In fact, the reviews on forums such as Wafo, WF, BHW, and BC speak for themselves.
If you are looking for affordability, transparent reporting, quality results and want to deal with a trustworthy brand, Marketer's Center is the white label solution for you. In just 8 years, Marketer's Center has served over 2,000 SEO consultants, agencies, and online marketers, all of whom have worked on over 10,000 client projects.
SEO Services Offered:
Citation Creation & Distribution. Create custom local business citations, submit citations to big local data sites, and add custom videos and citations to video, image & audio sites
Citation Cleanup. Correct and boost existing business citations
Website Audits. Discover why a local site might not be ranking and how you can improve site performance
Google Cloud Links. Use Google's authoritative properties to benefit client sites
Local Mini Sites. Push local link juice to client websites to improve SEO rankings
Infographic Creation & Distribution. Build backlinks and unstructured citations using visual content
GMB Premium Posts. Keep your client's GMB profile active with regular, engaging posts
Authority Builders. Easily increase client website authority using proven tactics
PR Marketing. Create impactful press releases that are widely distributed to a trusted network of news sites and journalists
To find out more about how Marketer's Center's white label SEO solutions can grow your business, sign up for the reseller dashboard, which will give you access to a full price list.
2. PlacementSEO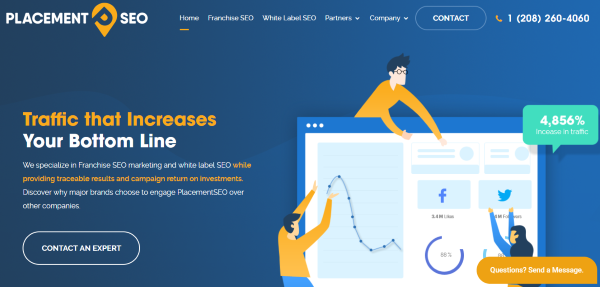 PlacementSEO has been around for over 5 years and specializes in franchise SEO marketing as well as white label SEO. The brand is known for providing actionable results and sizeable returns on investment.
There are currently over 2,000 websites that use the PlacementSEO system and the brand has several noteworthy partners, including Dutchess Capital, Rowe Digital, Nest Egg Guru, and Medworks Media.
SEO Services Offered:
Franchise SEO. The PlacementSEO franchise program is designed to enhance organic visibility, increase leads, and boost revenue using proven SEO and digital marketing tactics. The program allows corporate teams to provide franchisees with a strategic plan that will create new revenue streams
White Label SEO. The white label SEO program from PlacementSEO helps small, medium, and enterprise-level organizations fill essential marketing gaps. The services that are included in their while label SEO program include link building, local map citations, press release creation & distribution, competitor analysis, and more
Create a free account to find out more about the prices of PlacementSEO's packages.
3. HubShout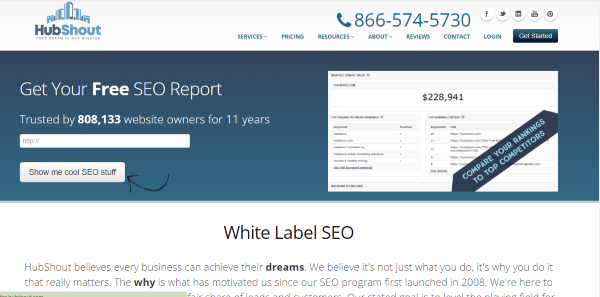 HubShout has been around for over 10 years and is known to be one of the pricier SEO vendors around today. With that being said, they are still a popular choice amongst small to medium businesses and have been featured on sites such as Moz, Content Marketing Institute, and Search Engine Watch.
The HubShout team consists of 30 experienced analysts, developers, writers, designers, and account managers who work with hundreds of agencies.
SEO Services Offered:
Content Marketing. Help your customers achieve their goals with substantial content that encourages engagement
SEO. Use proven tactics to enhance client rankings and increase website traffic
PPC. Run targeted PPC campaigns for clients and send in-depth reports upon completion
Local SEO. Claim, update and promote client listings to improve local search results
SEO Software. Keep track of all client projects and campaigns using HubShout's easy-to-use SEO dashboards
If you are interested in any of the services offered by HubShout, you can sign up for a free demo on their site.
4. SEOReseller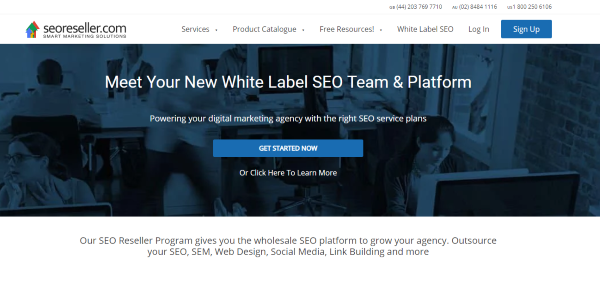 SEOReseller.com currently services over 400 agencies in 12 countries across the globe and is known for their excellent customer support and transparency.
The team at SEOResller.com is dedicated to helping agencies expand their offerings while also strengthening their relationships with customers. The brand's end-to-end workflows are what ensure campaigns and projects run smoothly.
SEO Services Offered:
SEO. Enhance the rankings and traffic volumes of local, national, and international client sites using proven SEO tactics such as website audits, content marketing, local citations, keyword research, on-page optimization, and more.
Social Media. Help clients build a social media presence by claiming social media space and developing engaging campaigns
PPC Management. Run targeted PPC campaigns and provide clients with in-depth performance reports
Web Design. Help customers create visually pleasing, responsive, and optimized websites
Reputation Management. Build listings, manage mentions, and use reviews and feedback to enhance the reputation of your customers
SEOReseller.com offers a 14-day free trial and you can sign up on their website.
5. The HOTH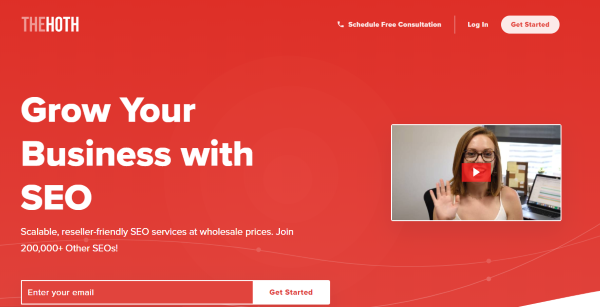 Founded in 2010, The HOTH is another popular white label SEO service provider that promises speedy delivery, great results, and excellent customer service.
The HOTH team is definitely one of the biggest, which has helped them win several awards over the last few years. The brand offers a wide range of SEO tools and white label services that help agencies to expand their offering.
SEO Services Offered:
SEO. Help clients increase website traffic using fully-managed SEO campaigns
Content Creation. Use high-quality content to increase website authority and traffic
Link Building. Boost SEO rankings using proven link building tactics
Citation Building & Clean-Up. Get clients listed in top local and industry directories and fix existing citations
Press Release Distribution. Distribute client press releases to over 30,000 journalists
Product Optimization. Improve the performance of customer eCommerce sites
Social Media. Register all social media profiles for customers
Reputation Management. Use reviews and feedback to boost client reputations
To find out more about The HOTH services and pricing, create a free account on their website.
6. FATJOE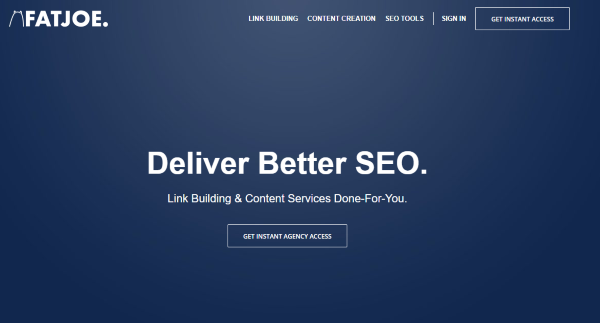 FATJOE's white label SEO solution focuses on link building and content creation and the brand has been featured on several high-profile sites, including MOZ, Smart Insights, and PubCon.
The brand's very specific offering is their USP and their team has worked with over a thousand agencies to date. The reviews on their website also speak to their success as an SEO services vendor. Their SEO solutions are built to be resold and there are no contracts involved either.
SEO Services Offered:
Blogger Outreach. Generate natural in-content links for customers from real bloggers
Content Creation. Create high-quality content that will drive more traffic to client sites
Local Business Citations. Manual submission of citations to local and industry directories
Press Release Distribution. Distribute customer press releases to hundreds of news outlets and thousands of journalists
Infographic Creation & Outreach. Get customer infographics posted on blogs with a credit link
Create a new account on their website to get 10% off your first order.
White label SEO tools
White label SEO tools are another option for agencies and professionals that want to expand their offering without having to focus on fulfillment.
White label tools can be branded as your organization's own and resold to customers who can use them to manage their own search engine optimization efforts. White label tools give agencies the ability to ramp up their services quickly and cater to a wide variety of customer needs in a cost-effective way.
Here are some of the top white label SEO tools available today.
SEO dashboards
1. Cyfe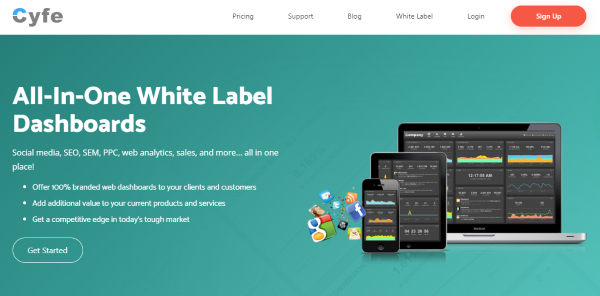 This all-in-one white label dashboard gives users the ability to track SEO, PPC, social media, and SEM campaigns in one place.
The Cyfe dashboard works with several major platforms, including Google Analytics, MailChimp, Facebook, WordPress, PayPal, Salesforce, and more. This white label dashboard is highly customizable, which means you can offer each of your customers exactly what they need to keep track of their online campaigns and site performance.
Users have also reported that the simplicity of the dashboard is one of the features they appreciate the most.
SEO dashboard features include:
Monitor multiple campaigns. Multiple websites and campaigns can be tracked at once
Pre-built connections. Easily pull detailed data from popular sources such as Google
Secure data collection. Use pre-built widgets to pull through data from client databases
Real-time reporting. Clients can generate and share read-only reports with all team members
SMS and email notifications. Monitor metrics when you're away from your desk
Manage social media campaigns. Plan, schedule, and monitor social media campaigns
Access to all features. Clients have a separate account and can access all of Cyfe's features
Cyfe's pricing starts at $29 but custom solutions are available for larger agencies.
2. RankRanger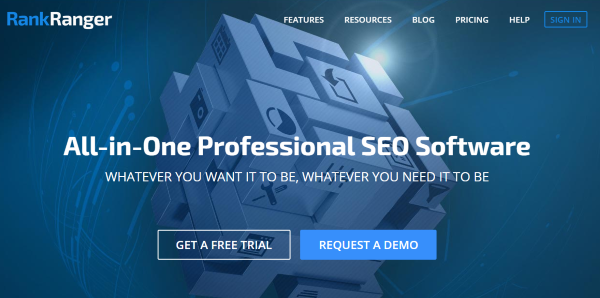 Trusted by brands such as Dell, Sony, Vodafone, and British Airways, RankRanger is an impressive white label SEO dashboard that focuses on helping users work toward optimal rankings.
The platform offers integrations with several major platforms, including Google Analytics, Search Console, Google Business, Yext, and more. Basically, all the platforms you need to monitor rankings, online reputation, and website performance.
While the pricing structure is attractive, users have reported that the interface isn't the easiest to figure out, but once you do, this can be a really useful tool. Custom graphs and settings allow you to create a personalized experience for each client, while custom data packages give agencies the option to create data specifications that work for them.
SEO dashboard features include:
Organic SEO. Monitor site visibility, compare search engine rankings, analyze on-page elements, group, and tag keywords, pull daily, weekly, and monthly reports, and more
Paid Search. Access competitor insights, monitor paid search metrics, perform ad audits, track local ad rankings, and set up automated ad alerts
Competitor Analysis. Analyze top organic and paid competitors, view competitor ad campaigns, track competitor rankings, and identify keyword opportunities
Keyword Research. Research and identify keyword opportunities for optimization purposes
RankRanger offers a 14-day free trial and you can sign up on their site.
3. AgencyAnalytics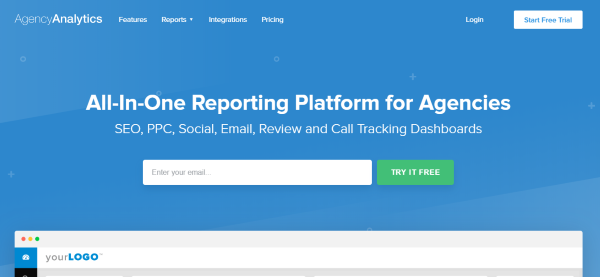 AgencyAnalytics is definitely one of the more robust SEO dashboards out there and setting everything up is easy too.
AgencyAnalytics is currently used by over 3,000 marketing agencies, including SEO.com, Resolve, Audience Bloom, and Oozle Media. The dashboard also connects to 30 major platforms, including Instagram, Google Business, AdWords, MailChimp, Yext, and more.
The simplicity and versatility of the platform are what make this one of the more popular choices among digital marketing agencies. Their pricing is more or less in the same league as RankRanger, which is not bad considering what each package includes.
SEO dashboard features include:
SEO. Clients can track keyword rankings, pull backlink reports, audit websites, analyze competitors and keep track of website performance
PPC. Monitor PPC campaign analytics, highlight conversion-related metrics, and easily include a markup in all PPC reports
Social. Track engagement stats, gather demographic data on fans and followers, and track influence over time
Email. Monitor email list growth and engagement metrics, pinpoint top-performing campaigns, gain an understanding of email subscribers, and keep track of bounce rates
Call Tracking. Keep track of top traffic sources, analyze contact details, and monitor staff performance
Reviews. Track ratings, monitor new customer reviews, identify review sources, view customer engagement, and measure sentiment
AgencyAnalytics also offers a free 14-day trial, which you can sign up for on their website.
Rank tracking tools
1. LocalFalcon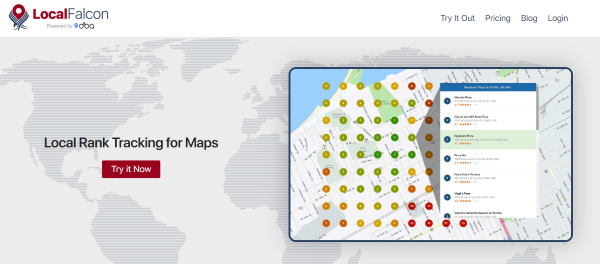 LocalFalcon, which is part of the dba platform, is a recommended rank tracking tool for businesses that want to keep an eye on local maps results.
What makes LocalFalcon different is that instead of just providing you with data based on one point on a map, it offers a more in-depth view of what happens at a street level. The tool works anywhere in the world and with any language.
Tool features include:
Specifically designed for Google Maps. This is one of the first rank trackers that was specifically designed to work with Google Maps, which is great if you want to rank in the Google Maps Pack
Improve local rankings. Use the tool's interface to make actionable changes that will enhance your local rankings
Instant results. Local businesses can run scans and see results within a matter of seconds
LocalFalcon offers a pay-as-you-go as well as a monthly rate and you can try the tool out by signing up for an account on their website.
2. Local Viking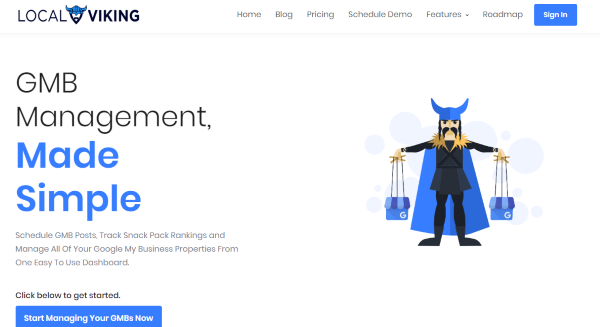 Local Viking is a ranking tool that makes it easy for businesses to schedule Google Business posts, track rankings, and manage Google Business properties from one dashboard.
Not only is Local Viking affordable, but they have created packages that suit businesses of every size. Their pricing starts from $29 per month, which will allow you to manage 10 business locations.
Tool features include:
Automate Google Business postings. Automating your GMB postings will save you time and ensure that fresh content is always going out
Local rank tracking. See your business location's visibility from every point of the area you serve and track how your business shows up in local searches on mobile & desktop
Google Business management. Easily manage all of your business locations using one simple interface
Secure Google Business properties. Receive text and email notifications whenever your business listings are maliciously edited
Sign up for one of the Local Viking packages on their website to get started.
Local SEO tools
1. BrightLocal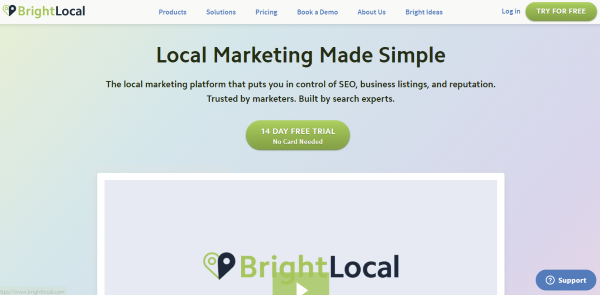 BrightLocal is a collection of SEO tools that make it easy to manage local SEO efforts, business listings, and your online reputation. This all-in-one marketing platform is used by brands such as Nandos, Ikea, Roto-Rooter, Specsavers and more.
The BrightLocal tools have already been used by over 80,000 marketers who manage local SEO for their clients. Their team is made up of over 150 staff in four countries and their pricing structure is very reasonable considering you gain access to a large selection of tools.
BrightLocal features:
Local SEO tools. Perform SEO audits and track local rankings to enhance SEO efforts
Reputation management. Increase and monitor reviews from clients across multiple sites
Citation builder. Use the citation aggregator and data submission service to increase brand visibility online
Agency lead generation. For agencies that want to generate more leads, BrightLocal optimizes the lead generation process by increasing engagements
You can try BrightLocal out for free for 14 days and you don't need a credit card to sign up.
2. Whitespark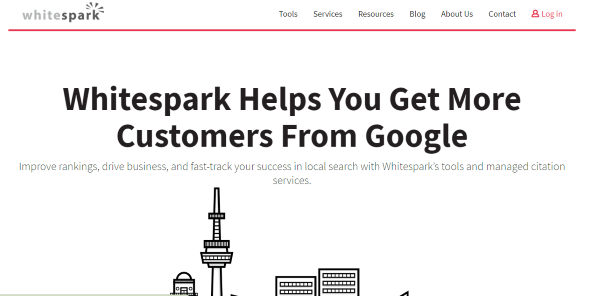 The Whitespark selection of tools is designed to help businesses generate more leads using Google. With the help of a team of experienced search experts, Whitespark aims to make local search a faster, more accurate process.
The Whitespark team is dedicated to helping agencies, enterprises, and small businesses solve local search problems and is known for their hands-on approach.
Whitespark features:
Google Review link generator. Easily generate a unique Google Review link that can be shared with customers
Local citation finder. Discover where to list a business online and track competitor activity
Local rank tracker. Obtain an accurate picture of overall SEO performance and online visibility
Reputation builder. Help clients earn more positive reviews from local customers
Link prospector. Find new outreach opportunities that will earn clients more links and shares
The pricing for the local search tools offered by Whitespark depends on your specific requirements. They do offer a 14-day free trial.
Backlink tools
1. Ahrefs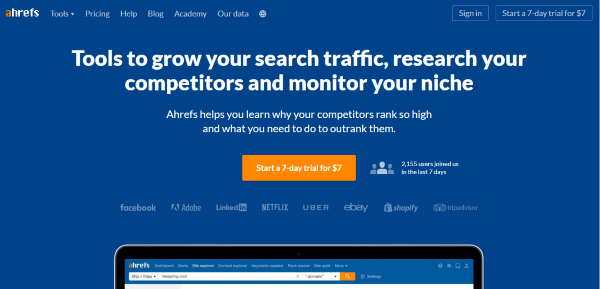 Ahrefs is one of the most well-known backlink tools on the market today. In fact, Ahrefs offers one of the widest selections of SEO-related tools but we will be focusing on the backlink tool.
After Google, Ahrefs is said to have the second most active web crawler, which means they have one of the best backlink databases too. Simply enter a URL to check backlinks and view actionable SEO metrics that can be used to optimize your backlink strategy.
Ahref backlink tool features:
Access domain & page-level metrics. Analyze any website, URL, or subsection of a site and receive insightful metrics
Monitor backlink growth. Access an interactive view of referring pages and domains in order to monitor the decline and growth of backlinks
Backlink profile breakdown. View a detailed report of every page linking to a target
Receive organic traffic estimates. No other tool will show you data on the popularity of linking web pages and offer organic traffic estimates
Pull a Best By Links report. Research your competitor's most linked-to pages
Access an outbound link breakdown. The Ahref's Linked Domain report gives users access to metrics on all outbound linked domains
While their backlink checker is free, you can access premium features for $7, which will give you a 7-day free trial.
2. Majestic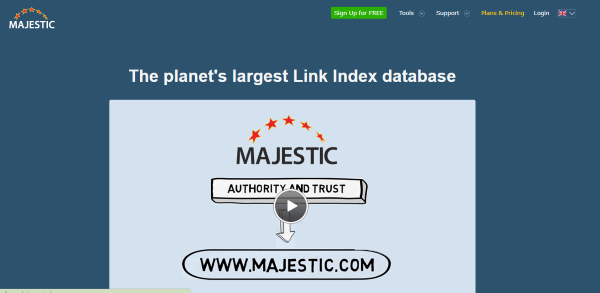 The Majestic Marketing backlink tool was designed for entrepreneurs, developers, media analysts, and SEO professionals.
The Bulk Backlink Checker tool from Majestic is capable of analyzing up to 400 URLs if they are copied and pasted, and up to 1,000,000 URLs if they are uploaded via a file. Users have commented that the speediness of the tool is what appeals to them the most.
The Majestic tool is not as robust as the one offered by Ahrefs, but it still does the job. It all depends on what you require as a marketer or agency owner.
The backlink tool is included in all three of the plans offered by Majestic, which start from $49.99 per month.
Competitive analysis tools
1. SEMRush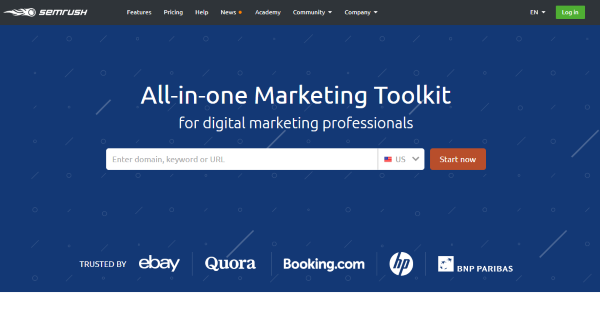 There are very few tools that measure up to SEMRush in terms of competitor analysis. Not only is the interface easy to understand but the reports are detailed and highly valuable too.
SEMRush has been around for over 10 years and they employ over 650 of the best SEO experts in four countries. The brand is trusted by the likes of eBay, Booking.com, BNP Parabis, Quora, and more. Their pricing is very reasonable when you get access to such a wide selection of tools, competitive analysis being one of them.
SEMRush features:
Traffic analytics. Find out more about competitor website traffic, analyze their regional presence, and discover where they're focusing their marketing efforts
Organic research. Identify the domains that they're competing with for organic traffic, pull reports on competitor keywords, conduct an analysis of competitor backlinks, and find backlink and keyword opportunities
Advertising research. Discover main paid search competitors, analyze ads competitors are using, and uncover your biggest competitors in Google Shopping
Brand monitoring. Monitor the reputation of competitor brands online and track the performance of their content
Social media tracker. Keep track of competitor social media activity
By creating a free account, you can make up to 10 requests per day. For more requests, a premium account will be required.
2. Sprout Social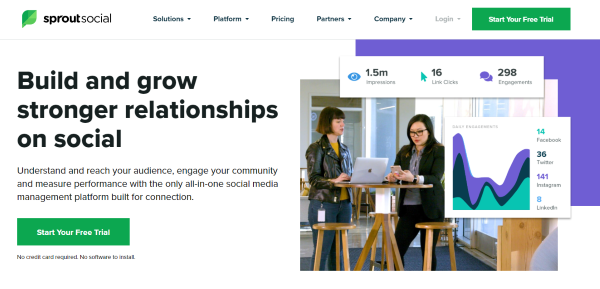 Sprout Social is a popular competitor analysis tool that focuses on social media. The platform is currently used by over 20,000 brands, including Cinnabon, Subaru, Trunk Club, WAHL, and TicketMaster.
Social media data can be used to make informed business decisions and tracking both client brands as well as competitors can provide businesses with invaluable insights. The Sprout Social platform integrates with all major social media sites, including LinkedIn, Twitter, and Instagram.
Sprout Social features:
Social performance reporting. Track content performance and engagement strategies and optimize social media efforts using robust, in-depth data
Social listening and insights. Analyse client brands, access industry insights, and review competitor data using the platform's deep social listening capabilities
How to price SEO services
Agencies and marketers can base their SEO services pricing on three things: results, subscriptions, or hours worked.
1. Value pricing
Value pricing is based on results instead of fulfillment. This specific method works for both marketers and clients because marketers don't need to worry about contributing a specific number of hours and clients aren't worried about how much they're getting billed.
On the downside, value-based pricing can be a tougher sell because clients are used to paying by the hour or for a subscription. It can also be very difficult to upsell, which means you need to be able to sell the additional value you will be contributing. However, by becoming a well-known name in your sector and generating enough referrals, value-based pricing is the best way to generate a profit. It may also be a good choice if you are still looking for your first clients.
2. Subscription pricing
The subscription model is another option for marketers and agencies looking to add SEO services or tools to their offerings. Subscription-based pricing allows customers to pay for a subscription that will give them access to a tool or set of services for a specific period of time. Most subscriptions work on a monthly or annual basis.
Subscription pricing works well because it's guaranteed and recurring revenue. Customers also respond well to subscriptions because they are convenient and tend to be more affordable.
3. Hourly pricing
Charging by the hour is still one of the simplest ways to charge customers. Research shows that most SEO professionals and agencies charge anything from $100 – $200 per hour, which isn't a lot. Hourly pricing also makes upselling much easier. For example, if a customer wants faster results or more services, it's easy to bill them for more hours every month.
Along with charging for every hour worked, there is also the option of billing customers for a specific set of hours per month that they can allocate according to their requirements.
How to charge for SEO services
One of the biggest mistakes that both agencies and marketers make when pricing their SEO services is undercharging.
Take the time to do your research and find out what competitors are currently charging. The last thing you want is to add a new service or tool to your offering only for it to not be worthwhile. When researching competitors, make sure that they have a similar offering and more or less an equal level of experience to get a clear idea of current industry rates.
For many agencies, a knowledge gap, time, and talent are common limitations to company growth. White label SEO services make it that much easier to scale an agency without needing to worry about these common limitations.
---