Search engine optimization is no small undertaking. Any experienced digital marketer, SEO specialist, or webmaster knows that there is no single process that defines optimizing your website.
Optimization is a series of three interconnected aspects. They all harmonize to increase your website's authority, relevance, and trustworthiness.
These three aspects of search engine optimization are on-page, off-page, and technical. Off-page is the hardest one to crack. This is because it deals with processes that are sometimes out of your control. It can deal with apps, external websites, and other platforms.
One of the most prominent processes of off-page search engine optimization is guest posting. This process involves highly unpredictable factors such as reaching out to bloggers and getting them to post your links.
This requires a lot of effort and time. You can center an entire marketing campaign on it with the main goal of getting valuable backlinks.
But not all business owners have the availability to manage their business and do blogger outreach at the same time. It's a good thing that there are agencies and marketing companies out there that offer blogger outreach services.
In this article, we will provide a huge list of the best blogger outreach agencies and marketing companies you can hire for your outreach campaign.
But before that, let's get this out of the way first. What is blogger outreach, exactly? If you have no idea what it is, we have a short guide below. But if you already know what it is, you can skip the short guide and proceed to our top agency picks.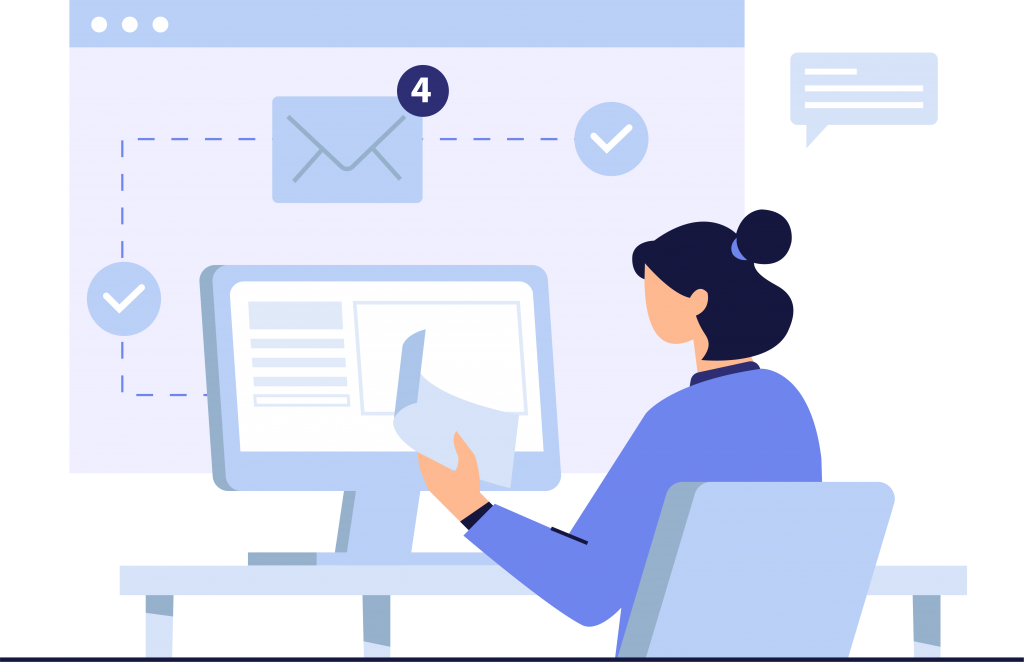 What is blogger outreach? 
Blogger outreach is the process of reaching out to content creators in your industry, interest network, or niche. There are several goals and objectives for blogger outreach. You can build links, promote content, and get the attention of popular influencers and their audience.
Basically, you and content creators will coordinate to create great and relevant content worth promoting. For example, a business can provide free samples of its products to content creators. The content creators can then make a candid or comprehensive review of the products. They can even use the products in a promotional event. By approaching content creators, the business will have more exposure to its products.
No matter what your goals and objects may be, blogger outreach will require a lot of time and effort. You will have to write and send emails to people. You will have to wait for them to reply and have a conversation until both of you have reached an arrangement.
The arrangement is often mutually beneficial. After all, why would content creators work with you if there is nothing on the table for them?
But blogger outreach has its fair share of problems too. For one, content creators you have messaged may not even reply to you. This can make you feel like you have wasted a lot of time and effort. But a bigger problem is the rise of personalities or so-called influencers who extort freebies and perks from clients.
It is also a common narrative that these influencers are entitled millennials who are impossible to work with. But remember that they don't represent the entire content creation community. They are more of outliers. And it's unfair to judge the entire community with a few bad apples.
But this doesn't mean that you should trust everybody. These entitled influencers do exist and they will extort freebies from you. The key is to investigate first before committing to someone. Take a look at their content and how their audience responds.
It's all about finding the right people for the job. If you find the right content creators, your chances of a successful outreach campaign will skyrocket.
Blogger outreach simplified
Do you have a product or service that you would like content creators to try out?
If your answer is yes, all you need to do is to contact these creators and ask them to create content about your product or service. This content will then have a link that routes to your own website. Choosing big and relevant content creators is a crucial part of your link building strategy. Some links are just more valuable than others. A link from a content creator who has high authority and trustworthiness will give you better results than one from a relatively unknown influencer.
Never think that content creators will not care about your products and services. You will be surprised by the huge variety of content creators out there that are passionate about different things. You have people who enjoy writing about fashion trends, food, travel, and whatever else.
No matter what industry or niche you are in, there will always be personalities out there who would love to talk about your products or services in their space.
And in this article, we have compiled a list of agencies and marketing companies that will help you in your outreach campaign. After all, you are managing your business. You may not have the availability to do the outreach yourself.
The key benefits of blogger outreach
For blogger outreach to be effective, you have to remember one thing – it should be beneficial for both you and the content creators. All the time and effort you exert in blogger outreach will go to waste if there is no incentive for content creators to work with you.
Incentives can come in many forms. They can be freebies for the content creators you are reaching out to. They can be an opportunity for these creators to improve their reputation in their space. And it can be an occasion where these creators can expand their reach.
If they have an incentive in working with you, they are more likely to respond and coordinate. And it's not like you are just doing this out of the goodness of your heart. You will benefit from it too. You can increase the exposure of your products and services as the content creators talk about them. This will not just help you build backlinks. This will also open you up to new potential customers.
These content creators have spent years accumulating a huge following. They basically have their own communities with a loyal readership. Even just one article, blog, or tweet about your products or services can get tons of engagement. These will result in a spike in your website traffic and qualified leads.
Basically, their followers are your potential customers. And if you happen to find the right content creators to work with, you could see a massive increase in brand awareness and sales.
Blogger outreach is perfect for all types of businesses. Whether you are a small company that is just starting out or a huge enterprise that is launching a new product line, you can benefit from it. Here are five other benefits of blogger outreach.
1. Blogger outreach is very cost-effective
Blogger outreach is great for businesses of all sizes, but they are particularly great for startups. It is very cost-effective, especially for those who don't have big marketing budgets.
Blogger outreach can boost search engine rankings. It is also great to gain specifically targeted exposure. It can give you better results than blanket marketing that doesn't guarantee qualified leads.
Yes, blogger outreach can be very cost-effective. But this doesn't mean that it is easy. You will have to find the right content creators that will give you the best bang for your buck.
2. It connects you with your target audience with ease
In digital marketing, you often try a lot of strategies and pray one of them gives you great results. One of the biggest factors that will determine the success of your marketing efforts is your target audience. Are you really reaching the right kind of audience for your marketing efforts?
Sure, any kind of marketing effort will open you up to multiple customer personalities. But you actually have to reach the right personalities to maximize your leads.
Blogger outreach is great for reaching the right personalities. It eliminates the time-consuming aspect of finding and targeting the right people for your business. If you reach out to the right content creators, you will open your products and services to very specific personalities to maximize your leads.
3. It increases your company's online presence
Whatever industry you are in, it's important to have an online presence or a sphere of influence in a digital space. This is the reason why social media marketing has blown up in the last few years. But remember that everyone else is ramping up their social media game. So, you need to find alternatives and outlier methods to stand out.
Blogger outreach can be one of those alternatives. If you reach out to content creators in your industry, interest network, or niche, you can increase your company's online presence or sphere of influence. You can even go beyond social media, as there are a lot of content creators on other mediums, such as websites and blogs.
And what happens when you increase your company's visibility? You increase the visibility of your products and services too.
4. It connects you with other online markets
The online world is constantly changing. Everyone is so competitive, so you really have to stand out if you want to maximize your leads. Many companies are branching out. They believe that, if they branch out, they have more chances of success. And branching out is also a way of not putting all their eggs in one basket.
For example, if a company focuses too much on Facebook marketing, what will happen if Facebook suddenly shuts down? All the following and reputation the company has built up will go to waste. But if the company has a following and reputation across many platforms, not just social media ones, it can safeguard itself from such dangers.
Blogger outreach can help you expand the reach and reputation of your company. And it can do this by utilizing multiple platforms to maximize leads and minimize the risk of failure.
5. It gives you higher trust signals
We already live in the digital age. A lot of transactions are not made face-to-face anymore. The COVID-19 pandemic only fast-tracks us to a future of purely digital transactions.
But the rise of digital transactions has its negatives too. There are a lot of scammers out there. And believe it or not, even those who are technologically adept can be victims of these scammers. You can just imagine how vulnerable are those who are not too technologically inclined.
Trust is a big deal online. People look at a variety of factors to see if a company is indeed trustworthy. They will look at the company's following in different online mediums. They will read reviews and testimonials about the company's products and services. And they will check the company's engagements, impressions, and mentions on social media.
Search engines like Google look at a variety of factors too to determine a company's trustworthiness. The point is, you should send off high trust signals to get a good score on these factors.
Blogger outreach can definitely help you. With blogger outreach, you can get more followers, reviews, testimonials, engagements, and other trust signals.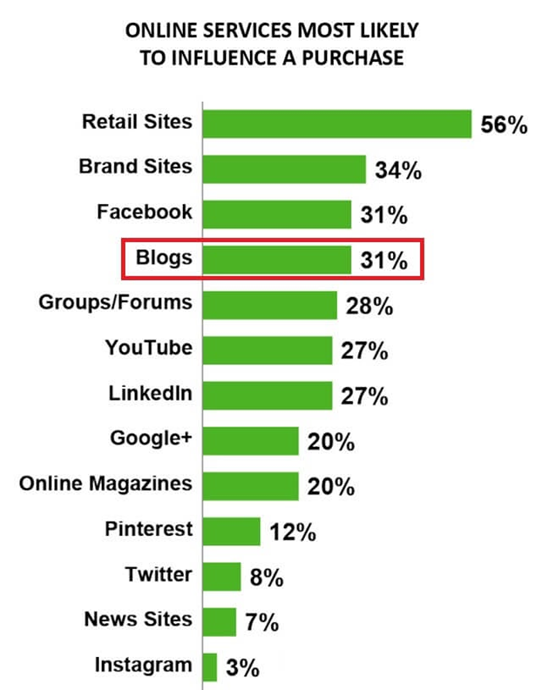 Now let's take a look at our twenty recommended blogger outreach agencies and marketing companies.
Our top three picks
We are featuring more than twenty companies here, so you might have a hard time sifting through all of them. We have singled out three of the best ones to make everything a little easier.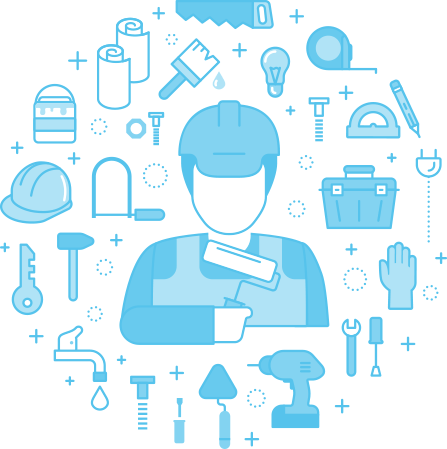 Let's start off with our very own – Marketer's Center's Guest Blogging Services. We only reach out to real content creators. We don't use PBN's or Private Blog Networks. Our links only come from trusted high-quality websites.
These websites are owned and managed by real individuals. So, you are not in danger of receiving links from PBN's and suspicious sources.
The content creators handling these websites talk about their family, hobbies, home, and other wholesome topics. They are people. They are not huge enterprises who live and breathe to produce content, like content farms.
Their websites are also healthy. They get huge amounts of organic search traffic and hundreds or even thousands of referring domains.
The industries, interest networks, and niches we serve are mostly contractor and home service-related, like:
Blind makers
Cabinet makers
Concrete contractors
Door and window makers
HVAC
Interior and exterior painters
Landscaping and lawn services
Maid services
Pest control services
Plumbing services
Pool services
Remodelers
Roofers
Tree care services
But we also serve the following professional practices:
Chiropracty
Cosmetic surgery
Dentistry
Dermatology
Medicine
Therapy
Veterinary
There are some practices that we just can't handle, such as bankruptcy, finance, insurance, and law. This is because they are not a good fit for our Real Bloggers Guest Posting Services. The content may look out of place on the websites of the content creators we reach out to.
We also can't service those involved in the adult industry and gambling.
How our process works
Our Real Bloggers Guest Posting Services follow these three simple steps:
We do our extensive outreach campaigns beforehand. So, when someone like you approaches us for our services, we are more than ready to re-communicate with content creators. Due to these efforts, we have full control over the consistency and quality of the websites and content creators in our pool.
We look for websites and content creators that are genuine. These websites are managed by real people. They are not content mills. Many of the websites also don't rely on getting backlinks and guest posting. So, when they do receive guest posting proposals, you are basically hiding in plain sight. The guest post feels natural. It doesn't feel like it is a desperate attempt to get links and views.
You select your preferred budget range for your blogger outreach campaign. You don't have to do anything else. Our team of experts will do the rest for you. Just give us two weeks or so and we will give you that rock-solid link that your business desperately needs. Sometimes, we can even give you results in a faster time frame.
Frequently asked questions about Marketers Center's guest posting services
1. Do you have samples?
Yes. You can contact rb@marketerscenter.com to see the latest samples of our work. These samples will be enough for you to get a good idea of the kind of websites and content creators we are working with. You will also have a good idea of the quality of the content we create for our clients.
2. Can you provide a list of content creators you are working with?
Unfortunately, we don't group our partners to lists that we can send over to our clients. Grouping content creators can be tricky, especially when you consider all the factors you can use for sorting. Industry, niche, location, demographic – there are just so many sorting factors. And sorting can be a pretty daunting task because we are continuously growing our network.
3. Can I select which websites or content creators to reach out to?
We prefer to keep our services as efficient and streamlined as possible. You can entrust us to do the outreach for you. There is no need to micromanage.
Please understand that the websites and content creators we select must meet our requirements and standards for backlinks and traffic.
Just take a look at our samples. You will be surprised by the quality of our content and links.
OutreachMama is ranking on top of many search engine results pages for guest posting keywords. This is not surprising because it is a highly authoritative company, especially when it comes to blogger outreach and link building.
There are a lot of good reviews on their products and services. Sure, you can make bogus accounts and leave good reviews for your own company. But the reviews for OutreachMama seem legitimate. The main criticism of reviews is the delivery time. But this is understandable. After all, there are a lot of factors beyond the company's control, such as the response rate of their prospective content creators.
OutreachMama is proud of its professional team. They have extensive experience in both blogger outreach and link building. Focusing on these two services is not bad at all. It just means that Outreach Mama can dedicate all their resources to doing a really good job for blogger outreach and link building clients.
OutreachMama charges about $80 per link. You may think that this may be on the steep side. But it's actually a mid-range price. And it's worth it if it means you get authoritative links.
OutreachMama's services
OutreachMama's services focus on two aspects – blogger outreach and link building. Here is a more detailed explanation of these offerings:
Agency-level link building service. This is a combination of blogger outreach and guest posting. The slight difference is scale. This caters to digital marketing agencies and SEO service resellers who have sizable needs.
Blogger outreach service. OutreachMama is continuously building connections and relationships over the years. They have a huge network of content creators and influencers in a wide variety of industries, interest networks, and niches. They publish their guest posts on highly authoritative websites. In fact, these websites could be so authoritative that their clients wouldn't have been able to reach their owners without OutreachMama's help.
Branded link building service. OutreachMama promises to build only the highest quality links from their content creator network. They have a variety of link building methods, including guest posts, press releases, and sponsored promotions.
Content creation service. OutreachMama has an elite group of freelancers and in-house writers. They can do general content creation for you. They are 100% consistent in terms of format, quality, and style. Rest assured that the content they will produce for you is top-notch.
Guest posting service. OutreachMama's elite group of freelancers and in-house writers can go guest posting for you too. These competent and experienced professionals create detailed and informative content. They mean to educate and not spread fluff.
Skyscraper marketing service. The Skyscraper technique has been popularized by Brian Dean from Backlinko. It is a form of advanced marketing wherein you treat your whole content like a tower. You build it up so it gets the highest authority and information it can muster. OutreachMama has mastered this technique and is ready to offer their services to those looking for powerful content.
OutreachMama's team
OutreachMama has worked with more than 10,000 websites and has built thousands of backlinks. You can argue that it is a large-scale digital marketing company. But you will be surprised to know that it only has about 23 employees.
This is more of an advantage. Being a smaller and tighter group, the people behind OutreachMama have a good sense of community. And that is a trait you really want to look for in a digital marketing company, especially one that does blogger outreach.
The small team behind OutreachMama also promises that all the links you will get are from white hat techniques. They are also dofollow links, which inherently have better value than nofollow ones.
OutreachMama's process
It's easy to engage with OutreachMama. Their process is standard for digital marketing companies. So, if you have worked with digital marketing companies before, it will be easy to reach out to them. But even if you have no experience with such companies, you will not have a hard time.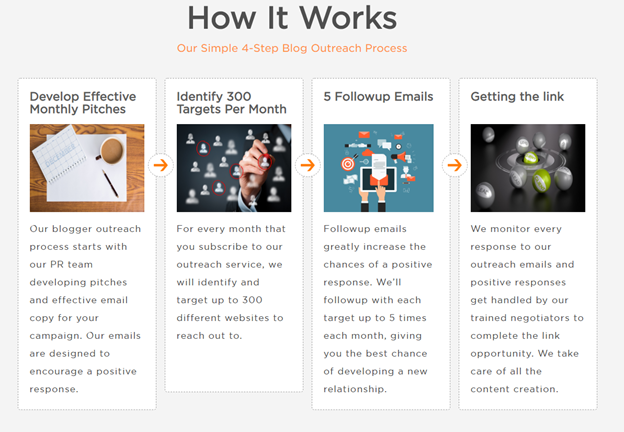 Let's summarize the engagement process in four easy steps:
You can contact their team in three ways. You can fill up their contact form, call them through their phone number, or email them at orders@outreachmama.com.
Once you have contacted them, all you have to do is wait for a response from a so-called SEO concierge, which is just a fancy term for their sales personnel. This person will be discussing the packages and services that are relevant to the message you have included when you have contacted them.
Review the options the sales personnel have communicated to you. If you have any questions, don't hesitate to contact the company again. After all, you deserve to know everything first before you open your wallet. Once you have chosen the right packages and services for your needs, contact them again to place an order.
OutreachMama's personnel will ask you for additional details to iron out your order. This way, you will surely be on the same page with them. They will update you about the processing of your order, from the creation to the posting of the content.
Fat Joe is one of those online SEO companies that focus on agency-level services. But their services are so cost-efficient that they are attracting not just agencies and marketing companies, but also various types of small and medium businesses.
They hire Fat Joe to write content and build links, which are the things you exactly need for your outreach campaign. The quality of their results is great for their prices. Of course, you will find cheaper deals with freelancers and virtual assistants. But what makes Fat Joe shine brighter is the fact that they are a legitimate company. And the extra cost is justified because of the quality and speed of results.
Fat Joe at a glance
Fat Joe offers a wide range of content creation and link building services. While we will not talk extensively about their services, here are the prominent features that make them so great:
Highly-efficient processing of orders. Fat Joe has an online dashboard in their platform so you can receive order updates.
Huge variety of link building strategies. Fat Joe is not just about blogger outreach and guest posting. They diversify their link building strategies so you have a lot of services to choose from.
Fast turnarounds. The company boasts about its ability to produce results in just a matter of days.
Full money-back guarantees. If you are not satisfied with their services, Fat Joe can give you a refund. That's how confident they are in producing results.
Responsive customer support. Fat Joe has an amazing customer support team that can assist you and resolve your issues 24/7.
Fat Joe claims that they secure more than 5,000 links for their clients every month. And this is not far-fetched at all. Fat Joe has been in the business since 2012. They have surely fine-tuned their processes for maximum results.
Fat Joe: not just another SEO company
Blogger outreach can be tricky. You can't just write an article and post it on another website with a link leading back to yours. If your website is getting too many links from low-quality websites, search engines may end up penalizing you.
Fat Joe prevents this from happening by targeting only high-quality and trusted websites. And their services are very flexible. You can choose which websites to reach out to. You can also choose the length of the articles.
Fat Joe's pricing starts at £45 for a 500-word article. But this can go as high as £375 for a 1,500-word article. The price will be highly dependent on the word count of the article and the authority of the website where it is to be posted.
Sure, the pricing looks a little steep. But remember that you have the freedom to choose among their various services. You will surely find services and results that fit your budget.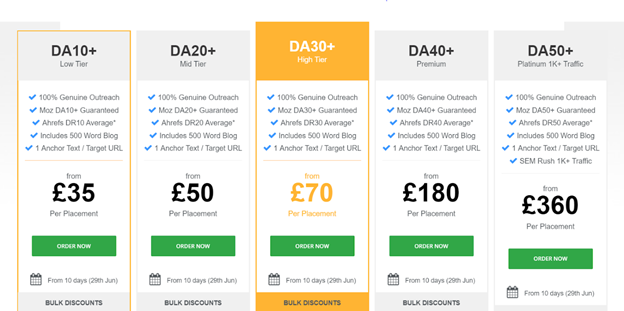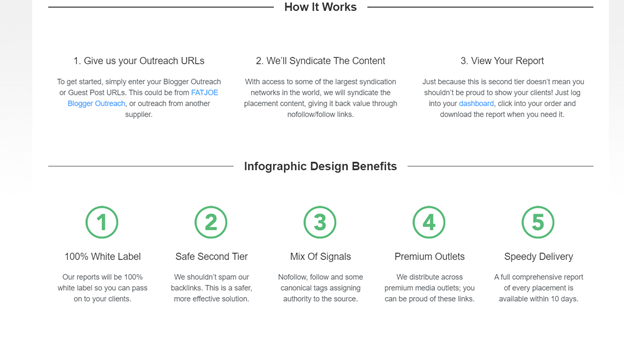 Other agencies and marketing companies with blogger outreach services
Marketer's Center, OutreachMama, and Fat Joe – these are our top three recommendations. But this doesn't mean that you will not find great blogger outreach services outside of these three. Here is a quick rundown of other agencies and marketing companies with great blogger outreach services. They are arranged in no particular order.
Outreach Solutions is fairly new to the game. But what makes them great is their aggressive pricing. You can get high-quality backlinks for as low as $29.
This company has a huge database of websites that have detailed SEO metrics, such as their niche, TLD, average monthly organic traffic, and the amount and quality of referring domains. You can filter these websites according to the metrics you are prioritizing.
Thanks to all these data they have, Outreach Solutions is able to offer highly customized blogger outreach placements on real and high-quality websites.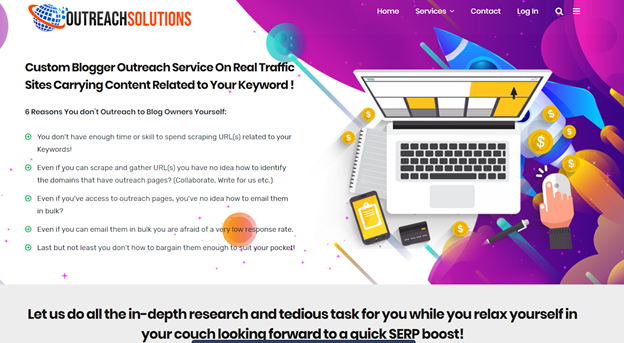 No BS is a family-owned marketing company in Melbourne, Australia. But don't disregard this small business in a rather big pond of marketing companies. Their staff has more than 15 years of industry knowledge.
Though the company has only been established a few years ago, it is already known to produce great results. In fact, the company was created because local businesses were getting tired of the lackluster results from other companies with blogger outreach services.
No BS is for clients who want results without the BS.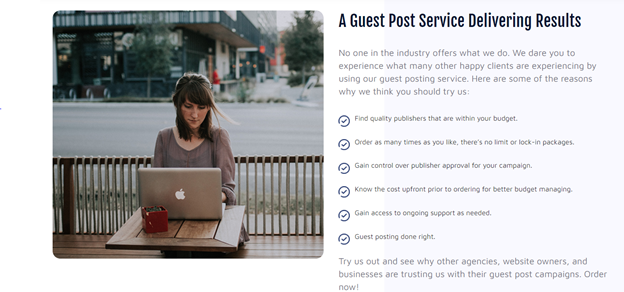 Stellar SEO has a VIP-level approach to their blogger outreach services. They emphasize quality over quantity. And they have a historical track record of satisfied clients to prove their results.
The best thing about this company is that it has case studies and examples on its website. It is incredibly transparent with the quality it provides and the results you will get as a client.
If you are looking for a blogger outreach service provider that is based in the US, Stellar SEO is someone you should seriously consider. Their competent and experienced professionals will help you not just in the outreach campaign itself, but also in its sustainability.

MagFellow is a marketing company that has been connecting businesses, marketers, and publishers since 2013. The company has more than 150 loyal agency clients who get more than 1,200 backlinks every month.
The content marketing and link building campaigns of MagFellow are customized for each client's industry, interest network, or niche.
As a marketing company that takes its blogger outreach services seriously, MagFellow has developed a positive reputation with its client base. It also helps that the company has exceptional customer service. MagFellow's support team consistently answers more than 90% of support requests in a matter of hours.

BlogDash focuses on blogger outreach and guest posting. It prides itself as a company that builds strong and real relationships with its affiliates.
BlogDash has already established relationships with thousands of content creators, including bloggers and influencers. Nowadays, bloggers and influencers have so much power and reach. They are definitely people you want to reach out to.
If you are specifically looking for bloggers and influencers, BlogDash is the blogger outreach agency for you. The company has been in the game since 2011. The team that makes up BlogDash clearly knows what it is doing.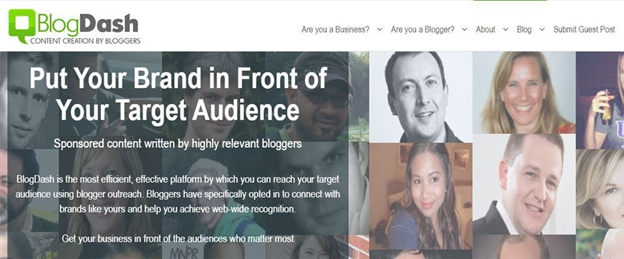 Linkredible is a company that lives up to its name. They have such a unique approach to their blogger outreach services. And no, the uniqueness is not just a gimmick. It actually works.
Linkredible's blogger outreach services are mostly done manually. The company's team reaches out and manually negotiates with real-life content creators in your industry, interest network, or niche. Once the parties have agreed, Linkredible's team of professional writers creates highly customized content to highlight your brand, business, product, or service.
The articles they write also incorporate your brand and offerings naturally within the content. This way, the articles sound like they genuinely want to inform readers and not just there to sell them something. This approach is very effective.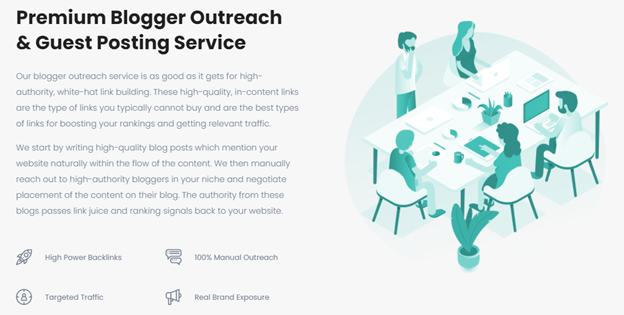 The Hoth specializes in guest posting. The company boasts about its reliable guest posting services that result in natural and high-quality links. To make things better, the company also boasts that it only uses white hat techniques. This way, your website will not be penalized by search engines.
The professionals at The Hoth will manually reach out to key websites in your industry, interest network, or niche. They will try to secure a premiere spot for a guest post. Most of these key websites are enterprise-level. So, you are not likely to reach these websites without the help of specialized companies like The Hoth.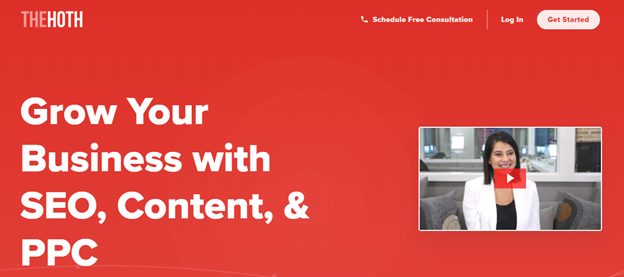 Submit Shop is a marketing company with over 15 years of experience in the field of digital marketing. It has been providing a diverse set of marketing services for companies and individuals since 2000. And of course, among these services is blogger outreach.
The two best things about Submit Shop are the quality results and the price. You will never find another company that offers great blogger outreach results at its price point. You can get up to five high-quality blog posts and authoritative links for as low as $149.
It also helps that Submit Shop has an incredible customer satisfaction rating and delivery time. They have been in the game for a long time, and it shows.

Link Pitch is one of the most well-known link building agencies that specializes in link building and outreach campaigns. They are proud of the integrity and quality of their services. And they have the merit to be proud. They are trusted by the hundreds of clients they currently serve.
They have a highly customizable approach. And they will surely address your specific needs as a client.
Link Pitch is not resting on their laurels either. They are continuously improving their services based on the reviews and testimonials they get. You know a company is worth the investment if it listens to its customers.
The only real disadvantage with Link Pitch is that they don't have a dedicated dashboard for their prospective clients. You will have to use their contact form. But this isn't really that big of a disadvantage, considering that their team replies quickly and professionally.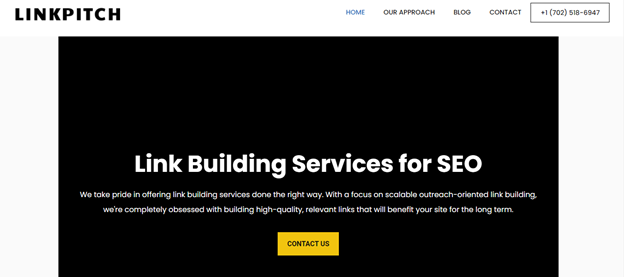 Heroic Search's link building services are great because of two reasons – they manually reach out to content creators and build real relationships with them. The company has solid relationships with a huge variety of content creators, including online bloggers, internet journalists, website editors, and even other agencies.
Thanks to these two solid reasons, they have a good foundation. And their results are proof. They can give you high-quality backlinks even in the most competitive and difficult industries, interest networks, and niches.
Their services are also very flexible. They have packages with monthly link building campaigns. If you don't want to fully commit, they also have one-off packages with pricing that is just as flexible.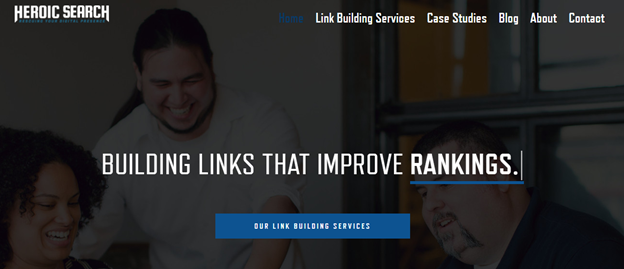 Click Intelligence is a very data-driven company. It is proud to be a technical search marketing company that uses its own technologies to deliver results for its clients.
The team behind Click Intelligence has a very strong backbone. They have an impressive combination of technical marketing knowledge and high-quality content creation. This combination results in efficient backlink building.
They have a variety of services that can cater to all your marketing needs, including blogger outreach, regular search engine optimization, technical consultancy, PPC, and even social media management. They also don't discriminate against companies. You can get their services if you are a huge enterprise or a fledgling SME.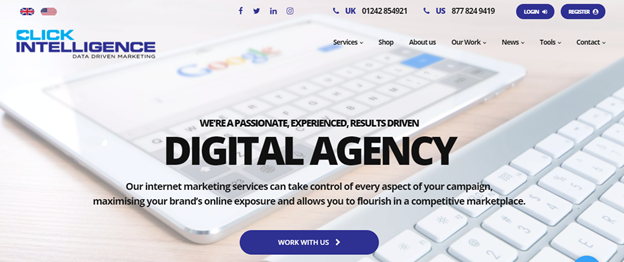 Forward Linking is a fairly new marketing company, but don't underestimate the team behind it. They pride themselves as future-proof link builders. Google's algorithm changes all the time. So, they are only going to use proper techniques and not rely on gimmicks and workarounds that can improve your rankings temporarily.
Their focus is to feature their clients on highly authoritative websites. Because of their future-proof motto, you can be sure that these websites are indeed authoritative and trustworthy. Most of these websites also have established audiences and have already gained the favor of the major search engines.
With their help, you can get significant brand exposure, an increase in Google search rankings, and a spike in targeted organic traffic.
Forward Linking's services are also highly customizable and personalized. The company is also very transparent with its campaigns.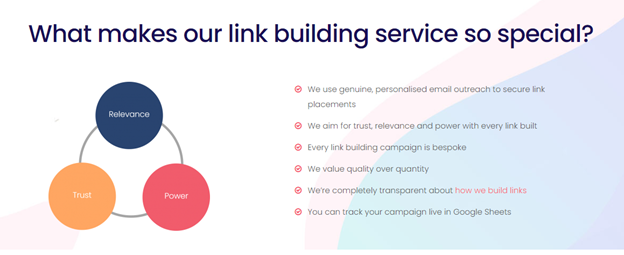 Link Builder is a very interesting marketing company. It has a strong focus on competitive analysis. This way, you can have the perfect long-term link building strategy.
The team behind Link Builder is serious about providing only high-quality results. They also look into the impact of your campaigns and their potential ROI. Isn't that what business is about, the return on investment? Link Builder will never fail you with its analytical and data-driven approach.
It's easy to reach out to Link Builder as well. Once you go through the simple process of custom ordering, you will get access to the company's secure dashboard.

Page One Power specializes in building backlinks manually. The great thing about this company is that it works with small and medium-sized companies and world-class corporations. There is no discrimination against clients.
This also shows the company's strong marketing foundations. Small companies and international corporations have different needs and wants. It's impressive that Page One Power can cater to such a variety of businesses.
Aside from the usual guest posting, Page One Power also uses other online techniques and resources.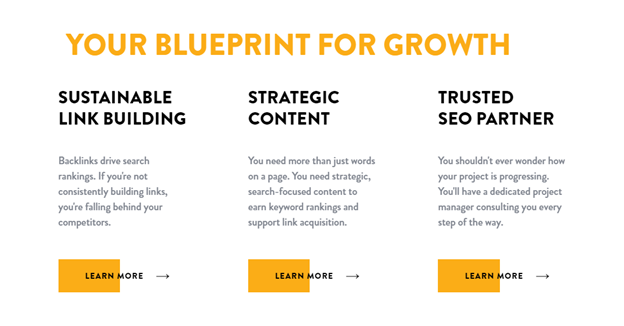 Outreach can be very frustrating. For every 100 leads, you would probably get single-digit links. Most content creators will reject your offers if they reply at all.
But Linkshero has an experienced team that is armed with the best marketing tools to cut through the grueling process of outreach. They also focus on white hat techniques only. They don't rely on PBN's (Private Blog Networks), spammy comment links, web 2.0 links, and other avenues that could potentially hurt your rankings.
If you get Linkhero's services, you will get insights on how to create top-notch content that content creators naturally link to and solidify your website's authoritativeness.

The Upper Ranks is a premiere link building company that helps businesses of all shapes and sizes. They offer their services to prominent Silicon Valley startups, publicly traded companies, and even small and in-house SEO teams.
The Upper Ranks is proud of its link building strategies. It claims that all of its links are 100% built by humans and for humans. This is an ethical approach, considering that there are a lot of companies out there who build links only with Google in mind.
The digital world is becoming more and more competitive every year. This New Jersey company will help you reach "the upper ranks" of this competitive world.

Higher Visibility has been awarded SEO Agency of the Year by Search Engine Land. It has also been recognized by prominent platforms like Forbes, Search Engine Journal, and The Huffington Post.
You know that a company is a big deal when it has all these accolades. But it is not extremely picky with clients. Higher Visibility has worked with small businesses and huge enterprises. However, this doesn't mean that every potential client is a good fit.
Higher Visibility wants to work with clients who would want to have a partner in their digital world journey. And it's working for the award-winning company so far. It is building links only on highly authoritative websites in their clients' industries, interest networks, and niches.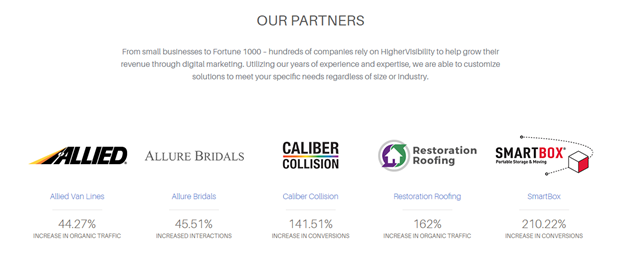 Globex Outreach is a marketing company that was founded in 2010. It is already a decade old, but it's still considered one of the fastest-growing companies that offer content marketing and blogger outreach. It's already serving clients all over the globe.
Globex Outreach's experience and longevity prove its competence. After all, the digital world is highly competitive. If a company can survive a decade in the digital world, you know it is doing something right. The fact that it's also serving international clients is also a good sign.
If you are looking for a company for your blogger outreach needs, Globex Outreach will be a good choice. It gives off the right signals.

Here's the thing about blogger outreach – nobody owes you anything. Some content creators will not be interested in coordinating with you. Some won't even reply. But blogger outreach becomes more feasible if it's a win-win for both the business owner (you) and the content creator.
This is where ARC Digitech excels at. It is a marketing company that aims to highlight the benefits of blogger outreach to content creators, so they are more likely to coordinate with you.
The content creators will get compelling and unique contents that they can post on their channels. The business owner (you) will get a high-quality backlink in return. Sure, this seems like the most basic approach in blogger outreach. But it works well. There is no need to reinvent the wheel.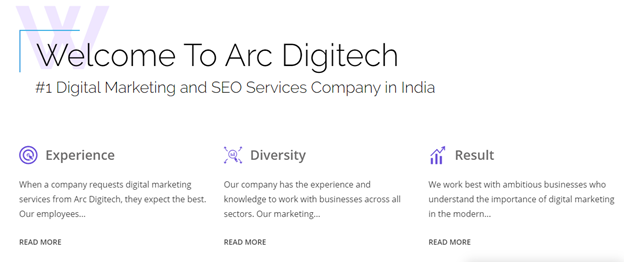 Outreach Buzz is a marketing company with a solid team of enthusiastic digital marketing experts. Sure, passion can only help you so much. But these digital marketing experts are not just enthusiastic. They are also very knowledgeable in different marketing fields, including blogger outreach and SEO.
This marketing company also highlights the benefits of blogger outreach to content creators. Such a basic approach can go a long way. After all, why would content creators coordinate with you if they are not going to benefit from your outreach campaign?
Because they are passionate and knowledgeable, expect the digital marketing experts at Outreach Buzz to use only white hat techniques.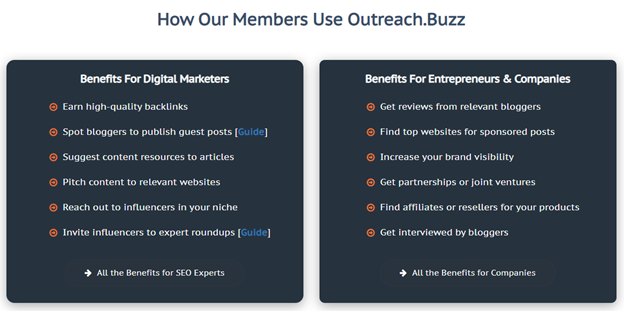 Conclusion
Blogger Outreach requires a lot of time and effort. As a business owner, you may not have the time and expertise to pull it off. Sure, you can try it yourself. But nothing beats professional help.
These blogger outreach agencies and marketing companies have been doing this stuff for years. It's best to leave it up to them to handle the digital marketing side of your business. This way, you can handle the other aspects of your business where you can become more productive.
We hope you heavily consider Marketer's Center's services. But this doesn't mean you can disregard the other recommendations on this list. Blogger outreach agencies and marketing companies that deliver high-quality results may be hard to find, but they do exist. All you have to do is to look hard enough.
---