Before we talk about the top 6 SEO reseller programs, let's talk about the industry as a whole. Generally speaking, an SEO reseller is an individual or company that (ideally) offers a wide variety of SEO services with some flexible and affordable packages.
Affordability is usually key here.
Why?
A lot of digital marketing agencies these days are tackling local businesses. If you're in that place yourself, you might be interested in reading about how I personally strategize my local SEO campaigns, here is a my local link plan you can follow.
The upside of serving local clients is that there are a ton of them out there.
The downside is that budgets are generally pretty tight.
However, serving local clients is really something you can scale out (and quickly if you're good!). In general, margins for reselling SEO services can be astonishingly high. It's not unusual for services to command 500-1000% markups when delivering the final product to end client.
In the end though, I truly believe that the SEO reseller business lives and dies upon quality fulfillment. In your inital research steps, you'll need to look for:
A. Someone that you can trust. Ideally someone that has been doing it for many years and has a ton of different reviews online. Remember, they will be working on your clients site essentially so anything that goes wrong will be your butt. While things can go wrong (nobody is perfect), how do they handle mistakes if and when they're made? Do they stand behind their work or leave you holding the bag?
B. Someone that can give you a decent timeline and actually deliver during this timeline. Deadlines are important because we're working with business owners and it's important for you as the consultant to give a respectable impression of yourself.
C. And of course, Results! When it comes down to it, SEO clients pay for results. They don't want to feel like they're feeding a bottomless pit of no return. The best SEO resellers will eat their own dog food so to speak. They sell what they themselves use and know it works.
The reseller's responsibility does not end after the SEO services are sold but they also need to make sure that everyone is satisfied and happy with the services which are offered. Again, and again. A good reseller program needs to allow the clients the ability to get affordable marketing options online to help boost their business.
The Top 6 SEO Reseller Programs
That's us! I would consider Marketer's Center to be one of the better SEO reseller programs out there, but don't take my word for it. You can find happy customer reviews on all major webmaster forums including: Wafo, WF, BHW, and BC. The four reasons why Marketer's Center is well known with its clients are Trust, Affordable Pricing, Quality Services and Transparent Reporting. We've been around for almost 8 years now and have served about 2000+ SEO consultants, agencies and webmasters. From these, they've done SEO work on more than 10,000+ different websites. So, if you are looking for a SEO reseller program, then this is a great place to start with. I highly recommend signing up for our reseller dashboard so you can download a full price list of everything offered.
PlacementSEO has been in business for more than five years and are known to resell SEO to some of the largest marketing enterprises in North America. PlacementSEO specializes its SEO reseller program towards link building, technical SEO audits, and more, visit their website to learn more about what their team offers.
Hubshout is one of the pricer vendors. On their site, you can get a demo for their software and they offer various services like SEO, PPC, Local SEO, Social Media Marketing, Email marketing as well as website reseller services. Clients who are interested in utilizing their services can visit their website for more details.
SEOreseller is a reseller that has most their clients based in the United States. Some of their private labelled SEO programs are Agency Migration, a White Label Dashboard, SMM, Link Building services and more. For more details, you can visit their website.
Textlinkbrokers has been around since 2003 and have helped many SEO/Marketing companies. They are well known for their link building services, although a bit pricey. But they aren't limited to building links, you can find content writing services, guest posting service, and social media management, and more.
Endlessrise is another one I first heard about in years ago on Warriorforum. Anyone who is interested to become a reseller can also sign up from their website. They offer services like SEO, Local Buzz, SMO, PPC, Web design, Website Audit Report, online reputation management and also content creation. You can get more details from their website.
5 Things To Mention Before I Get Into Our Reseller SEO Services
Before we get into these services I want to mention a few things:
1. Most of these aren't available to the public, they are exclusively available for our resellers. There is no cost to join us as a reseller, but there is a short approval process. You do actually have to be a consultant or agency that has or is thinking about building out their own marketing business.
2. The services listed below aren't an exhaustive list of what we currently offer. We have 12 services in all now, but below you'll find a few of our more common ones.
3. If you're interested in pricing, please submit your information here and get approved as a reseller. Once you're inside, there is a handy PDF price list that will tell you our prices on everything we currently offer.
4. About 98% of our orders come from SEO consultants and digital marketing agencies who have local clients that are targeting local keywords. If you're in the local space, then definitely check us out!
Here's a few of our more popular services. Like I mentioned before, you can check out the full line within the reseller dashboard.
Hey, One More Thing! I'll Send This to You When You're Approved
When you're approved for our reseller dashboard, I'll send you my 6 Month Local SEO plan at no charge. 2021 Edit: This is now a 7 month plan and available immediately online here. This is the same plan I use for many of my own local clients and you'll no doubt find it very insightful.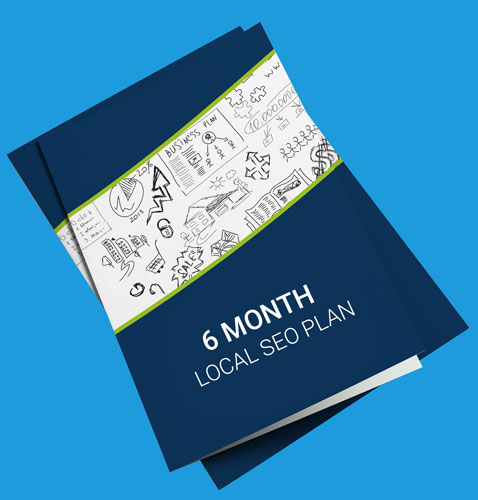 White Label Local SEO Packages
  A lot of time people ask, "What's the difference between Big Citations and Hyper Local?" I explain that Big Citations is an affordable alternative to what Moz Local offers… it focuses on a core set of about 25 authority citations that are the perfect start for a local business. If a business already has 50+ citations done to it, chances are it may have already hit many of the sites Big Citations offers (most SEOs start with the best citations first). In that case I recommend moving right into Hyper Local and skipping it, unless you know any of the local data aggregators haven't been done.  
  Signing on a new client with messed up citations can be a real frustrating thing. Not only is it a pain to track down everything they have, but getting them fixed is another battle altogether. This service makes it pretty easy to get citations rectified in a cost-efficient manner. I always recommend starting off a new client with a citation audit to start. The audit will pull up what they have, then we go through each URL manually to note what, if anything, is incorrect. From there you can get a general idea of how many citations need to be cleaned up and we can go to work for you on that.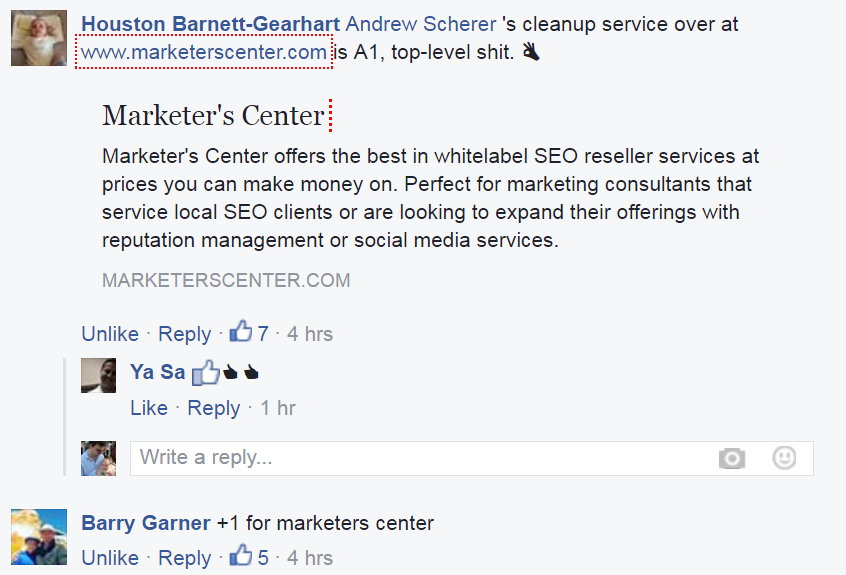 Hyper Local Citations
  Once you have your data aggregators and Big Citations done (Yelp, Manta, Bing Local, etc..) then I recommend getting started with Hyper Local. This service will help you complete the remaining 300 or so citations that are available for a local business. If you're not in the USA, we can do about 80 solid citations for UK, Canada, and Australia and about 40 for all other locations around the world.  
  Rich Media Citations combines a few cool deliverables like a script, voiceover, video production, and syndication. It's a good all-in-one service that fuses video production with linkbuilding and unstructured citation creation on 50+ rich media sites. The service comes with a free slideshow style video but there is an option to upgrade the video to something better. If you want to see some of these premium video samples
check out this link
.
A Few Other White Label Organic SEO Packages
  Social Foundations is what I'd consider the swiss army knife of link building services. It's very affordable and serves a handful of different functions. You can use it as a solid start to a reputation management campaign, you can use it purely for link building or citation building (the Essentials list boasts sites PR6+ only), or you can use it just to claim your client's brand name on 300+ social sites.  
  Finding good quality contextual links for your money site can become an expensive endeavor. Budget Tier 1's is a great solution because not only are the contextual links affordable, we've found plenty of niche sites we can build these links on also. These aren't PBN links and they aren't exactly web 2.0's, to get a good idea of what they look like you can download a
sample report in the dashboard
.
Our Reports Are Astoundingly Detailed and Transparent
Check out this sample report from our upcoming new service called "
".   
What to Look for When Choosing a White Label SEO Solution
Digital marketing is one industry that has continued to grow at a rapid pace. We live in a technology-driven world so it's definitely not going anywhere.
Search engine optimization is one tool that has a prominent place in most digital agencies. It's something that businesses of every size need, but how do you add this offering to your agency without having to source additional time, funds, and team members? The answer can be found in white label SEO solutions.
White label SEO resellers have become one of the best ways to upscale your digital marketing agency without having to worry about fulfillment.
White Label SEO Solutions: A Recap
In a nutshell, white label SEO resellers give agencies the opportunity to offer their clients more services, while the reseller takes care of the fulfillment. Many SEO resellers also tend to offer a number of other services such as social media marketing, content marketing, and pay-per-click advertising.
There are SEO resellers who sell white label services but there are also those that sell tools that agencies can relabel and sell as their own. It all depends on your specific requirements.
Having white label SEO solutions as an option is an exciting growth opportunity but it's important to keep in mind that it is still your agency's name on the line, which is why it's crucial to choose the right service provider to assist you.
How to Choose the Right White Label SEO Reseller for Your Agency
Here are a few tips that will help you make the right decision.
You can easily find a wealth of information on the best SEO resellers by simply performing an online search. Take the time to read through any articles that compare resellers to get more of an unbiased opinion. If you service clients in a specific niche, an added bonus would be to find a reseller that specializes in that niche. You also make to make sure that they have a physical address, are easy to get in touch with and are known for keeping up to date on current SEO trends.
The Reseller Program Should Be Scalable
Chances are you want to add SEO services to your offering in order to grow, which is why it's important for any potential SEO program to be scalable. Choose a reseller that offers more than just the SEO basics. Better yet, choose a reseller that offers more than just SEO if you want to expand in more directions in the future.
Find Out More About Their Monitoring Tools
What software does the reseller use to track their progress? Are you familiar with the tool? If not, take the time to find out more about it online. It's always best to use monitoring tools from established developers but often a reseller's own monitoring tools are efficient enough. Just be sure to find out as much as you can – you do need to report back to your clients at the end of the day.
White Hat Techniques are Not Negotiable
It should go without saying that any reseller that uses black hat SEO techniques should not even be considered – it only puts your reputation and your relationships with your clients on the line.
Get in Touch with Existing or Past Customers
One of the best ways to find out what an SEO reseller is capable of is to speak to current or past clients about their experience and results. Speaking to the reseller's clients is another way to get some unbiased opinions about their capabilities.
Evaluate their Customer Service
The last thing you want is to struggle to get in touch with your SEO service provider when you need it the most. Problems will crop up and when they do, you want to be sure that you can rely on your service provider because their customer service directly impacts your level of customer service. Timely and reliable customer service is a must.
Test their Technical Abilities
If you want to save yourself some time, look into a company's technical capabilities ahead of time. There are resellers out there that will take advantage of a novice and throw around a few technical terms to sell them on their services. Take the time to learn more about what basics a white label SEO provider should possess. The same applies to their teams – make sure that the team members you will be working with have the necessary skills and experience to give you the desired results. Speak to other industry professionals who already work in the SEO space to get their opinion and advice.
Look Into their Payment Options
To make things easier, it's recommended that you find a reseller program that has a billing cycle similar to that of your clients. Pricing will vary between programs, so you will need to take your budget into consideration to make this decision.
5 White Label SEO Services For Local Clients
If you own a small business, then there's probably a good chance you have a website that promotes your goods and services. Well, if you want that website to draw in additional sales and rank high on search engines, it's essential that you're using the right techniques to increase your traffic.
Since ranking a website locally is a lot different from trying to rank a website worldwide, local businesses are going to want to take a different approach when it comes to building backlinks toward a website. If you build the right links, this can lead to a higher search ranking, which in turn, can lead to more sales.
Here is an amazing fact that you need to consider –
80% of all local searches done in the USA on mobile devices Convert.
Here is an infographic representation to break it down for you

Source: Neustar localize (via ComScore survey)
Local SEO is all about helping businesses improve their visibility in the nearby vicinity. It can be a brick-and-mortar business with correct NAP information listed on the search engines. It could be a grocery store or shoe store or dentist office, etc. These are locations where the user needs to physically visit. Then there are service-based businesses that users like to search locally like electrician services, plumber, house cleaners, car pickup, etc. All these businesses require good local SEO in order to rank better than their competition in the locality.
This is where digital marketing analysts or professionals can help. To successfully rank as a local business, here are some backlink and marketing strategies you may want to implement:
Why Are White Label SEO Services and Techniques Important?
If you looking for long term potential traffic and website authority you will have to opt white label SEO practices, because working against Google Webmaster Guidelines may case your website banned from Google and other search engines. Check out a complete description of Google-approved SEO techniques at Webmaster Guidelines.
As the number one search engine, Google is visited by billions of people per day, and each visit presents the potential for your site to be discovered by a new user.
Google is an undeniably powerful source of the traffic to your website, and being banned can result in a drastic drop in website traffic and even business. Consider all the work that goes into your website and then think about what it would be like to be banned from the internet's most commonly used search engine. What's worse, once you're banned from Google, there is no guarantee that they will ever re-list you. A lifetime ban from Google would have tremendous consequences.
Implementing White Hat SEO practices is the best way to create an ethical, sustainably successful website and business.
There a lot of companies offering reseller SEO services to check out.
To successfully rank as a local business, here are some backlink and marketing strategies you may want to implement:
1. Citations
To Google, citations are like backlinks; however, it is slightly different. In the local SEO world, local businesses are able to place listings on various websites across the web. These listings can include everything from contact information to reviews, and by going this route, it's a great way to build a solid backlink profile and draw in great referral traffic.
Citations are a key component of the ranking algorithms of the major search engines. Other factors being equal, businesses with a greater number of citations will probably rank higher than businesses with fewer citations. Citations from well-established and well-indexed portals (like Superpages.com yelp etc) help increase the degree of certainty the search engines have about your business's contact information and categorization.
There are two types of citations:
Structured Citations: It includes the basic information known as (NAPW) on a business listing directory. They are usually submitted on business listing directories. Some examples of websites where you can get structured citation are:
Here is an example of structured citation on Yelp: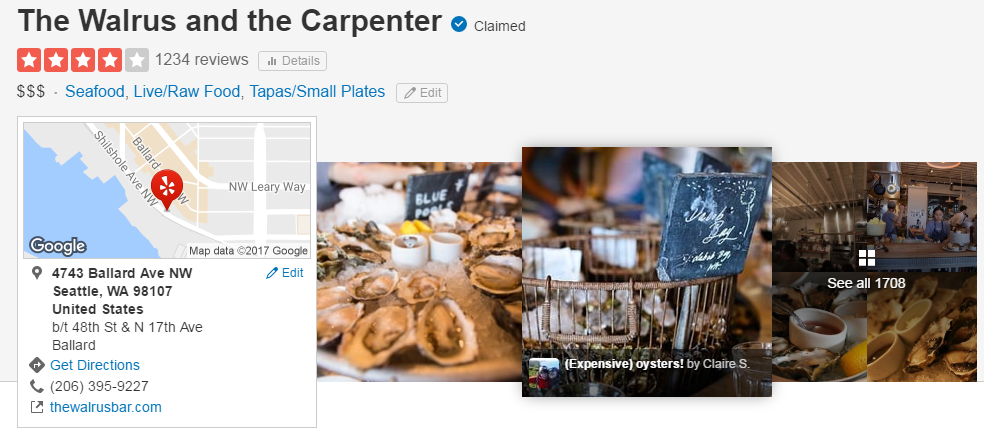 2.Unstructured Citation: This is submitting your NAPW information on different sites that are not specifically used for business listings. These could be blogs, news sites, wiki, etc. You can notice such citations in review blogs or news pieces written about a business or ranking them against the competition in the area.
Here is an example of a citation in a blog post:
"You must visit this amazing restaurant in Seattle. It is located at 4787 Ballard Ave N.W. – You can get in touch with them at (xxx) xxx-xxxx. I have been to this restaurant so many times and love the experience every time I visit them. Quick note – they serve awesome seafood. Must visit!"
Since most citation building can be repetitive and very time consuming, it's best to hire an outside service that can do all the work for you. The great thing about these companies is that most have a database filled with hundreds of directories that cater to specific industries, and not only that, some can even research your competitors to see what kind of citations they used in the past.
Since most citation building can be repetitive and very time consuming, it's best to hire an outside service that can do all the dirty work for you. The great thing about these companies is that most have a database filled with hundreds of directories that cater to specific industries, and not only that, some can even research your competitors to see what kind of citations they used in the past.
2. Press Releases
Not many SEO analysts turn to Press Releases as a tool to market businesses locally. The common notion in that press releases generally do well for businesses that have some news to share, such as a new product or event. I am going to say it right here – Press releases do matter even for small businesses. The great thing about a press release is that you can draw attention to your brand and build links at the same time. Best of all, if your press release is good enough, the press attention can be great, leading to your backlinks spread across many reputable media websites.
If you're going to build press releases, you're going to want to make sure that you're choosing a service that uses reputable outlets. Never settle for a company that sells press release services for next to nothing because if you do, you're going to get what you pay for. In fact, if your press release is spread across multiple low-quality websites, you could risk a search engine penalty.
3. Data Aggregators
Data aggregators are similar to citations but are designed to get you on larger websites that normally "nofollow" its links. However, don't let that scare you. These aggregators are the must-have directories that can be seen by thousands of potential customers.
In the USA, there are four major local data aggregators. They basically gather information about the local business and then others share the data with other sources.
Local Data Aggregators in the USA
Infogroup
Localeze
Foursquare
Factual
Just like citations, it can take hours to submit your data to a handful of websites. If you don't have the time to submit to these influential websites, then it may be best to spend a few dollars to have a third-party do the work for you. If the listings are done properly, this is a great way to send in traffic outside of the search engines.
4. Blog Comments
Commenting on local industry blogs can be a great way to build your brand and help you network with others. While this tactic worked great in the past, you're going to want to use blog commenting sparingly. When commenting, try to steer clear of using keyword-rich names and short comments that provide no value.
Even Matt Cutts confirmed that Blog comments with links that adds value to the reader are equally important.
Here is the video you need to check out:

5. Guest Posting
Even though the SEO community has been in an uproar lately with guest posting, it doesn't mean you should avoid it. Guest posting is an amazing way to draw in traffic and build solid links. When guest posting, try to post on websites that provide value and relate to your niche.
As you can see, there are a handful of ways to rank a local website. As long as you build value and look for no shortcuts, there's no reason you can't rise to the top.
---